"Start small, chill out, work through your ideas. And then make them happen," is 22-year-old entrepreneur Zeba Abdur Rehman's success mantra. Zeba, whose desire for a little extra pocket money led her to start her own handcrafting company, Paper to Bag, tells S Saraswathi how it all started and the two years of growing, learning and maturing as a businesswoman.
What started as a small, after college hours, enterprise to cater to family and friends, has slowly grown to accommodate clients from Dubai and Paris as well.
Besides popular eco-friendly bags, Paper to Bag today offers a complete range of customised party merchandise.
Here you can find party decor, personalised party invites, themed decor, party hats, badges, return gifts, colourful and fun pinatas, centrepieces, backdrops, exquisitely wrapped homemade chocolates and so on.
The confident and pragmatic 22-year-old started out with a small advance from a friend to buy the materials needed for a few dozen paper bags. Today she employs three workers.
For want of pocket money
I was in my third year at Stella Maris, studying mathematics. Life was fun, I was active in many extra-curricular activities, and like all college students, I was always short of pocket money.
During a 20-day break, with nothing much to do, I decided to earn some extra pocket money.
My friend was looking for some paper bags and since I had helped make paper bags for a lot of social causes, I decided to offer my services.
One thing led to another. That was two years ago. My family and friends were my first clients.
No capital investment
When I started, there was no elaborate plan to do anything big. There was no 'initial capital investment', and even today, I have not put in any of my own money. I mostly worked with the advance I got.
As the business slowly grew, I used some of the profits to buy the materials I needed and some machinery that made my work a little easier.
I got a scoring board and a couple of manual die-cutting machines. The die-cutting machine cost Rs 10,000 and each die (shape) cost anywhere between Rs 1000-2000.
Cracking the Party Scene
There was a healthy demand for my bags and for the first few months I made only bags.
Six months later, I made my first box, a small cow-themed box that was meant to be a return gift.
After that it felt like the flood gates had opened!
YouTube and Pinterest became my constant companions.
I researched everything, from the different materials, to the machines, shapes, patterns and a wide range of party products.
In another three months, I moved on to an entire new range of party products -- customised invitations, buntings, pompoms, party hats, honey combs, return gifts and even colourful pinatas.
Pinatas are a huge hit with children at parties. They are big, decorated customised boxes filled with chocolates and gifts and stationery. The birthday kid is supposed to break it and share the goodies with his/her friends.
We can customise it to any shape -- I have done a ballerina's shoe, Big Ben, a Lego theme...
I experiment with cardboard, wood and glass. My photo frames, centre pieces for tables and backdrops are popular.
My clients come in with all kinds of requests. I am constantly working on new ideas, new designs, different material, colour schemes and shapes.
I recently ventured into chocolate making as people want yummy goodies to go inside their bags. My sister-in-law helped me. Our chocolates are very popular.
Demand and market for the product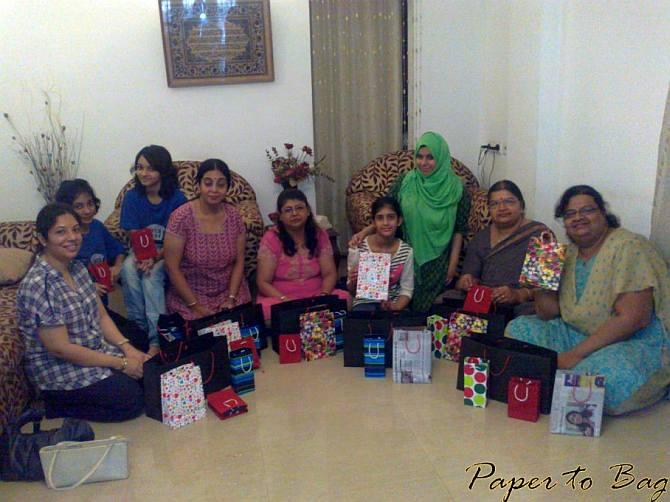 When I first started with paper bags, I did not know that there was a market for so much more.
At first I spent just a few hours every day on the paper bags. If the work load was heavy, my family pitched in. Now I work throughout the day and employ three others to help me.
The potential market is huge and there are very few handcrafters.
I just have a Facebook page, where most of the products are displayed. Other than that, I let my products do the talking for me.
I have clients in Chennai, Bangalore, Gurgaon, Cochin, Delhi and even in Paris and Dubai.
I conduct workshops for both adults and children. In summer things are pretty hectic. I teach kids to make fun craft items. For adults there are two-day workshops on paper bags, boxes or scrapbook making.
With bags, I am very competitive. The range starts from Rs 10 but it can go up. I work according to the client's budget.
I can give you the exact same thing at two different prices. But there would obviously be a quality difference.
Challenges in the early days
I had no clue how to sell a product. I remember once in the early days, someone asked me, "What is your MOQ". I was blank. It is 'minimum order quantity', and at that time, I had no idea what this term meant.
At times I felt totally stupid. But you learn to deal with it. You figure it out as you keep working on it.
My parents are my biggest supporters. My dad helped me with the business side of things. My mom helps with my products; I get my artistic talent from her.
If I need some advice on a particular design or am struggling with a particular theme, she is the one I go to. She is my friend and partner, always there as my sounding board.
Plans for the future
The problem with handmade products is that it is very time consuming.
There are days when I am so overworked, I have to refuse orders.
I am trying to work on that. I want to make pre-set party designs and party supplies that are versatile and can be put together quickly.
I also want Paper to Bag to branch out into separate units with each unit having at least four workers and their own set of products.
Most of the last two years has been spent juggling college, studies and work. I am a post-graduate in Multiple Disabilities. I now plan to put all my energies into my work.
Some friendly advice
It's a misconception that you need to start big. I started very small.
You don't have to invest in a lot of resources and take huge risks.
What is important is that you do what you enjoy.
I love what I am doing so it did not matter that I didn't get too much out of it straightaway. Over the last two years, my business has grown and so have I. I am not as clueless as I once was.
So start small, chill out, work through your ideas. And then make them happen.