There are 80 million people with disabilities living in India, of which a mere 5 per cent or less get married.
A shocking statistic that inspired Kalyani Khona to launch an app that helps the differently-abled find love.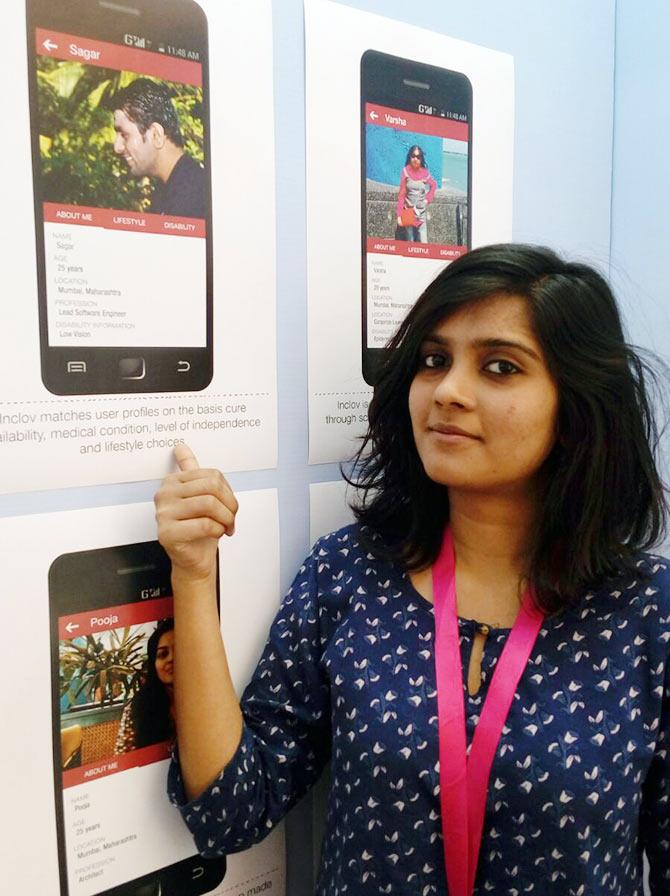 Love… a beautiful, indescribable feeling that has been written about for centuries.
Love… something that everyone wants in their life. But is this powerful force only the privilege of a select few?
Kalki Koechlin (watch out for her interview tomorrow, right here on Rediff.com), in the critically acclaimed Margarita With A Straw where she plays a girl with cerebral palsy, declares that her life is not just about surviving in this prejudiced society; she has other needs and desires as well.
Does having a disability automatically destroy your chances of finding love?
When 23-year-old Kalyani Khona learnt that, of the 80 million people with disability who live in India, a mere five per cent or less get married, she was shocked. Further research proved this was a universal issue that wasn't just confined to India.
Thus began her journey to fulfill the need of the disabled in our society to find love. In July 2014, this fresh-out-of-college graduate launched Wanted Umbrella, India's first matrimonial agency focusing on people with disability.
With 110 members and 1,000 registrations from over 20 cities in the country within the first six months, Kalyani knew she was on the right track. To widen her audience base and ensure everyone is provided with equal opportunities to find love, the enterprising youngster decided to move on to a mobile app platform.
In January this year, Kalyani, along with Shankar Srinivasan, 24, a former Pearson Group employee with experience in marketing and business development, launched the Inclov app (available in Google Playstore).
Inclov is the world's first matchmaking app focusing on the twirties (women in their late twenties or mid-thirties), people with disability and/or with health disorders to find love.
In her own words, Kalyani shares how she stepped into this venture, the challenges of forming a business plan revolving around an intangible entity and the euphoria of a job well begun.
A beginning, two years ago….
The plan initially was to find a niche in the matrimonial service sector, but that somehow seemed inadequate and prejudiced as it would cater to only a selective market. The traditional matrimonial sector does not cater to people with disability.
During my research, I found some shocking. According to United Nations, 80 million people with disability -- the largest minority in the world -- live in India. And only five per cent or less find a life partner.
We wanted to challenge this conventional idea of matchmaking and help everyone find their special someone.
Wanted Umbrella was born in 2014 with the vision of redefining the lives of people with disability by building an all-inclusive society.
Most of the first year was spent talking to people, collecting profiles and getting them on board. Everything had to be done manually. We talked to people, convinced them to connect with others and mailed them potential profiles, but it was getting increasingly difficult.
We soon realised the need was bigger than what we had imagined. It was becoming impossible to cater to a wider audience with our manual hands-on matchmaking.
We had 110 members and 1,000 registrations from over 20 cities in the country within the first six months. That was when we decided to make an app which is accessible to everyone with any kind of disability.
Inclov, the world's first matchmaking app for the disabled
After more than a year of research and raising almost Rs 6 lakh through crowd funding, Inclov was finally ready to be launched on January 21 this year.
This mobile app is the first matchmaking app which is accessible to one billion people with disability worldwide and matches people on the basis of cure availability, medical condition, level of independence and lifestyle choices.
Inclov is accessible to people with visual impairment and retina disorder through screen readers and other accessibility features like a font magnifier and colour contrast themes.
We plan to add voice command and video calling features to the app soon.
One can download this app on any Android phone by searching for Inclov on Google Playstore.
At the moment, this app only requires mobile number and email verification; we are developing additional security measures.
You cannot take screenshots or save images on or from Inclov. You do not have to share your phone number or email ID due to its in-built chat feature. We only provide first names to prevent stalking.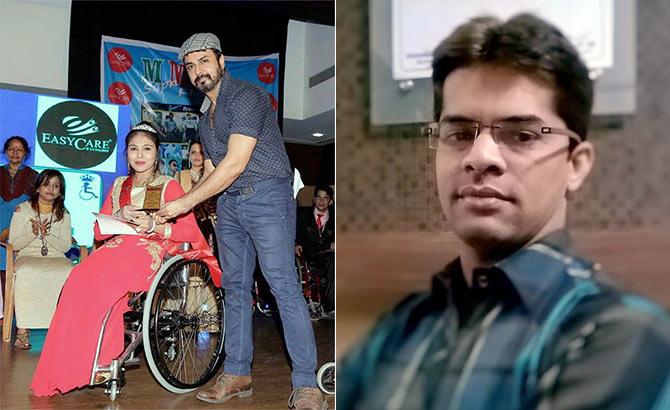 Image: Anisha Banu Multani (left) and Garana Imran met through Inclov app.
And the response…
We launched on January 21, 2016, and now have 1,200 users on the mobile app.
What is incredible is that we already have a success story. Thirty-year-old Anisha Banu Multani and Garana Imran, both afflicted with polio, met through our app soon after we launched it in January.
Anisha, a model from Surat, won the Miss Wheelchair India beauty pageant last year. She was contacted by my colleague Shankar, who convinced her to try the app. She had been looking for love for nearly eight years now.
For a person with disability, getting a partner often meant compromising on your desires. But Anisha stood firm and all her dreams came true when she met Imran, an accountant from the Junagadh area in Gujarat, through Inclov.
Incidentally, both had already met and chatted through Facebook, but neither had realised that the other was looking for a partner.
It was only when they connected through the app that they found the courage to explore the possibility of a relationship. Everything fell in place and, with the blessings of their families, the couple will be tying the knot in May this year.
More recently, we organised a Valentine's Day date for a couple, Sagar (who is visually impaired) and Nadiya (no disability). Initially, we were a bit apprehensive but the feedback was great. The meeting went on for nearly four hours and the couple plan to keep in touch.
The staff at Mamagoto (a popular restaurant in Mumbai) were very helpful in making this initiative happen. It was as unique an experience for them as it was for our couple. Many others who found each other on our app have decided to meet in the coming weeks.
Image: Nadiya met visually impaired Sagar on Valentine's Day. Photograph: Kind courtesy Inclove
A vast community ignored by our insensitivity
I have also been a part of the Accessible India Campaign (Sugamya Bharat Abhiyan), an initiative by the government of India that is striving to achieve universal accessibility for persons with disability.
There are many such initiatives pushing for equal right and opportunity when it comes to education, employment, mobility, infrastructural inaccessibility, etc, for the differently-abled.
Not much importance, however, is given to helping them find the right life partner. According to me, societal taboos and the lack of customisation when it comes to this specific audience in existing matchmaking apps and matrimonial portals are the common problems that they face.
I want Inclov to be a platform that provides everyone with equal opportunities to find love.
All for love and love for all …..
Love has the power to change someone's life for better or worse. It was never easy to come this far on a vague concept of love which is not a tangible metric in the business space. It's like selling air in jars. You know it exists but you cannot see it.
But we were sure we wanted to run our venture on the premise of love and not sympathy or disability and we are happy we have been fairly successful.
We are not banking on how Inclov to make your life easier; we are working on the premise of how this app makes you feel. Do our users feel good, hopeful or positive or do they feel like they are wasting time? That will make all the difference.
Lessons on love and relationships
I've become more open to the complete value proposition of a person instead of mere external appearances.
When Anisha called to inform us about her wedding date, she couldn't stop thanking the team for making this happen. She has invited all of us to her wedding.
A journey well begun
Starting Wanted Umbrella was one of the best decisions of my life. It has taught me lessons no MBA degree or corporate job could.
It gave me the courage to start with the customer and not the investor which is unusual in this era. It was a good decision because our customers have brought us this far. They have forced us to think and work harder.
They have urged innovation and helped us keep improving. All I can say is that the journey is just beginning. It is always tougher to be in the game.
ALSO SEE