Co-founding a million-dollar company is just one of the feathers in Varun Agarwal's cap.
And his story will soon be brought to the big screen by the director of Dangal!
Nikita Puri reports.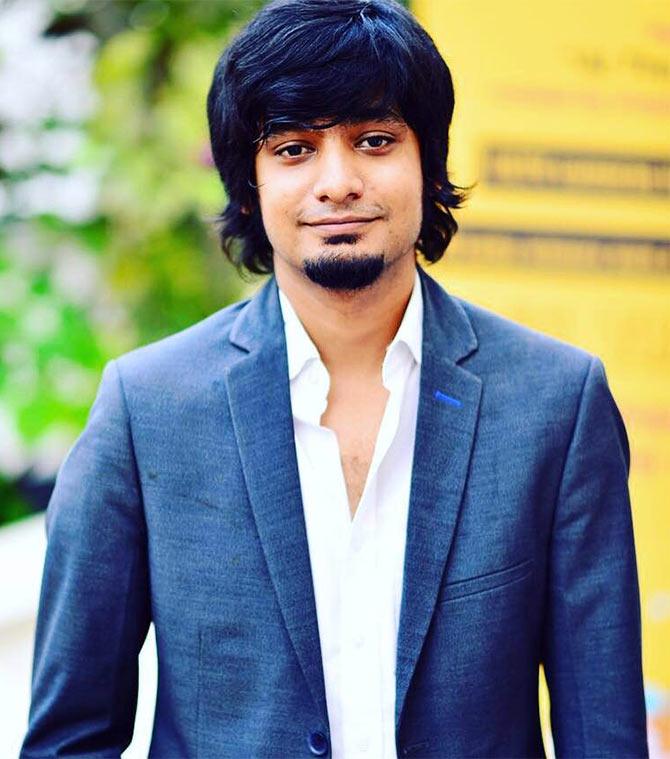 Varun Agarwal divides his time between the three companies he's set up and travelling the globe as a motivational speaker.
Photograph: @varun760/Facebook.
Sometime in 2009, two friends met up to reminisce about their school days in one of Bengaluru's oldest pubs, Noon Wines. Fuelled by pitchers of draught beer, the 20-somethings chalked out a business plan to save them from the drudgery of 9-to-5 jobs that waited for them after college.
The plan was mapped out on a tissue paper.
Shortly after Varun Agarwal and Rohn Malhotra left the pub, the paper was used to freshen up after they were stopped by traffic cops. Some unfortunate barfing had followed.
But tissue or no tissue, the duo stuck with the plan they had discussed. Or at least that's how Agarwal chronicles the Bollywood-ish beginnings of his company in How I Braved Anu Aunty & Co-Founded a Million Dollar Company (Rupa, 2012).
Agarwal, now 30, divides his time between the three companies he's since set up and travelling the globe as a motivational speaker.
"Don't overthink, and follow your dreams," is often his message.
One such talk was at the Indian Institute of Technology-Bombay, where the hall was so crowded that the doors had to be shut with many students still outside.
Arvind Venkatesh, an old friend of Agarwal's, was in the audience.
"This was one of the most premier institutions in the country," says Venkatesh. "I was under the impression that these students would know exactly what they wanted from life, but the reaction to his talk was a validation of how much Varun's story still connects with people."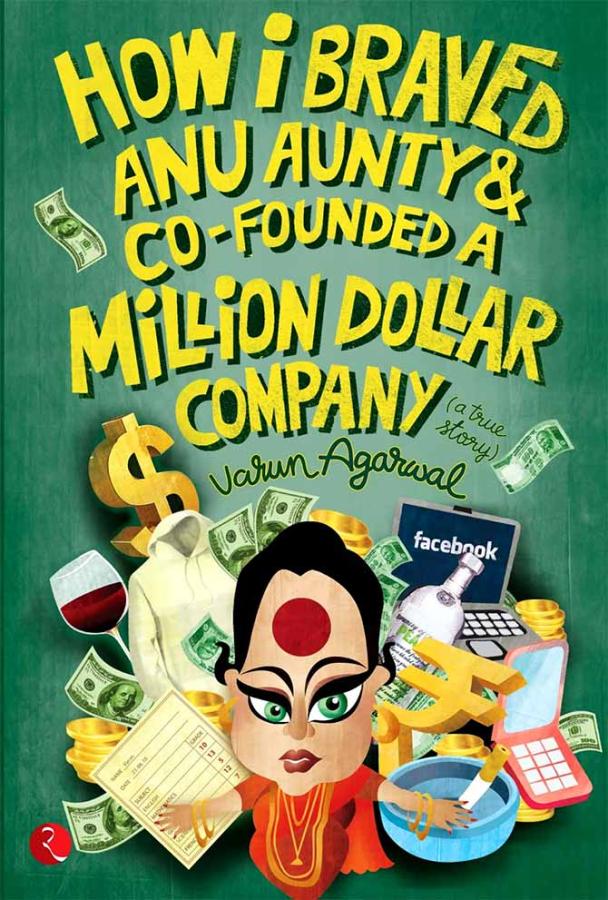 Agarwal's story was first heard, or rather read, in his semi-autobiographical narrative that encapsulates how he battled his mother's friend, "Anu Aunty", when she tried to stop him from setting up his own venture.

Agarwal's story was first heard, or rather read, in his semi-autobiographical narrative that encapsulates how Agarwal battled his mother's friend, "Anu Aunty", when she stepped up to stop him from setting up his own venture. Called Alma Mater, Agarwal's company that sells customised school and college merchandise went on to bring a revenue of over a million dollars within the first three years.
With elements like a business plan on a tissue paper, a garage-office and a multi-million product thrown in the mix, it's no surprise that Anu Aunty's story is going to Bollywood.
After bringing Geeta, Babita and Mahavir Phogat to the big screen in Dangal, filmmaker Nitesh Tiwari's next movie is based on Agarwal's book. It'll be produced by Siddharth Roy Kapur.
With discussions over Google documents, the script is ready and casting is in process.
Even on question-and-answer site Quora, Agarwal's success invites curiosity.
Questions on him range from "What does Varun Agarwal do to make money?" to "Did Varun Agarwal get lucky?" and "Is Varun Agarwal getting too much importance for selling hoodies?"
"If you think he's important just because he sells hoodies then you are absolutely wrong," writes Ganesh Kulkarni, a Quora member. "He's the poster boy of our startup generation," the post goes on to say.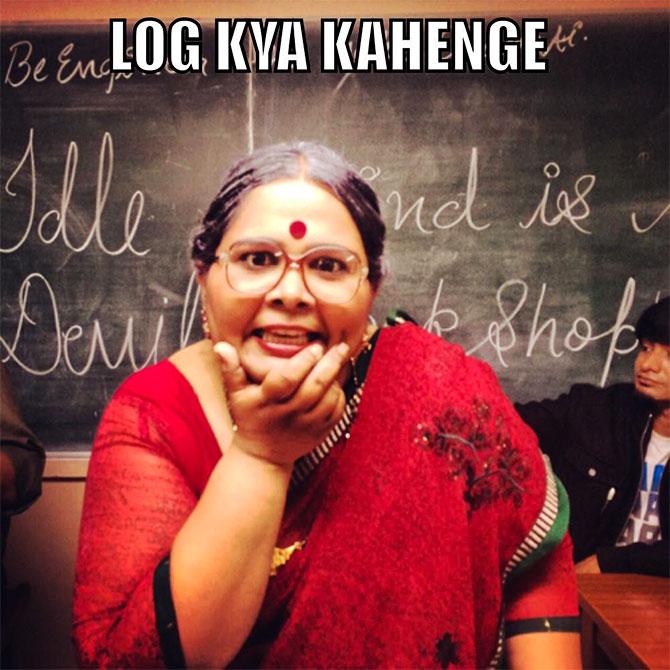 Agarwal's Anu Aunty battle has also resulted in a parody, which has been viewed on YouTube over 2 million times.
Photograph: @varun760/Facebook.
But even before Agarwal entered the merchandising business, he was making music videos. His own production house for online content, Last Minute Films, was set up in 2005.
When VH1 announced a contest inviting video content for Pentagram, one of India's first indie bands, Agarwal was one of the competition's finalists.
The video was dropped at the last minute.
"Most people would get bogged down by something like this, but Varun is one of the few people who use failures as stepping stones," says Venkatesh.
With Pentagram's blessings, Agarwal uploaded the video on YouTube. The attention it generated helped get him to Mumbai, where he went on to make a promotional clip featuring A R Rahman.;
Soon, he was directing a video set to Shankar-Ehsaan-Loy's music (The Greenathon Anthem). Many on the sets, including actor Preity Zinta, who Agarwal was supposed to direct, refused to believe he was the one calling the shots ("Back then, I looked like I was 14," he says).
Overwhelmed, Agarwal locked himself in the men's room. "Irrespective of what others thought, I couldn't allow myself to think of my skills being inferior. For the next 20 seconds, I told myself how I was going to go back out there and just do it in style," he recalls.
This "20 seconds of courage" is a technique Agarwal's picked from Benjamin Mee's book, We Bought a Zoo. (The idea is that if you are brave enough to follow through a commitment in the first 20 seconds, you can stick to it for a lifetime.)
None of what Varun is doing is what others wanted for him. That's the whole story with Anu Aunty too.
"Varun is driven from within," says Venkatesh.
This drive, feel Agarwal's friends, is powered by his reading. Biographies fascinate Agarwal, especially Steve Job's. He's also a sucker for hard-bound history books, with a soft corner for tales from British India.
Taking on new challenges is yet another of his interests.
For instance, when Agarwal co-founded Reticular in 2010, digital marketing was still in stages of infancy in India.
"Varun came up with the idea of focusing on brands on social media when 'online marketing' was just restricted to Google ads," says Venkatesh, head of marketing and operations at Reticular.
In many ways, the idea to sell an idea is in his blood, feels Venkatesh. "These are traits he's imbibed without knowing," he says, referring to Agarwal's pro-business Marwari background.
Decades before Anu Aunty became a force to be acknowledged in Agarwal's life, his mind was already scrutinising possible business ventures.
As an eight-year-old, he tried selling the homemade brownies his mother, Purnima, had packed for his lunch. "The money wasn't for me. I had everything I wanted. I wanted to do something for my mother," says Agarwal, laughing.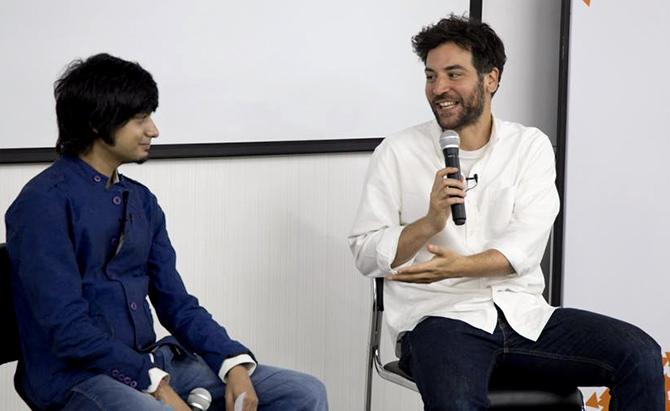 How I Met Ted Mosby: Varun Agarwal with How I Met Your Mother star Josh Radnor at Ink Live.
Photograph: Christopher Witschy/via @varun760/Facebook.
Agarwal's phone rings every few minutes. And every time, the backlight highlights the cracks on his screen. They crowd around a corner like tributaries afraid to stray very far.
The cracks don't bother him. The phone works just fine, he says.
"That's just how he is," says Upasana Saikia, another of Agarwal's friends. "It's not like he isn't bothered at all, but he's very aware of what he needs and what he doesn't."
Saikia recalls the time Agarwal's hatchback was nicked from his residence. "It took Varun three days to come to terms with it. Some of us kept telling him to get another car. He could afford it, but he said he didn't need it," she recalls.
Agarwal still feels the same way and uses cab-sharing services to get around the city.
As he continues to work on the content of a television show he feels could be "worthy of a Netflix production," Agarwal is also dedicating his waking hours towards a skill-building digital platform. "Our education system doesn't equip us for life."
The success of startups in India has given aspiring entrepreneurs the impression that entrepreneurship equals glamour. "It doesn't. It is about spending 14-16 hours at work and not taking a weekend off for years together for an idea that you believe in," he says.
The current startup scene is dotted with those who have extensive backing from their families as well as investors. "Many of them are not in it for the right reasons, but only for the presumed ease and [for the] heck of being an entrepreneur," he says.
He may have started out by chronicling how to oust Anu Aunty, the symbol of all the challenges he faced to become an entrepreneur, but Agarwal now advocates the very necessity of those challenges. "We need more Anu Aunties."