A decade and a half ago, when Dinesh Sood and his group of friends set out to manufacture their own outdoor gear out of a garage in Bengaluru, little did they know that they were building a multi-crore future brand.
Today it has pan-India presence and aims to expand to international markets as well.
This is their inspiring story.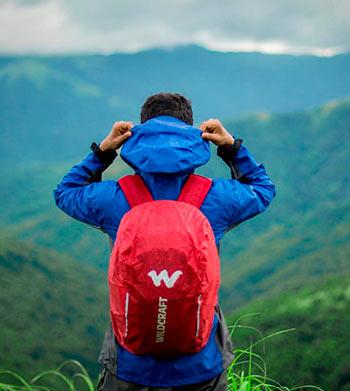 What started as a hobby among a group of friends in a small garage in Jayanagar, Bengaluru, Wildcraft, today, has over 130 exclusive stores and over 3,000 multi-branded stores in over 400 cities of the country.
In 2013, Wildcraft even garnered venture capital attraction from the marquee venture firm Sequoia Capital and received a funding of USD 10 million.
Started in the late 1990s by Dinesh KS, an engineer and an outdoor enthusiast, Wildcraft was born out of a need to create reliable and great quality outdoor gear and equipment in India.
The story goes that during one of his outdoor excursions, Dinesh met with an accident.
It was after this incident that the idea of Wildcraft was born.
Born out of a passion for the outdoors and the need to create great quality outdoor gear and equipment, Wildcraft's journey so far has been rather unusual.
In the 80s and 90s, Dinesh and the early group of outdoor enthusiasts would source most of their equipment from abroad.
Unable to find the right tents, sleeping bags and rucksacks, Dinesh and his friends then began designing and manufacturing their own gear.
Building an organisation
Co-founder Gaurav Dublish says, "Siddharth and I joined Wildcraft fresh out of college in 2001.
"It was a part-time role for all of us at that time as we had careers of our own.
"It was in 2007 that we decided to take this passion in the outdoor space and turn our entrepreneurial zeal into a commercial opportunity".
Gaurav says that the outdoor gear and equipment industry in India was rather unorganised when Wildcraft was created.
The main options present in the market were foreign-made used gear left behind by international trekkers. He adds there were a few international brands in the market via distribution, but in small numbers.
"As the number of adventure enthusiasts in India started to increase, we knew there was an urgent need for innovation and high quality products.
"Product form and function have always been at the front and centre of our business approach and this has continued to this day.
"Our focus is on inspiring and enabling Indians to experience the outdoors, through quality gear," adds Gaurav.
Building a team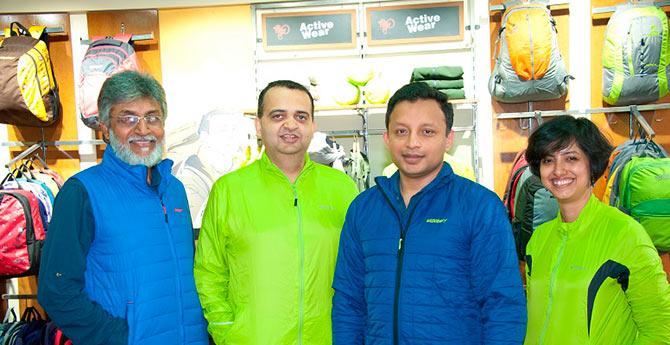 Core team of Wildcraft (LtoR): Dinesh KS, Siddharth Sood, Gaurav Dublish and Simeran Bhasin
Starting from a team of part-time workers to an employee base that exceeds over 3,000, Wildcraft has come a long way.
Being first-time entrepreneurs, Gaurav, Siddharth and Dinesh have had to learn several things along the way. In 2007, when the shifts happened, Gaurav and Siddharth left their lucrative careers in Standard Chartered and GE, respectively.
"We understood the dynamics of the business in a limited fashion," says Gaurav.
He notes that working in a multinational corporation gives one a support system and that one gets used to.
He says, "When you start from zero, you do not know where to start. So you begin by putting your hands in different pies -- design, distribution, manufacturing, finance – and then you put it all together. You then look at getting the right people in, and making them an important part of your journey," says Gaurav.
Today, Wildcraft has a different story to tell.
The platforms, Gaurav says, have become more robust -- they have an in-house design and development team, international supply chain and an over 2500-member manufacturing set-up with a partner network.
Going on a pan-India expansion
In the past four years, Wildcraft has seen a significant increase in sales figures.
In the financial year 2011, Wildcraft showed Rs 50 crore-worth revenues and by the end of this year the company is targeting a growth of Rs 250 crores.
In the year 2009, the team decided to expand its geographies to different parts of the country.
They initially began with regions that were similar to Bengaluru, like Hyderabad, Chennai and Pune. After taking in customer feedback and learnings, Wildcraft went ahead on a pan-India expansion.
Getting Sequoia Capital on board
In December 2013, looking at Wildcraft's growth and the pace of the changing market, Sequoia Capital invested Rs 60 crores for a stake of 20 per cent in the organisation.
"Both Gaurav and Siddharth are extraordinary entrepreneurs who are on top of their game.
"They know the market, understand the industry, are analytical in their approach and measured in the business. They are stringent on quality of the products," says GV Ravishankar, Managing Director, Sequoia Capital India Advisors.
He adds that while many brands market their products as 'outdoors', they aren't so in terms of functionality and usability.
Gaurav says that India has seen a massive growth in appetite for outdoors and adventure.
With a host of popular adventure destinations and a whole lot of people up for experiencing outdoor activities, there hardly goes a day without something on nature and the outdoors being featured in the media.
"But unlike the West, Indians like to snack on different activities, trying one and then the other. Currently, it's all about the experience, rather than perfecting and reaching expert level in one activity," adds Gaurav.
Real outdoor products need to be functionally superior and weather situations not typical of everyday life.
Ravishankar says that when the discussions around raising fund began, the market was becoming ready and more open to a brand like Wildcraft.
"The first thing that became prominent after lifestyle was sports, and this moved onto individual pursuits like trekking, cycling, and trail running.
"We saw this trend picking up in India and Wildcraft was a brand set to ride that wave. It has a great set of products and an entrepreneurial team to take on the market," adds Ravishankar.
Post funding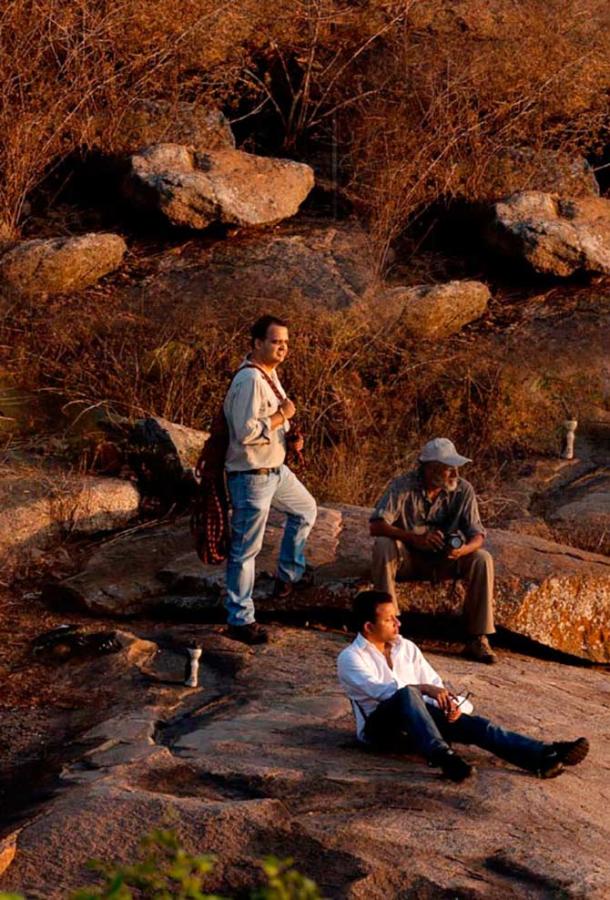 It's been two years since its last round of funding and Wildcraft has seen a significant shift.
"There is a great leadership team on board, arguably one of the best in the market today. Gaurav and Siddharth do not think along the lines of a two-year timeline; they look at a 20-year plan," says Ravishankar.
Gaurav says the company's values and core beliefs remain the same today.
"We have a young, energetic team, and each member has an entrepreneurial spirit and sense of ownership over the business. We are seeing a lot of momentum from our social and e-tail platforms, have made forays into international markets and have been investing in innovative product technologies such as Hypadura, Hypacool, Hypadry and Hypawarm," he adds.
The team is focused on product quality and passionate about building an Indian outdoor gear brand.
Wildcraft is seeing a year-on-year growth rate of 50 to 60 per cent.
It sells over two million pieces annually and is even seeing traction for its recently introduced clothing and footwear range.
"The team has built the business the right way in a frugal manner, by putting the systems and processes in place. We are glad to partner with Wildcraft," says Ravishankar.
On the brand side, Wildcraft has shifted from being perceived as a 'bag only' brand to a 'head-to-toe' outfitter.
The team has focused attention on getting brand positioning right: last year, apart from billboards, Wildcraft also saw its first ever TVC go live.
Future plans
Wildcraft now is looking to expand on a global scale, in the Middle East and South Eastern markets.
"We are looking at markets similar to Indian climates and would need similar equipment and gear, like moisture management, heat and rain gear," adds Gaurav.