"We were vacationing in Singapore when the Gulf of Mexico oil spill happened.
"I really wanted to do something because that was the devastation that happened in our backyard.
"I wanted to think of a solution that addresses one of the biggest ongoing crises of the environment today, oil spills, that is systematically destroying our ocean environment."
All of 18, young scientist Karan Jerath is committed about using knowledge and technology for social good. He has invented a device that will help fight undersea oil spills.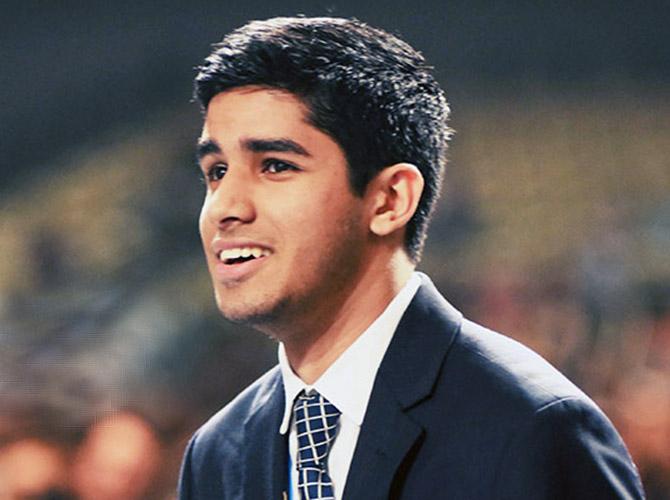 Earlier this year, in a glittering ceremony, Karan Jerath was awarded Intel's Young Scientist Award for inventing a device that shuts down undersea oil spills.
This horrifying manufactured environmental crisis of our times has been destroying maritime ecosystem and eradicating its fragile ecology.
Despite efforts to control them, they persist in occurring with alarming degrees of regularity.
When the Deepwater Horizon Oil Spill happened on the Gulf of Mexico in 2010, Karan was living in Friendswood, Texas.
He says, "The fact that it happened in my backyard woke me up to the true nature of the environmental damage this was wreaking. I had to do something about it."
He worked nine to 10 hours a day researching, designing, and unfailingly experimenting.
His efforts paid off when he won $50,000 from Intel for his invention and was hailed as a veritable visionary.
But when the award ceremony was over and the media's collective fawning over a boy genius ran through, society's interest in the invention disintegrated.
A model of Karan's invention sits in his bedroom.
There have been no investors, backers or attempts to take this device forward.
Karan is using his prize money to pay for his tuition at the University of Texas where he is majoring in petroleum engineering.
He is determined to take his invention to the next level.
Given his constrained resources, he wants to utilise every opportunity the university department offers him to develop the model further.
He speaks about how a cosmopolitan upbringing shaped his mind, the process of inventing and why it is ideas, and not age, that matter in the end.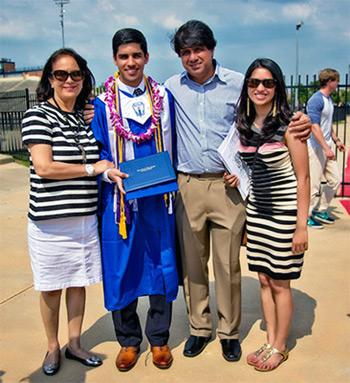 You had a childhood spanning India, Malaysia, and USA. How did acquiring these global experiences shape your perspective?
I was born in Mumbai but moved to Malaysia when I was one.
Living in Malaysia and attending the International School of Kuala Lumpur, I developed as a global citizen-one who recognises the necessity of harmonising opposing perspectives and becoming accustomed to a lifestyle of contrasting cultures.
In 2008 we moved to Friendswood, Texas.
I believe it was here that my scientific acumen began to take shape.
How did your family complement this cosmopolitan upbringing?
My dad is a mechanical engineer who works for a Norwegian shipping company. My mom is an artist.
They infused me with the best of both worlds, my dad's scientific perspective and my mom's artistic one.
How did you adjust to your new life in the US?
Moving to the US was a very intimidating experience.
We didn't know anybody except for one family from dad's work. That adjustment took a while. But also this was during high school.
I was getting very interested in science, branching out and trying new things and generally being overbearingly curious.
Why and when did you decide to make this device?
My mother's family is from Singapore, so while we were vacationing there the Gulf of Mexico oil spill happened.
I really wanted to do something because that was the devastation that happened in our backyard.
I wanted to think of a solution that addresses one of the biggest ongoing crises of the environment today, oil spills, that is systematically destroying our ocean environment.
I started going to libraries and reading up on this, drawing different designs and coming up with blueprints.
Were you a keen environmentalist prior to this?
I do care about the environment but wouldn't have described myself as a keen environmentalist prior to the Gulf of Mexico accident.
The incident set off a spark. I felt I could do something real to combat this.
Once you came back to the States, how did you take it forward?
Coming back, we had a science fair coming up so we had to submit project proposals.
I approached my chemistry teacher with my idea and she helped me get in touch with a mentor.
My main struggles were with the research aspect of the project because there was not a lot of information online.
This idea has not been implemented or thought of before. Through trial and error, experimentation and guidance from my mentor, Hill, I proceeded forward.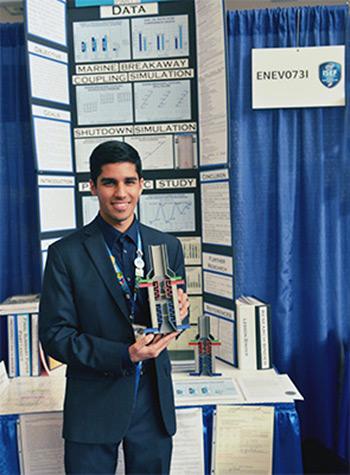 What kind of resources did you have at your disposal to develop your idea?
My mentor works for Foster Hydraulics.
Through his connections, I was able to procure relevant literature.
I didn't actually build the device. It was all on modelling software called Stoner pipeline simulator. He had that on his computer.
After getting permission from his office I would go there every day to work on the project for eight to nine hours a day (during vacations).
The device is 75 feet in height (it's a very big device), so I don't have the bandwidth to manufacture one right now.
Mainly for experiments, testing it on the software was the major initial step.
But I am currently trying to find backers and investors who will produce the machine.
Since your device is in its theoretical stages and has not been tested in actual waters, how sure are we that it is the definitive answer to preventing oil spills?
To test out an invention theoretically is the first step in any industry.
The software that I use, Stoner pipeline simulator, is a very good one that is used across industries as the standard.
Through that I'm able to assert that yes this will work.
The next step is of course to implement the idea and building. That's what I'm hoping to do right now.
So at the University of Texas in Austin, which I will be attending soon, I am going to start branching out to different professors who have more advanced software and take this to the next level.
How long did it take you to hit upon the idea, work out the kinks, and zero in on the techniques?
I talked to a lot of people, watched documentaries, and read up a lot.
British Petroleum had something similar. But it was essentially a hollow tube.
I modified that version. I think I went through 30 different designs before zeroing in on the current one.
How much time do you estimate it would take for the device to clean up a spill?
The leaking well head would still be producing oil.
The device would sit over it and continue collecting it until the company figures out a way to permanently shut down the spill.
The device is essentially a way to divert the spill from contaminating the ocean and keep it from devastating the marine life.
Since you said it's 75 feet tall, and I am going to assume many hundred tonnes in weight, how feasible do you think it's going to be transporting the device to the scene of the spill?
Transportation is not a problem because there are ships out there that can carry the device and drop it in.
Since it'll weigh upwards of 300 tonnes, it will go directly to the bottom of the ocean and won't tend to float upwards. So the feasibility is not a problem.
Are you planning to invest the prize money you received into further developing the prototype?
I'll be going to the University of Texas in Austin in a few days.
I am using the money to fund my college education so my parents won't have to worry about that anymore.
But while I am at UT, which is the number one petroleum engineering school in the world, I will have access to the best professors and equipment. I will use that to further develop my project.
Have you been approached by investors, corporations or backers of any kind since you won the Intel prize?
I have not yet. But I will go about that very soon, once I figure out how to balance college with taking my invention further into the world.
Given the massive hype your invention generated and how it was hailed as the definitive answer to the worst environmental crisis of our times, how is it that the interest died down barely after the award ceremony?
I am not disappointed. I still have a lot more I can do with the device.
I am going to patent it, work on improving it at University and then approach investors.
I am also coming to India in December to showcase my project there. Maybe something will come of that.
It seems paradoxical asking you this question, but have you had any experience with failure?
I spent a lot of time being insecure and not knowing what path I would take in life. But through science fairs I realised my love for engineering.
This Intel award has truly impacted me in the most positive way.
It has given me the confidence to continue inventing and sharing my ideas with the world.
It's taught me that it doesn't matter how young or old you are, how big or small your idea.
As long as you work to make it a reality, the world will sit up and notice it.
What is your advice to creators and aspiring inventors out there?
I think the younger generation keeps on asking the question why. It's not about the prestige.
It's about persevering to find results that will change the world for the better in some form. Never give up on your idea. Keep pushing forward.