Aradhana Buragohain, a girl from a small town in Assam, is making big strides in modelling.
She shares her story with Rediff.com's Rajesh Karkera.
Aradhana Buragohain hails from Dibrugarh, a small town on the banks of the Brahmaputra in Assam.
The daughter of a doctor and a teacher, she grew up as removed from the glamour industry as possible. Yet that is where she found her passion.
Buragohain, 25, has already made it the top 10 at Femina Miss India, won the second runner up crown at Miss India Universe and starred in the Assamese film Priyar Priyo (2017).
She spoke to Rediff.com on the sidelines of the recently concluded Lakmé Fashion Week Summer/Resort 2018.
Don't miss: When Aradhana Buragohain turned photographer for Rediff.com
Photograph: @aradhanaburagohain_official/Instagram
What made you choose modelling?
I used to follow FTV, and watching those models strut down the runway, I was in awe. So, when opportunities came my way, I made the most of them and realized I love being in front of the camera.
What was your first ever fashion show or photo shoot. How did it feel?
My first ever show was in Guwahati, which I just did for fun when I was doing my masters from Tejpur Central Univesity. I ended up falling in love with the ramp and realized how powerful it makes you feel. There was no looking back.
What did your parents first think of you becoming a model? Were they supportive?
At first, my parents were not at all okay about this, mostly because I come from a very different background. My dad is a doctor, mom is a teacher, and no one in my family has any connection with this industry.
But I convinced them and told them to give me two years. I told them if it didn't work out the way I wanted it to be, I would go back and pursue my academics and keep working towards my other goal as I always had a backup plan. But I knew that this would work. I believed that this would work. That's the reason I told them this.
To be honest, my parents never thought I wanted to be a professional model. So, when I told them my plans they were flabbergasted.
But later, when I used to tell them about the projects and share with them the output of those, they were quite happy. And when they saw my pictures, when they saw me on the ramp at Miss India 2016, they were like okay fine, maybe you can take it up (smiles).
Did they help you?
They were ones who convinced me to come to Bombay!
Now, they are super supportive and have opened up social media accounts to keep themselves updated about my work.
I've now been in Bombay for a year and am loving every minute of my work.
When do you go home?
It's been a long time now since I've been home.
I do get a chance to go to Assam for work. But I didn't get any time to go home; my parents come to visit me when I am there.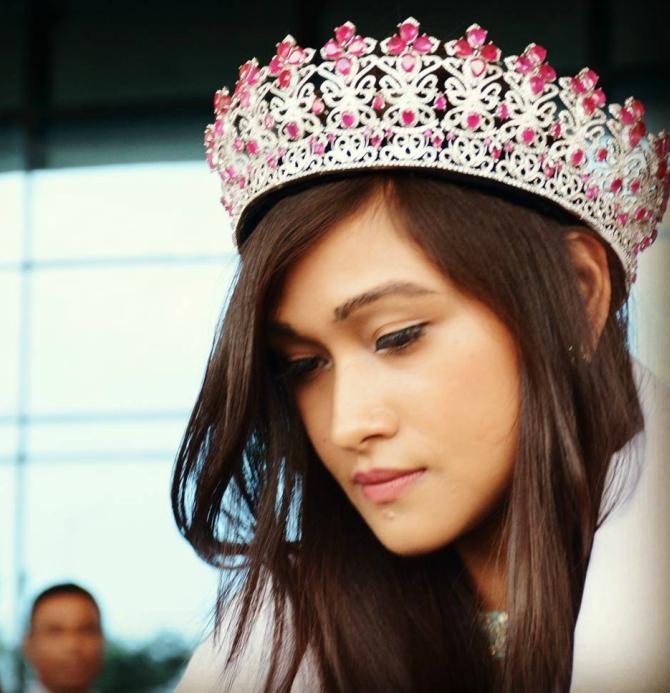 Photograph: aradhanaburagohain_official/Instagram
Who was your role model as a child and how did that help in being a model?
Coming from a small town meant getting into modelling was a big deal. So, in school when I read in one of the local magazines about two girls from my state pursuing modelling in Bombay -- Dipannita Sharma (Ladies vs Ricky Bahl) and Monikangana Dutta (who made her name on international ramps and as a Victoria's Secret model) -- they were like a ray of light coming from a crack in the wall.
If you were not a model, what would you have been doing instead?
After completing my masters in English literature, I was already working as a sub-editor in a newspaper in Shillong. I would still love to work in a fashion magazine.
What are your guilty pleasures food wise?
I love pasta with white sauce, cheese and butter.
Fashion weeks, although glamorous, can be quite stressful. How do you cope with the pressures of being a model?
I have always believed that when you are doing what you love it's not called work. If what you are doing gives you pressure not pleasure, then it's not worth it.
Who are some of your favorite designers?
There are so many that it's difficult to pick a few. But I absolutely love Anita dongre, Shantanu & Nikhil, Gaurang Shah, Masaba Gupta, Pella.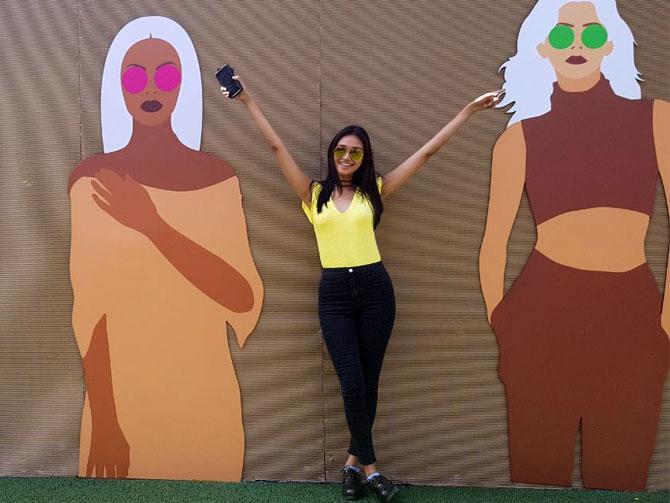 Photograph: Rajesh Karkera/Rediff.com
What are some of your beauty tips?
The one tip that tops everyone's list is drinking water, eating healthy and using natural products as much possible. Your body has to be clean inside to look beautiful outside.
Have you ever been turned down by a designer or failed to make it through an audition?
Yes, a lot of times.
How did you feel? How did you cope?
When I entered the industry I knew it wasn't going to be easy! But I believe if you are good enough, you will get it, and if not, you need to keep learning and evolving.
I never stress out about rejection, but I do care for a good review so that I can improve.
If a young girl/boy wanted to be a model what would your advice be?
I would encourage them to pursue what they love and not do it just because it looks glamorous.
What are your thoughts on the #MeToo campaign? How impactful has it been in India?
The #MeToo campaign in India signifies the voice that Indian women have finally found -- one step towards equality in the land of patriarchy, which is slowly changing.
Watch: Aradhana Buragohian at Lakme Fashion Week
Video: Rajesh Karkera/Rediff.com