Sabyasachi Mishra is not your regular brainy student.
He never topped his class in school or college and almost skipped the CAT 2015.
Yet, he scored a perfect 100 with just two months of preparation. This is his story.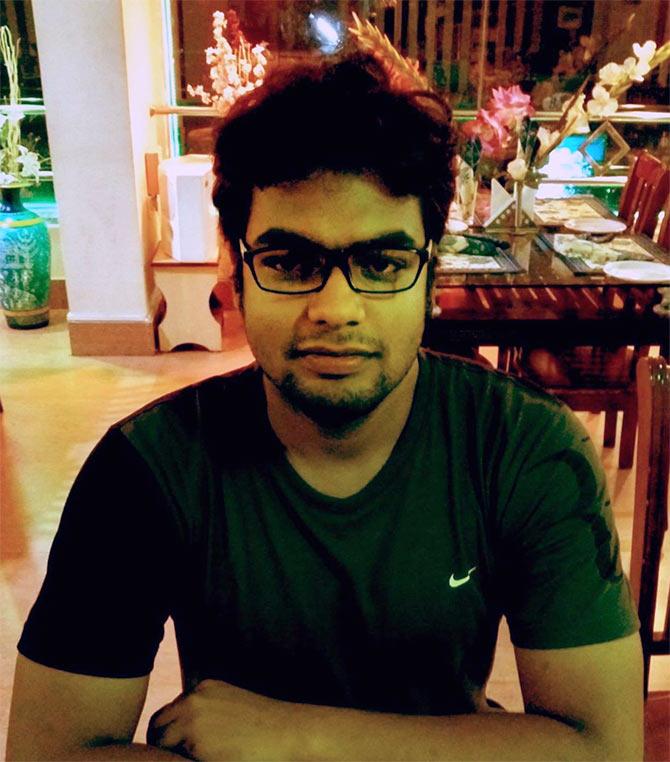 Sabyasachi Mishra, 23, (pictured left) from Bhubaneshwar, Orissa calls himself a "mediocre student". He never topped his class in school or college.
His dream was to join the Air Force so, after completing class 12 from the Rashtriya Indian Military College in Dehradun, he began preparing for the Services Selection Board exam.
However, in 2010, when he underwent a medical check up at the Air Force Medical College, New Delhi, he was diagnosed with Spina Bifida, a medical condition that affects the spinal cord.
"With this medical condition, a fighter pilot cannot eject from a plane more than once. The jerk associated with ejection procedure is very severe. Although it doesn't pose any threat to regular flying or normal routine, people with this condition are not allowed to become fighter pilots."
The condition clearly ruled out his chances at qualifying for the Air Force.
He still gave the exam in 2011, but failed to clear it.
That's when, after serious introspection, he realised his love for maths. So he shifted his focus towards engineering.
In 2012, he took the IIT-JEE and scored an All India Rank of 968.
Sabyasachi joined Indian Institute of Technology, Kharagpur, to pursue a BTech in Mechanical Engineering. In his final year, he decided to give the CAT.
But, the night before the test, he had second thoughts. "Juggling between my college exams, which were going on, and appearing for the CAT was proving tough. I called my parents to tell them I would give the CAT a miss and focus on my college presentations which were equally important," he says.
He changed his mind when his friends, who were also taking the exam, asked him not to let his preparation go in vain. Sabyasachi's exam went well, but he was not expecting a perfect score.
When the resulted were announced on January 8, Sabyasachi was elated. "I had scored 100 in the quantitative aptitude section, 99.88 in data interpretation and logical reasoning and 99.67 in verbal aptitude and reading comprehension."
He is grateful his family supported him and let him build his own career.
Sabyasachi's father, Subrat Kumar is the deputy general manager at the Odisha Power Generation Corporation Limited.
His mother, Geetanjali, works as a teacher in a government primary school near Nayagarh. His younger brother, Abhishek, is pursuing mathematics and computing from IIT-Delhi.
Sabyasachi, who calls himself a 'quick learner', tells Tista Sengupta/Rediff.com how he cracked the exam.
What was your reaction when you got the results?
I was sleeping in my room when the results were announced. I woke up to a call from my friends who told me I had scored a perfect 100. I thought they were playing a prank on me. I logged into the website to check my results.
I was so happy. I immediately called my parents. They were so happy and proud.
People from my coaching centre called to congratulate me.
It's been two days and I am still celebrating with my friends.
Sabyasachi Mishra is among the five toppers who scored 100 percentile in CAT 2015.
Did coaching help?
I would take coaching during weekends when I didn't have college and study for least eight to 10 hours for CAT.
I mostly took mocks to improve my performance.
On weekdays, I would study for two hours a day. It was only two months before the CAT exam that I actually started to study seriously.

How did you prepare for the exam? What were your study 'secrets'?
Math and logical reasoning have always been my strengths.
I am good at English vocabulary but I faced problems correcting sentences and rearranging them. So I put in more effort there and started solving papers from previous years.
I also took help from GMAT's official guide; it helps in improving your English skills.
I believe if anyone wants to crack CAT with a good score, you first need find your strengths like I did. Then, you should focus on your weaker areas and turn them into your strengths before you appear for the exam.
Always listen to your faculty at the coaching centre and ask for their help.
Take mock tests to see how well you are performing in the section you aren't good at. For the sections you are good in, taking mock tests helps you revise.
As an IIT student, your life is hectic. You have your share of studies, presentations, exams and the stress of being placed in a good company after your final year. It's very important to maintain a balance, so your studies are not hampered.
Do you think being an IITian helped you in the exam?
It isn't the name of the college that helps you in the exam. But the rigorous preparation that you do to crack the IIT-JEE helps.
While preparing for the JEE, I brushed up my mathematical skills and got my fundamental mathematical concepts like permutation and combination, probability, etc, correct.
If you are good in maths, you can easily solve the logical reasoning section. I had to give a lot of stress on English while preparing for the SSB test, which eventually helped me in cracking the CAT.
Did the changes in the exam pattern help you in any way?
I didn't benefit from the changes; instead, it was a hindrance.
Earlier, you had 170 minutes to solve the paper wherein you could work on any section as per your choice.
Now, 60 minutes have been allotted for each section and you cannot switch sections. I had to wait for the 60 minutes to get over and then start with the next section of the paper. In fact, I could not even submit my paper before time.
I completed the quantitative aptitude test quickly unlike the others, and had to wait for around 10-15 minutes to submit my paper.
If this wasn't for the pattern, I could have given more time to the English and logical reasoning sections.
What mistakes did you make initially in the mocks and how did you correct them?
Before I appeared for a mock test, I revisited my previous answer sheet and checked where I had gone wrong. This helped me rectify my mistakes.
For example, if I got a passage wrong, I ask to my faculty to point out the errors.
The next time I took the mock test, I would have a different approach to the question in order to not repeat the same mistake.
Where do candidates go wrong with CAT?
CAT isn't difficult. Whatever you have studied for your board exams and engineering entrance exams is what comes in the paper.
Students usually don't do well in mathematics and logical reasoning or, perhaps, they have a maths phobia. You should remember that if can you solve a mathematical problem correctly, you can score full marks.
Personally, I think English is the most competitive paper in CAT.
All you need to do is focus.
Have you got any admission offers yet?
Yes, I have received calls from IIM- Ahmedabad and Kozhikode. I haven't yet gotten a call from IIM-Calcutta but am expecting it soon.
I am not expecting any calls from IIM-Bangalore as my CGPA in college is around 7, which is quite low; it might not meet their eligibility criteria.
How are you preparing for the GD/PI rounds?
My faculty at the coaching centre told me the GD/PI round in IIM-Ahmedabad is pretty unpredictable. They might just ask you to draw the map of your district. I have to read up the maps, especially of my own state, highways and mountains.
They ask such questions to see how tactfully you manage a situation without panicking.
This is my first time, so I hope things go well. I will start preparing for it soon and also take mock GD/PIs.
Which business school would you prefer to join? And why?
Honestly, I haven't decided which course to take up. As I am good in maths, pursuing finance makes more sense. But I am inclined towards strategy too.
The IIMs- Ahmedabad and Bangalore are good for marketing and strategy whereas IIM- Calcutta is best for finance.
I want to pursue consulting in future, so be it IIM-Ahmedabad, Bangalore or Calcutta, it doesn't really matter much. All the campuses have the same companies approaching them during placements.
But I do prefer IIM-Ahmedabad as it has a very good entrepreneurial culture. Many students from here have built start-ups. People here are full of life which interests me a lot.
If you crack the GD/PI round at IIM-Ahmedabad, you can opt for deferred admission under which a candidate secures a seat in the institute for a year and can work during this span to gain experience in the corporate sector.
I want to be a seasoned investor or venture capitalist. But, before I reach there, I intend to get into consulting, solve cross industry issues and gain experience to build my own company later.
What books, periodicals and websites would you recommend to MBA aspirants?
Except for the GMAT official guide, I didn't buy any other book. Coaching centres usually provide with proper study materials.
If you are taking the CAT exam for the first time, it's better to enrol yourself in a coaching centre. They will guide you in the right way.
For qualifying in the GD/PI rounds, you need to read national newspapers like The Hindu and The Economic Times to keep yourself updated on current affairs. You need to be aware of things that can get linked back to you, for instance the place you belong to, school, college, etc.
Read up technical stories on Mashable and TechCrunch online. Even reading news on mobile apps help. Take a look at Facebook's trending topics every day.
What advice would you give to candidates who aim to get 100 percentile in CAT?
Be honest with yourself. Whenever you sit down to study, you should not let anything distract you.
Make a routine and follow it religiously. Even if you study for only few hours, make sure you do it regularly.
There might be times when you wouldn't want to study any further. On such days, don't force yourself and do something that you would want to at that point of time. Get back to studies later.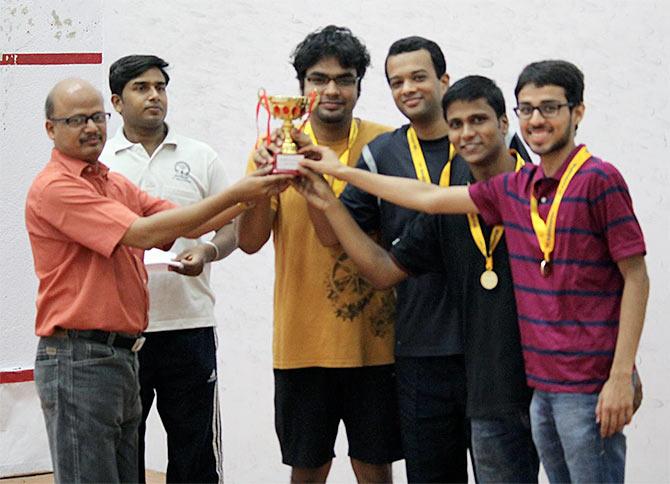 Sabyasachi Mishra (third from left) with his squash team.
Besides academics, what are your interests?
I like to play squash, watch movies and listen to music. I am also a part of a society in college named 'Share' where we solve case studies related to marketing campaigns for companies.
Being a part of a society in college helps me learn about various sectors and keeps my profile versatile.
What have you learnt from your life and career so far?
Life works in stages. If you work hard now, you will definitely benefit in the next stage.
Everybody needs to have a long term vision to keep them inspired and drive them towards success. Instead of seeking inspiration from something or someone, focus on what you want to do in life and achieve it.
It makes no sense to pursue something you aren't passionate about. You will excel if you work towards what interests you the most.
CAT aspirants need to be clear about what they want to do next. MBA is just a platform to push you towards what you want to do.
When you start your management studies, you should know where you want to see yourself in the next five years and work towards it.
Use the MBA as a vehicle to take you somewhere; never think of it to be a destination where you can grab a job placement and secure your life ahead.
ALSO SEE
'When you reach the top, people will only see your success'
Photographs: Kind courtesy Sabyasachi Mishra