Son of a mechanic from the Public Works Department, Ayush Sharma has not only won admission to the undergraduate programme at the prestigious American university, but also a full tuition waiver.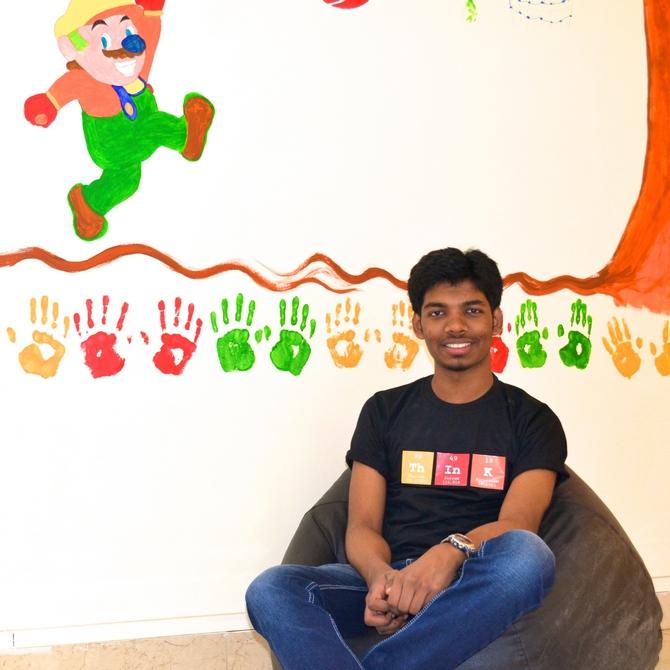 Each year on Pi Day, March 14, the Massachusetts Institute of Technology lets applicants know if they have been admitted to the prestigious institute.
This year the good folks at MIT decided to get even nerdier and decided to release the admission results precisely at 09.26.53 hrs local time.
The date and time combination (3/14/15, 9.26.53) resulted in the first ten digits of Pi -- 3.141592653.
As thousands of applicants logged in at the appointed time, the portal crashed.
Among the many young aspirants hitting F5 on the keyboard was Ayush Sharma in Kanpur. It was about half past seven in the evening in India.
After some 30 minutes of trying to log in, Ayush succeeded.
Something that looked like a letter showed up on his screen.
He skipped the first few lines.
"When I read the word 'Congratulations' I knew I had got in. I started screaming wildly!
"My mother and my brother were watching TV in another room; both of them rushed in. My mother asked me if I had gone mad!" he laughs.
"When she realised, she was euphoric; she hugged me and cried.
"My father was working the night shift so we telephoned him. He really wanted to come home but he got back the next morning."
Ayush is one of only three students from India to have been admitted to the course this year.
Besides receiving a full tuition waiver for a four-year undergraduate course at MIT, he has also received scholarships for lodging and boarding.
"My parents know it is a very big deal, especially with the media attention. But I don't think they know the full extent of it," he says.
Ayush's father is a mechanic and maintains and repairs road construction equipment for the Public Works Department in Kanpur.
His mother is a constable in the Central Reserve Police Force.
Neither of them have a college degree.
"My father completed a course from a local ITI after Class 12 and (eventually) joined the PWD and my mother joined the CRPF soon after Class 12," he says.
When they first heard of MIT some years ago, it meant nothing to them.
"According to them my best option was to appear for IIT-JEE.
"So when I started the admission process, they were worried. They could not grasp why an elite academic institution would want prospective students to write essays!
"They were quite sure I was wasting my time.
"I had to explain to my parents how important and prestigious a deal it was.
"After that, they totally supported me. My father accompanied me to Lucknow and New Delhi for my TOFEL and SATs; they have stood by me and believed in my dream."
***
Ayush Sharma was in Class 7 when he first heard of MIT.
"I read about it in newspapers, about how their students and professors worked together and invented things.
"I was young but I understood enough to know that MIT is where cutting edge research happened," he recollects.
In Class 11, Ayush got involved with Avanti Learning Centre, a social enterprise run by IIT alumni.
He was part of a programme that helped gifted students from lower-middle class families secure admission in top US colleges.
"I heard about the Yale Global Scholars Program through a mass email from Taylor Gregoire-Wright (a Yale graduate who leads Avanti's foreign applications programme)," he says.
The competitive summer programme brings together exceptional high school students from around the world and helps them engage with world-renowned professors.
"It seemed like an exciting opportunity so I wanted to go."
But this was easier said than done.
"When I first assessed Ayush for our study abroad programme, I was not sure he would be able to cope," Gregoire-Wright recollects in a release circulated to the media.
"His communication skills needed work and there was little precedent of middle-class Indian students qualifying for top US schools."
It was clear to Ayush that if he had to make it anywhere close to Yale or the US, he had to work on his spoken English.
"I had a fairly decent understanding of the language but there was no one in my circle who I could speak with in English. So every evening when I stepped out for a walk, I would speak to myself!"
The process of applying to the Yale Global Scholars Programme was similar to the process for applying to American universities -- you seek recommendations and you write essays; you have to make a serious effort, Ayush says.
The efforts paid off.
Ayush got into the programme and secured a full tuition waiver. He needed funds to travel to the US and this came through a crowd-funding campaign that raised $1500 in under six hours!
He spent three weeks at Yale and the difference in the learning environment was obvious.
"In India we often encourage rote learning and the stress is on examination scores but the system in the US stresses on collaboration and research and out-of-the-box thinking."
His stint at Yale made Ayush think seriously about enrolling in an American university for a graduate course.
Varun Verma, who heads sales at Avanti Learning Centre, could see the difference too.
"Ayush returned from Yale completely transformed.
"He was more articulate, had a broader world view and was convinced that he wanted to go to MIT or another top US university for his undergraduate studies."
Now that he has won admission to MIT, which lists some 32 Nobel Prize winners as it alumni, including former UN Secretary General Kofi Annan and the economist Joseph Stiglitz among others, Ayush is preparing himself for the challenge.
He hasn't made up his mind about his majors, though physics and maths are his favourite subjects.
Eventually he hopes to translate these interests and "somehow use them to better the schooling system in India."
"I have been part of this system and I believe that this isn't the best way to educate children. There is a lot of room for improvement.
"I am learning new skills, new programing languages and also just making the most of my time before I will be surrounded by academics for the next four years."
Are his parents worried about their son travelling to the West?
"They are aware of the stereotypes," he admits. "But they are also aware of the doors that an MIT degree opens."
Photographs courtesy: Avanti Learning Centre