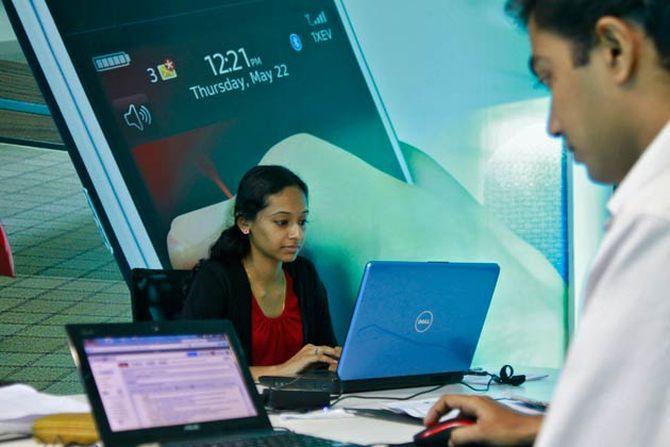 'The only way to create more jobs is to make sure that we anticipate the skills that will be required in the future and prepare ourselves for those skills.'
Infosys Co-founder Senapathy Gopalakrishnan, the company's CEO and MD from 2007 to 2011 and Infy's vice-chairman from 2011 to 2014, is now co-founder at Axilor Ventures, an accelerator that helps early-stage start-ups succeed.
'Kris' Gopalakrishnan spoke with Rediff.com's Prasanna D Zore about job creation, life and career lessons.
Talking about job creation, the Indian IT industry once created a majority of jobs for the youth, but in recent times we have been witnessing some softness in job creation in the Indian IT industry.
What needs to be done for creating more jobs in the IT industry?
We need to remember that globally there is an economic slowdown.
Starting from 2008, with the financial crisis, the repercussions of those eventful years are still not behind us.
For example, Brexit, the repercussions of the unrest in the Middle East... all these events will have an impact on the software industry because we are a service provider industry.
We provide services to countries in various geographies and if these industries don't do well then the software industry will also not do well, because we are a part of a global ecosystem today.
If jobs are to be created, the industry will have to innovate. There are significant opportunities coming up in the future in Artificial Intelligence, Data Sciences, the whole area of Internet of Things.
If you innovate and train your existing and prospective employees in some of these new areas jobs will be created.
These cycles (of fall in job creation) will happen periodically. This is not new.
The only way to create more jobs is to make sure that we anticipate the skills that will be required in the future and prepare ourselves for those skills.
We need to create the services that will be needed in the future, today. As a company, as an individual we have to anticipate change.
Do you see that innovation happening in the Indian software industry that is so necessary for creating future jobs?
IMAGE: Infosys co-founder Senapathy 'Kris' Gopalakrishnan in Mumbai at the launch of mobile app itihaasa; Photograph: Kind courtesy itihaasa Research and Digital
When we started working in this industry, we were working on mainframes. Today, we are working on mobile and cloud technology.
The (Indian IT) industry has kept pace with global change. That is what gives me the confidence to say that the industry will manage this transition. Yes, there will be some jobs that will change their nature.
The industry is not laying off people. They are really recruiting less people. So, there will be some lost job opportunities. But the industry will recover.
Life lesson you would like to share with our readers...
You have to continuously learn. There is no end to learning.
I read for one hour every single day. If I have to keep up with what is happening I have to continue to read. You have to commit yourself to life long learning.
Career lesson...
This is a marathon, not a sprint.
(Building) something valuable takes time. It just does not happen overnight.
A diamond is something that has been buried in earth for millions of years. That's why it became a diamond.
When you embark on doing something worthwhile make sure you give it enough time.
You must have patience; you must be persistent. There will be challenges, ups and downs, but if you are focused on the result, if you are focused on doing the right thing, which is very important, then you will succeed.
Career is a long-term commitment and you need to commit for the long term and work hard.
And that is the path you have followed?
Yes.
The values that you cherish in life... Values that have helped you to be what you are today...
The first, without any doubt, is you must always think about helping others.
It is never about me! It is about helping others and through the success of others you will become successful.
I strongly believe that the more successful you are the more you need to think about helping others.
The second value is life-long learning. You have to commit yourself to that.
You have to be curious, inquisitive, innovative, and listen, because listening is actually part of learning.
The third thing is being fair.
You must make sure that you don't take undue advantage of anybody.
Because you have access to resources, don't over-consume. Today, we have that tendency (to over-consume), whether we want or don't we buy things. Whether we want or not, we will eat too much.
Everything in moderation is extremely important when it comes to natural resources. Because there is only so much available and there are lot of people who don't have enough.
The most important values taught by your parents...
Clearly, it is about hard work.
It's about making sure that you always think about others.
Your advice to India's start-up entrepreneurs...
This is a wonderful time to be an entrepreneur. For a change, we have a huge market: 1.3 billion people.
We have access to technology. When we started Internet did not exist. You have the knowledge at your fingertips.
Because of mobile and cloud technologies, the cost of development comes down dramatically.
It is the best time to be an entrepreneur. Think big.
Don'ts for entrepreneurs...
Don't assume that you will become successful tomorrow.
Advice to India's youth...
This is the best time in the recent past to be young.
The next 30 years are going to be even better than the last 30 years.
While we saw significant change in the last 30 years, I strongly believe that the next 30 years will be India's.
We went from a $600 per capita income to $2000 per capita income country, but in the next 10 years we are going to double that again, which means, from a $2 trillion to $2.5 trillion economy, we will become a $4 trillion to $5 trillion economy in the next 10 years, making us a middle income country.
That is a huge opportunity.