Himanshu Asnani wanted to become a cricketer. Then math happened.
P Rajendran/Rediff.com meets the IIT topper and the winner of this year's Marconi Society's Paul Baran Young Scholars Award.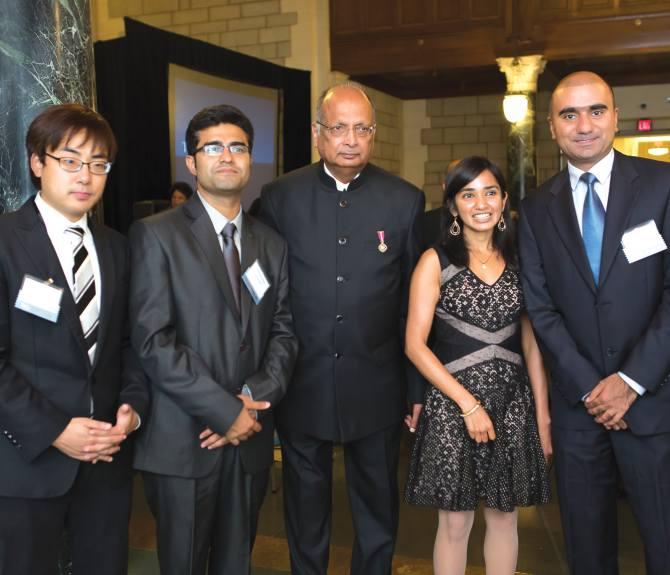 Right now, Himanshu Asnani may have been working his careful way through a human brain, or on the cricket field, bowling some blinders at some hapless batsman's brains or, as opening bat, whacking a ball past some cringing fielder at forward square leg.
Despite his interests, Himanshu would not become a neurosurgeon or a cricketer. Because math happened. And the result of that heady infatuation sent him careening away into engineering.
The self-deprecating Dr Asnani says he does not deserve the honour he is being given -- the Marconi Society's Paul Baran Young Scholars Award, which carries with it a modest sum of $4,000.
Dr Asnani has worked, among other things, on helping computers interact -- and so cooperate -- with each other. This step, along with the judicious use of communication and compression, could help ensure better information flow while reducing logjams in networks.
Besides the work on communications, compression and cooperation in networks, he has also worked on ways to compress human genome information.
Dr Asnani was born in Kota, Rajasthan, the son of Kanchan and the late Suresh Asnani, both doctors by training.
He came fourth in the Indian Institute of Technology Joint Entrance Examination.
He was involved in the technical contests at IIT but, since he had decided he would study further, did not go job-hunting in India.
Dr Asnani is more involved in research than pure engineering, and finished his PhD in four years and now works as a systems engineer at Ericsson.
Tsachy Weissman, Dr Asnani's advisor at Stanford, in a statement, described him saying that his 'work runs the gamut from the theoretical to the applied. He is attracted to important problems, and is as passionate about understanding their deep theoretical underpinnings as he is about developing, implementing and experimenting with practical schemes that make a difference.'
While Dr Asnani enjoys his work, his other interest is to engage youth: He teaches yoga to teenagers in corporate circles and at Stanford.
According to Robert Tkach, a Marconi Fellow and chairman of the Marconi Society's Young Scholar Selection Committee, "The Young Scholar awards were created to look at what are the kind of people who might win the Marconi Prize in the future. We think these are the kind of people who might do that."
According to him the organisation used its members' contacts in academia to find those who have made significant contributions by the time they are 27, the age Guglielmo Marconi was when he did his transatlantic radio transmission.
There were one or two dozen nominations, all of them very impressive. And picking out the right people is hard, Tkach says.
"(Dr Asnani's) work has been deep and impactful in a concentrated way," he says, adding that the society tries to ensure the young winners keep coming back.
"It's probably the most accomplished group of late 20 year olds that I've ever run across," he adds. "We can hope the people that make that kind of contribution at a very young age are going to make much bigger contributions as time goes on."
Tkach admits that while picking the Young Scholars, the society was picking up from a small pool and "it doesn't necessarily guarantee we're seeing the smartest people or the most important contributors. For example, Marconi we probably wouldn't have seen, right? Even though he did make a very big impact! But we are looking at a set of criteria we can look at, we can evaluate and we can compare."
And Himanshu Asnani and Kiseok Song, a PhD candidate at the Korea Advanced Institute of Science and Technology, stood out in that select group this year, he says.
The awards include a financial stipend and an invitation and travel funds to attend the annual Marconi Award Dinners and other events.
Lead Image: From left, The Marconi Society's Paul Baran Young Scholars 2014 Kiseok Song and Dr Himanshu Asnani, Marconi Fellow 2014 Professor A J Paulraj and Young Scholars Aakanksha Chowdhery (2012) and Salman Baset (2008). Phootograph: Helen John