Malini Agarwal, who is ranked on the Forbes India Power Women List 2018, reveals how she blogged her way to Bollywood, fame and success in her new book.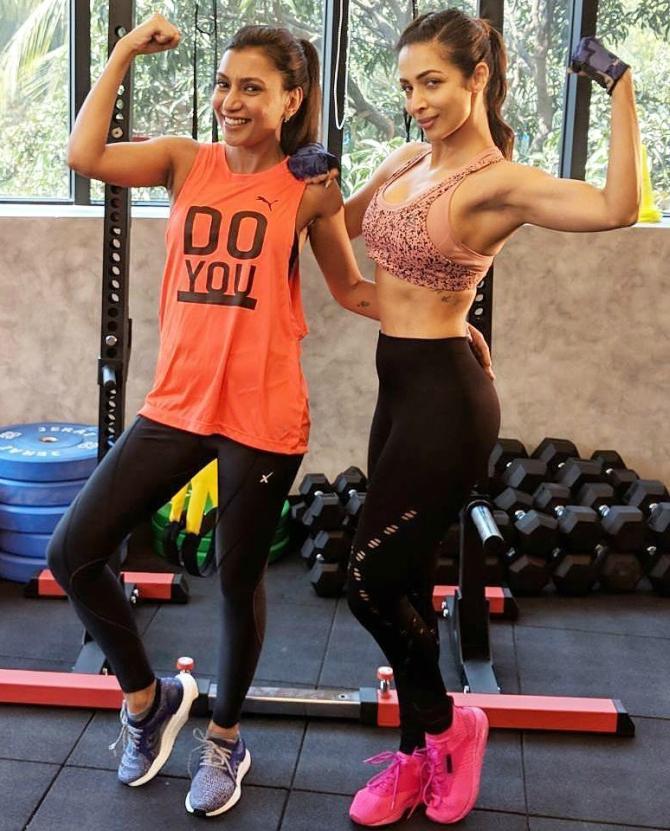 Malini Agarwal (left) with Bollywood star Malaika Arora Khan.
Photograph: @maliniagarwal/Instagram.
People often ask me how I built my brand -- or 'empire' as I like to call it. I don't mean to sound boastful, I just like the Star Wars feel to the word 'empire' -- and this is what I have to say…
Q. Fine, I have passion! But how do I make that my profession?
A.Mind the Gap.
The key to transforming passion into a pay cheque is honing your skills and figuring out a USP (Unique Selling Proposition), aka what makes you and your brand or business unique. You clearly have a passion for something, which means you take a deep and meaningful interest in it. Now think about what you could add to it that would improve the experience for everyone else who has a passion for it? What 'gap' could you fill?
I'll give you the example of my favourite macaroon queen in the city. After graduating from Le Cordon Bleu in Paris, Pooja Dhingra started a classic French patisserie called Le 15 in Mumbai in 2010. She's not the first one to ever open a pastry shop or offer delicious cakes made to order BUT she's found her niche by focusing her aesthetic on style and simplicity. Everything about her packaging and the Le 15 experience oozes French sophistication. She has gone from being a home baker to an entrepreneur, made it to Forbes India's prestigious 30 Under 30 list, written two cookbooks and opened five of her own patisseries in the city! All because she followed her passion…
When I asked Pooja what it took to make her passion a successful profession, this was her answer, 'When I moved back from Paris there was a big gap in the pastry industry. There was no standalone store focusing on French style dessert and there was no attention to detail. It almost felt like every restaurant had the same chef because all that was available was Black Forest, brownies and cheesecake! I fell in love with macaroons in Paris and my intention was to introduce them to the city. One piece of advice -- follow your gut, only you know what you're capable of achieving!'…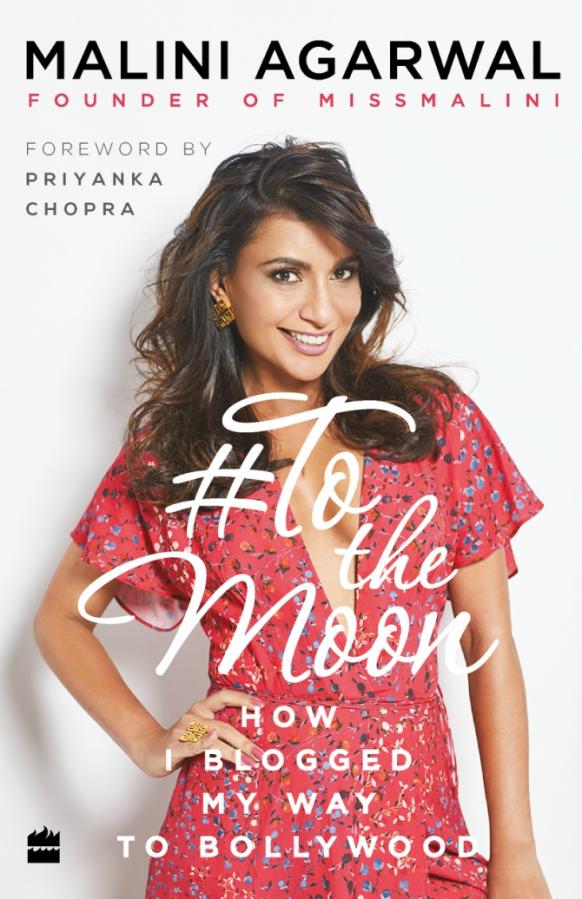 Malini Agarwal's Miss Malini has grown from a blog to one of India's most popular Bollywood news portals.

Q. But what if I don't know enough to start my own business?
A.Then learn.
Nowadays the internet is available 24/7 to teach you, in unimaginable detail, everything you need to know about anything. Do your research, then do your homework. Research is knowing all the nuts and bolts of the enterprise and homework is assessing the market for it where you live.
In that process you will also discover whether you're passionate about something just as a hobby or with a far greater 'Ikigai' manner of investment!
Q. But what if my passion is something silly, like puppets?
A.First up, puppets aren't silly and neither is anything you're passionate about.
I was thrilled to discover how Apeksha Trivedi turned her love for puppets into a career. Here's her story:
'My passion for creativity led me to become an entrepreneur in puppetry despite being a post graduate in science. Being a mother, exploring creative and innovative ways of learning for my baby was my priority during his early growth years, which led me to creating puppets. Puppetry became my most favourite passionate pursuit. With my personal experiences, I decided to use puppetry in early childcare and holistic child development. I started experimenting and exploring hands-on puppetry with kids and young children in various forms. Finally, in December 2016, my own company, Duduz House: The House of Education and Recreation, came alive. Along this whole journey from nowhere to where I'm today, I have learnt that there is no passion to be found playing small, in settling for a life that is less than the one you are capable of living.'
And that's just my point -- and the most exciting part about living in the twenty-first century -- you can legitimately make a career out of anything today. Especially with the advent of social media and the vast reach of the internet, rest assured if there is something you do well, someone will want it and be willing to pay for it. Now it is up to you to figure out what that is…
Malini Agarwal with other trailblazers on the cover of the latest Forbes India.
Q. Will my 'passion profession' be sustainable? Will it be scalable?
A.Well, answer me this: How good is it? Or rather how good are you at it?
Look, sustainability and scalability go hand in hand. For instance, to create a scalable brand, it must be sustainable. (But that's not even the real concern here, because if you ask me, it's up to you to decide how far you want to go. To my mind, it's perfectly alright to decide that you want to run a boutique operation and not shoot for the moon.) But to have even a sustainable business you MUST maintain quality. I have witnessed so many entrepreneurs start companies with all kinds of gusto and excitement and then, as soon as they hit pay dirt, they let the reigns go and it is all over.
Unless you are continuously offering a quality experience, you will disappoint your consumer. Someone who trusted you, came to you and drank your Kool-aid, and left unsatisfied. Because remember, in the world of modern entrepreneurship the consumer attitude is, 'Fool me once, your bad; fool me twice, my bad.' Which means there is very little wiggle room for a sub-par product and absolutely none for insincerity.
Think about how many times you have gone back to your once-preferred restaurant or ordered something online and were dissatisfied with your experience. Suddenly your emotional rating for the brand plummets because you feel let down by someone you trusted. (It's basically like a giant invisible game of Uber ratings!)
So, focus all your energy on creating the best possible product and experience. Then figure out how you can keep them coming back for more. Maybe expand your first product so that it comes in different colours, flavours, shapes or sizes. Maybe it's the first item in a future collection that becomes a must-have set. Or maybe it's just one product that you find ways to distribute far and wide.
In my case, I started out with a blog covering just my adventures in Mumbai and my love for Bollywood. Sensing a growing audience interest, I branched out into regular Bollywood news, which quickly bled into celebrity fashion, beauty and lifestyle content. Before I knew it, I had a small team helping me write stories, publish on social media, and edit short videos filmed on my way-ahead-of-its-time Flip camera. What started out as a personal online journal has today grown into a multi-category, multi-format, multi-platform media and entertainment brand, with still a lot more to grow into. But it all started with my words pouring out onto a WordPress page with heartfelt stories about my experiences in the city I loved, in a uniquely relatable voice, and it grew from there.
Of course, like I said, not everything has to scale into a behemoth. And to be honest, not everything can. But if you're able to carve out a name and a niche for yourself in something, I sincerely believe it will give you the confidence, experience and reputation to continue forging your own path in bigger and bolder ways. Your first business doesn't have to get you to the moon. But it can certainly be the launch pad to independence and success… MissMalini wasn't built in a day. But even MissMalini had a 'day one'…
Q. But what if I fail?
A. The fact that you tried means you didn't fail.
I firmly believe that businesses fail, people don't. Just because your company tanked it doesn't mean you as a person are a failure. Pick up the pieces, learn from your mistakes and move on…
And here's my solution: no one said you can only do one job at a time, right? If you're passionate about something it won't feel like work anyway. Even two years into having started my blog, I still worked three other jobs. I had a column with the Mid-Day, a radio show on 94.3 Radio One five nights a week and I was the channel head for digital content at Channel [v]. All these jobs paid my bills and then some, even while the blog did not. My husband (now CEO) was also working at Nomura every day and burning the midnight oil on the blog every night. This way we both continued to learn useful skills that would be gold when we dove in full time with Mike Melli.
Think of it like this: all through school and college you pay someone to teach you things. And then, when you go out into the real world and get a job, someone is paying you to learn! Use that. This way you have financial security while pursuing your dreams until the time comes where you are confident that you can let everything else go and fly! No parachute required.
Also, sometimes it helps to set a goal or deadline. When I chose to do the blog full time, we decided to give it a year where I'd quit everything else and Nowshad would support us. That year has turned into a decade, and of course the business, now profitable, fully finances itself and there's been no looking back!
Excerpted from author Malini Agarwal's #ToTheMoon with permission from the publisher Harper Collins.