'Important turning points in a writer's career... Often, they are small, scruffy moments.'
'They are quiet, private sparks of revelation. They don't come often, and when they do, they may well come without fanfare...'
'They must often compete for attention with louder, seemingly more urgent demands.'
'Sometimes what they reveal may go against the grain of prevailing wisdom.'
'But when they come, it's important to be able to recognise them for what they are. Or they'll slip through your hands.'
Priceless nuggets of wisdom from Nobel Laureate Kazuo Ishiguro's acceptance speech.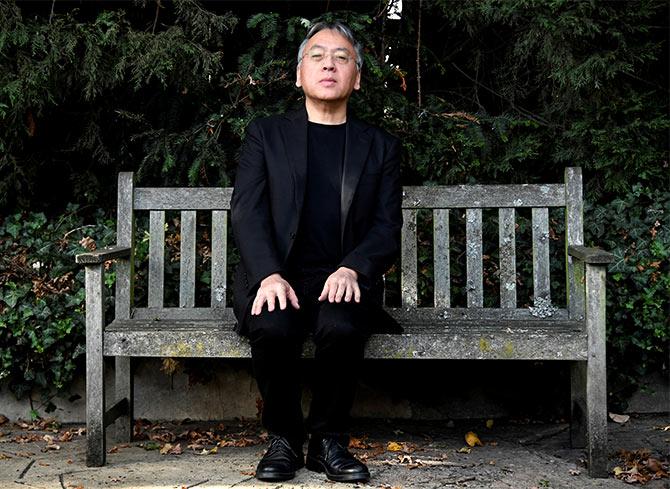 IMAGE: According to the Nobel Prize Foundation, Kazuo Ishiguro, 'in novels of great emotional force, has uncovered the abyss beneath our illusory sense of connection with the world'.
Photograph: Toby Melville/Reuters.
The Nobel Prize in Literature this year was awarded to Kazuo Ishiguro 'who, in novels of great emotional force, has uncovered the abyss beneath our illusory sense of connection with the world'.
The Japanese-born Ishiguro is most famous for novels like The Remains of the Day, which also won the Man Booker Prize in 1989, and Never Let Me Go which was nominated for the Man Booker Prize in 2005.
The Nobel Academy, according to permanent secretary Sara Danius, viewed Ishiguro's work as a mix of Jane Austen and Franz Kafka, with a little bit of Marcel Proust.
Danius praised him as 'a writer of great integrity' who has developed 'an aesthetic universe all his own'.
In his Nobel acceptance speech that he delivered at the Swedish Academy ahead of Sunday's s Nobel Prize ceremony, Ishiguro offered an unusual insight into his journey and his process.
Like many other immigrant writers Ishiguro too struggled with the ideas of home and identity.
He spoke about growing up both British and Japanese, expecting to go back to Japan for many years after his family had migrated. And he spoke about his distance from those Japanese roots as he grew older.
'If you'd come across me in the autumn of 1979, you might have had some difficulty placing me, socially or even racially,' Ishiguro began. 'I was then 24 years old. My features would have looked Japanese, but unlike most Japanese men seen in Britain in those days, I had hair down to my shoulders, and a drooping bandit-style moustache.'
He remembered how he was more likely to discuss 'the Total Footballers of Holland, or Bob Dylan's latest album, or perhaps the year I'd just spent working with homeless people in London' and that 'had you mentioned Japan, asked me about its culture, you might even have detected a trace of impatience enter my manner as I declared my ignorance on the grounds that I hadn't set foot in that country -- not even for a holiday -- since leaving it at the age of five.'
He spoke about his early stories that left him dissatisfied and how one night he found himself writing 'with a new and urgent intensity, about Japan -- about Nagasaki, the city of my birth, during the last days of the Second World War.'
And it surprised him more than anyone else.
'Today, the prevailing atmosphere is such that it's virtually an instinct for an aspiring young writer with a mixed cultural heritage to explore his 'roots' in his work. But that was far from the case then,' he said.
'We were still a few years away from the explosion of 'multicultural' literature in Britain. Salman Rushdie was an unknown with one out-of-print novel to his name.'
It was not until his third novel, the famous Remains of the Day, that Ishiguro moved away from a Japanese setting -- 'my personal Japan having been made less fragile by the writing of my previous novels'.
In fact, he felt, his new book 'seemed English in the extreme'.
Ishiguro once again spoke of the influence of Indian origin writers like Rushdie and V S Naipaul who by then 'had forged the way for a more international, outward-looking British literature, one that didn't claim any centrality or automatic importance for Britain.'
'Their writing was post-colonial in the widest sense. I wanted, like them, to write 'international' fiction that could easily cross cultural and linguistic boundaries, even while writing a story set in what seemed a peculiarly English world,' Ishiguro noted.
Ishiguro, whose Nobel Prize in Literature came a year after the controversial choice of music legend Bob Dylan, also spoke of the influence musicians -- including Dylan -- had on his writing process.
'I should say here that I have, on a number of other occasions, learned crucial lessons from the voices of singers,' he explained. 'I refer here less to the lyrics being sung, and more to the actual singing. As we know, a human voice in song is capable of expressing an unfathomably complex blend of feelings.'
'Over the years, specific aspects of my writing have been influenced by, among others, Bob Dylan, Nina Simone, Emmylou Harris, Ray Charles, Bruce Springsteen, Gillian Welch and my friend and collaborator Stacey Kent,' he said.
'Catching something in their voices, I've said to myself: "Ah yes, that's it. That's what I need to capture in that scene. Something very close to that".'
Ishiguro also made an appeal to widen the literary world.
He urged the inclusion of 'many more voices from beyond our comfort zones of the elite first world cultures' and said 'we must take great care not to set too narrowly or conservatively our definitions of what constitutes good literature.'
To a world that is struggling to understand and accept the popularity of social media poets like Indo-Canadian poet Rupi Kaur, he added, 'The next generation will come with all sorts of new, sometimes bewildering ways to tell important and wonderful stories. We must keep our minds open to them, especially regarding genre and form, so that we can nurture and celebrate the best of them.'
'In a time of dangerously increasing division, we must listen.'
'Good writing and good reading will break down barriers. We may even find a new idea, a great humane vision, around which to rally.'
Scroll down for a peek into the Nobel Prize ceremony.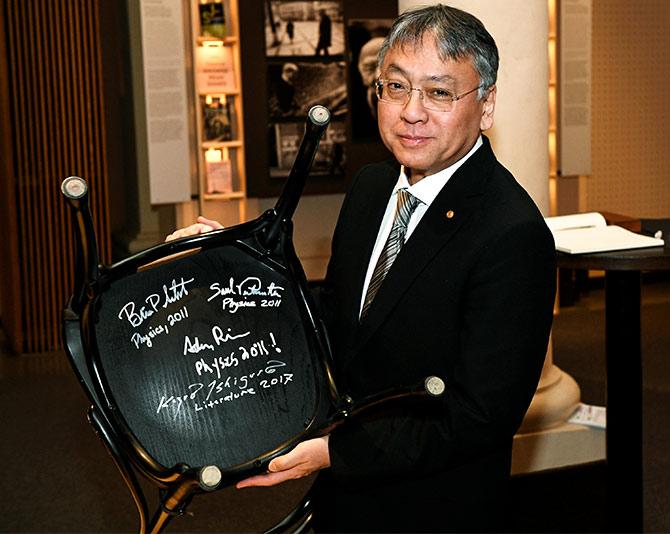 IMAGE: Kazuo Ishiguro at the traditional Nobel Chair Signing ceremony at the Nobel Museum in Stockholm, Sweden, December 6, 2017.
Photograph: Anders Wiklund/TT News Agency via Reuters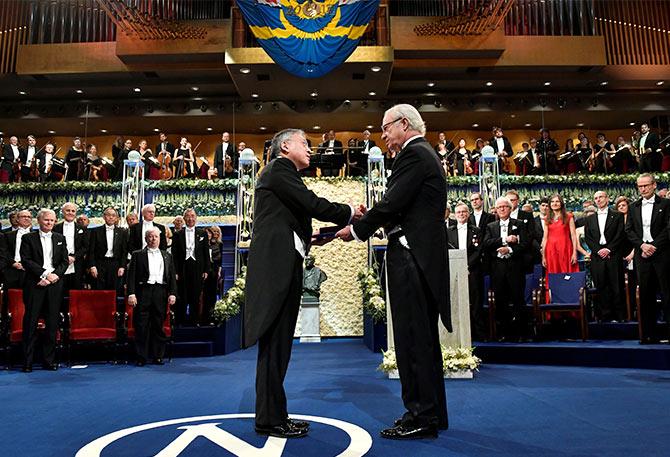 IMAGE: Ishiguro receives his Nobel Prize from King Carl Gustaf of Sweden in Stockholm, December 10
Photograph: Jonas Ekstromer/TT News Agency via Reuters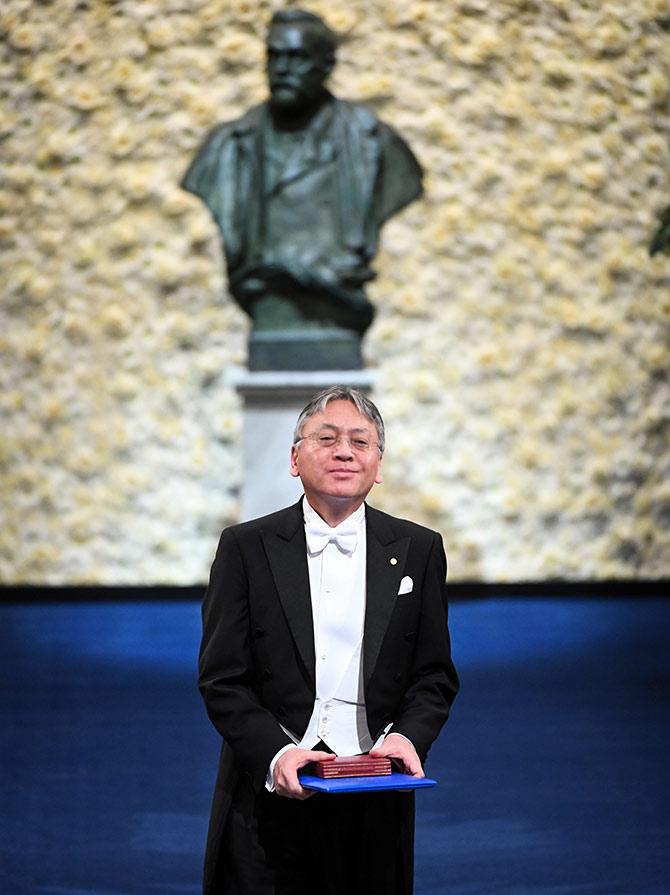 IMAGE: Ishiguro and his Nobel.
Photograph: Henrik Montgomery/TT News Agency via Reuters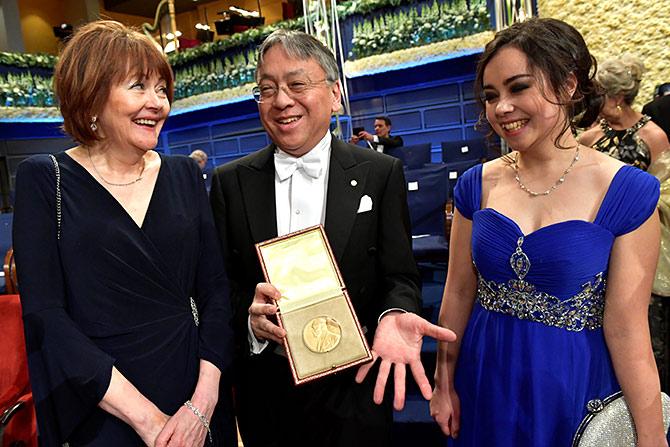 IMAGE: Ishiguro, wife Lorna MacDougall and daughter Naomi after the Nobel ceremony.
Photograph: Jonas Ekstromer/TT News Agency via Reuters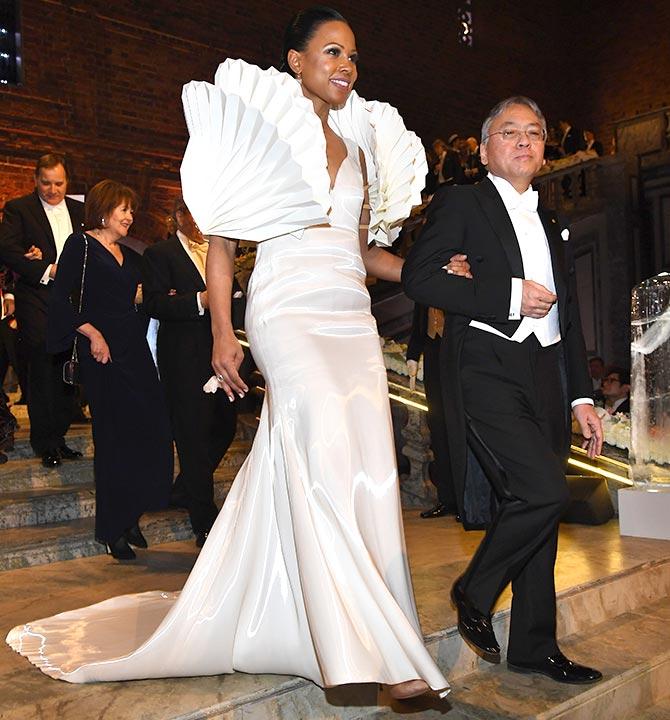 IMAGE: Swedish Culture Minister Alice Bah Kuhnke escorted Ishiguro to the Nobel Prize banquet, December 10.
Photograph: Pascal Le Segretain/Getty Images
IMAGE: From left: Jeffrey Hall, the Nobel Laureate in medicine; Michael Rosbash, the Nobel Laureate in medicine; Michael Young, the Nobel Laureate in medicine; Ishiguro; Richard Thaler, the Nobel Laureate in economics at the ceremony.
Photograph: Fredrik Sandberg/TT News Agency via Reuters
The copyright for Kazuo Ishiguro's Nobel Prize acceptance speech My Twentieth Century Evening -- and Other Small Breakthroughs rests with The Nobel Foundation 2017.
Excerpts republished under the general permission guidelines of The Nobel Foundation.