Fashion's newest sweetheart, Parul Shah's inspiring words for aspiring models.

A former Miss Philippines 2014, Parul Shah came to India to meet Femina Miss India Grand 2015 Vartika Singh, and ended up falling in love with the city.
Once here, she participated in the Lakme Fashion Week Summer/Resort 2018 model auditions and ended up getting selected too!
Standing tall at 5'7", Parul, who started modelling at the age of 15, has never looked back ever since.
Here she talks to Anita Aikara/Rediff.com about her experience at Lakme Fashion Week Summer/Resort 2018, modelling in India and what size zero means to her.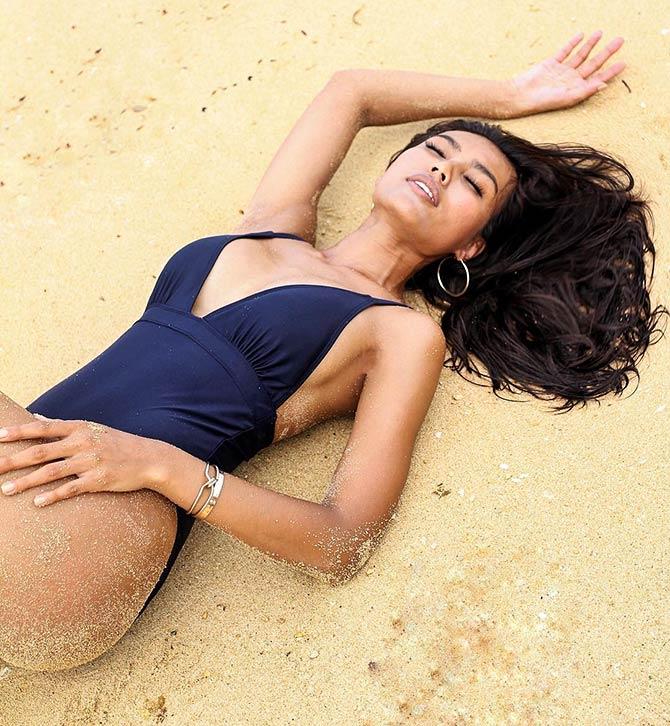 Photograph: Courtesy Parul Shah/Instagram
How was the experience walking the ramp at LFW ?
To be completely honest, a lot of people told me 'Wait till the fashion week actually starts. It will be very chaotic.'
However, when the fashion week did start, everything was very calm and organised.
Surprising everything was on time and schedule and went off quite smoothly.
How did the experience at LFW add up to your body of work?
I am very new to India. I have been here for the last two-months months only.
Everyone here told me that if I had to break into the market, I'd have to get through Lakme.
While I was auditioning, there were girls that were crying, shaking. Some were nervous, some were really frustrated.
I was wondering what's wrong with them.
I didn't realise what was happening until part of them told me that Lakme is the jumping board for models.
For me it was a great honour to walk the ramp at LFW.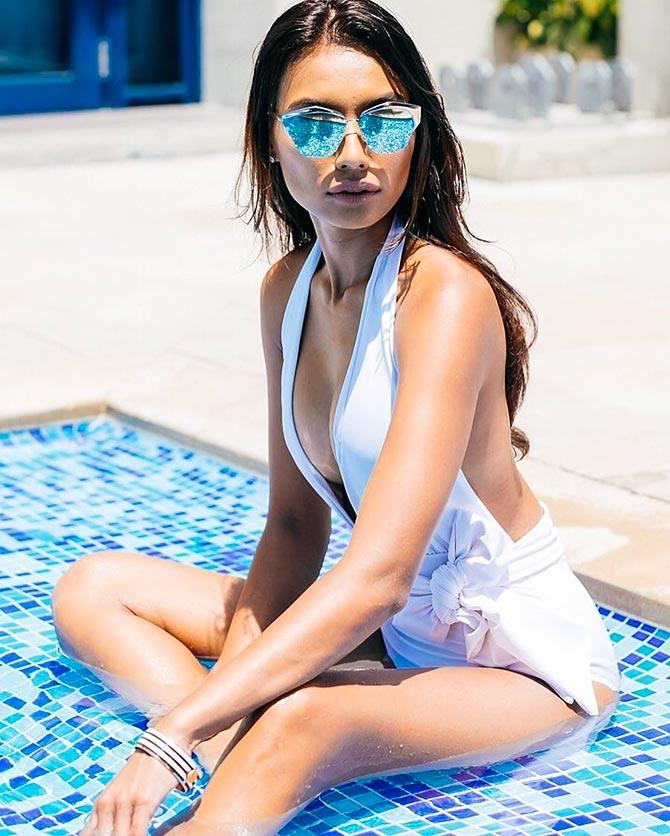 A travel enthusiast, when Parul is not modelling, she inspires women through her beauty and lifestyle blog, parulshahofficial.com.
Photograph: Courtesy Parul Shah/Instagram
What brought you to India from Dubai?
I was former Miss Philippines 2014.
I came to India because during the Miss Grand International pageant I met Miss India Grand 2015 Vartika Singh.
She asked me to come to India and stay with her.
So I came here and a month later got selected for Lakme Fashion Week.
What helped you make the cut as a model?
I tell a lot of girls that you can know how to talk and walk, but if you don't have that one little spark of confidence, things won't fall in place.
I have been training for the beauty pageant world in the Philippines. I have also been training for the fashion world.
The training that I got to build confidence and stage presence, and how to carry the dress, was very similar.
What kind of a diet do you follow?
To be completely honest, I am not on a diet.
I eat right and I avoid eating junk.
Just in case I do end up eating junk, I workout.
If there is something that I really crave for, I have it. I won't be like 'No, I can't have it.'
However, I eat healthy and right most of the time and that's why my body stays the way it is.
If I really need to drop the weight, I will hit the gym religiously.
Because if you do it the right away, the results lasts longer.
I remember the last time I really worked out was a year ago, and the results are still there.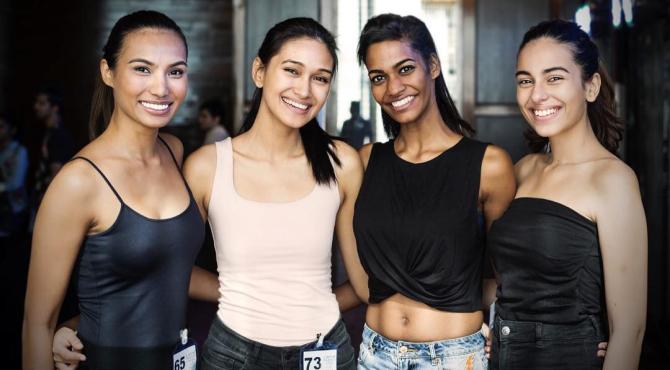 Parul Shah with the other winners of the LFW model auditions including Aradhana Buragohain, Amrita Ganesh and Muskaan Bisaria.
Photograph: Kind courtesy Lakme Fashion Week
Your take on models being obsessed with size zero
Every body has a different chemistry. You got to learn you own.
I know for a fact that if I go to the gym and do weights, I will gain muscle.
So I do a lot of cardio or I run outside. I don't need to go to the gym.
(As for models) being obsessed with size zero, I think sometimes, you just have to learn to love your body.
I am not a size zero and I'm happy. I am a size four.
You can't be skinny.
Skinny is not healthy. However, skinny fit is great.
I don't like girls who are so skinny that they have no muscles on them. Once you push them, they will fall apart.
We need girls who are really strong and know how to take care of their body.
What do you really like being a model in India?
Getting into these Indian designer outfits.
In my entire life, I never wore any Indian designer outfits ever.
And getting into them is a different experience. it actually makes you feel like a goddess.
There are contemporary designs as well.
I like the vibe I get from Indian fashion weeks too!
I have done Fashion Forward in Dubai and fashion weeks in the Philippines.
However, in India it is different.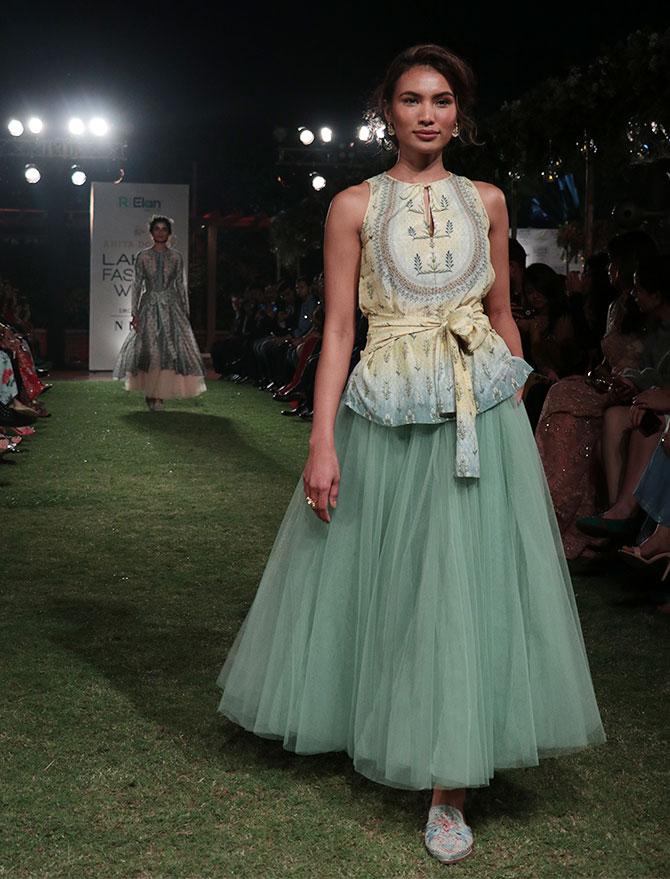 Parul walked the ramp for designer Anita Dongre at LFW this year. Dongre's Songs of Summer has new silhouettes, Banarasi weaves, colours like soft blue, pink, yellow, green and white, for the much-needed 'easy, breeziness' in the hot season.
Photograph: Hitesh Harisinghani/Rediff.com
The Indian designer you'd want to walk for?
I have walked for Manish Malhotra and Anita Dongre.
I hope to walk for more Indian designers.
At the end of the day I am not that tall, but I can walk tall.
Your advice for aspiring models
Modelling is a tough industry and if you need to survive it, you have to build a thick skin.
There will be times when you are turned down. But don't give up.
Try and understand why you are being turned down.
Maybe you are not what they are looking for. Or you may just need to learn more.
Fashion is a fast-moving industry. It's quick and you will need to keep up with the pace.
What's next?
I will keep flying into India for a lot more fashion weeks to come.
The Indian chapter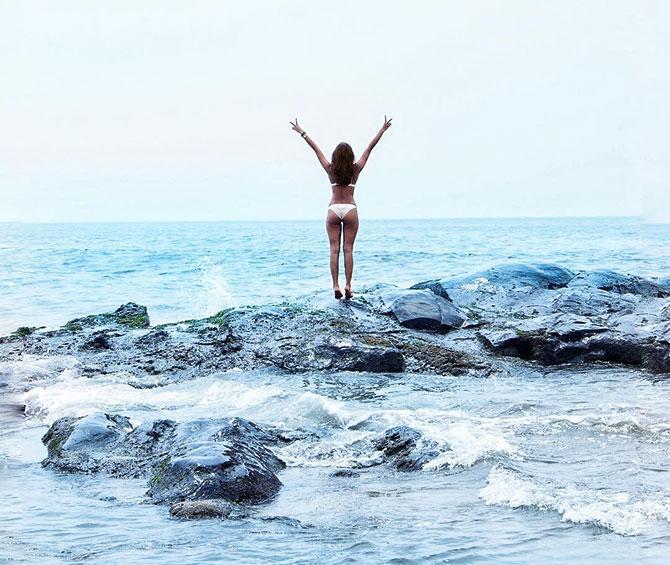 Photograph: Courtesy Parul Shah/Instagram
Parul's wanderlust has taken her to different cities around Asia.
In an Instagram post, she wrote, '(My wanderlust) has led me to a love-hate relationship with Mumbai... the 'SENSORY-OVERLOAD'.
'So I needed to leave the city every now and then... made my way to Goa because of my love for the sea, where I watched the waves kiss the shore over a bottle of wine...
'But despite all the complaints and rants, I can't help but feel a strong sense of belonging in this mad city. Every time I return back.
'I plug in my earphones to drown the cacophony of horns!
'I came to India only knowing @vartikasinghh and my childhood family friends @moinchunawala & @misbalakdawala ... now I'm leaving India with a group of mad crazy friends I made along the way!
'Thank you for making my stay here amazing. It's going into the books...'