Given her family history, this half-Norwegian designer is exploring her love for khadi through her collection.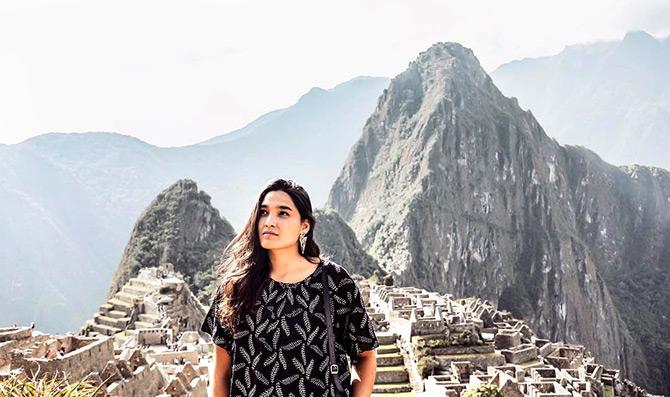 Photograph: Kind courtesy Helena Bajaj Larsen/Instagram


Helena Bajaj Larsen, who was born and raised in Paris is a half-Indian -- her mother is a painter from Jaipur and her dad, a linguistics professor from Oslo, Norway.
Having a famous Indian painter as a mother got Helena introduced to the arts world from an early age.
Till the age of 18, she did her schooling in French and later received a degree in economics and social sciences.
Wanting to pursue designing, she attended the Parsons School of Design in New York for an undergraduate degree in fashion design.
And it was her final year senior thesis on khadi that made people take note of her work.
Through the thesis, she gave a contemporary take to khadi, which is very close to her heart as it reflects her family's history.
Helena was also one of the three students chosen to go down to Haiti and develop a range of products with the local artisans at a design training center in Port-au-Prince.
This year, the 22-year-old made her debut at Lakme Fashion Week Summer/Resort 2018, as a GenNext designer, and will showcase her collection at New York Fashion Week.
Here she talks to Anita Aikara/Rediff.com about her journey, her love for khadi and her collection.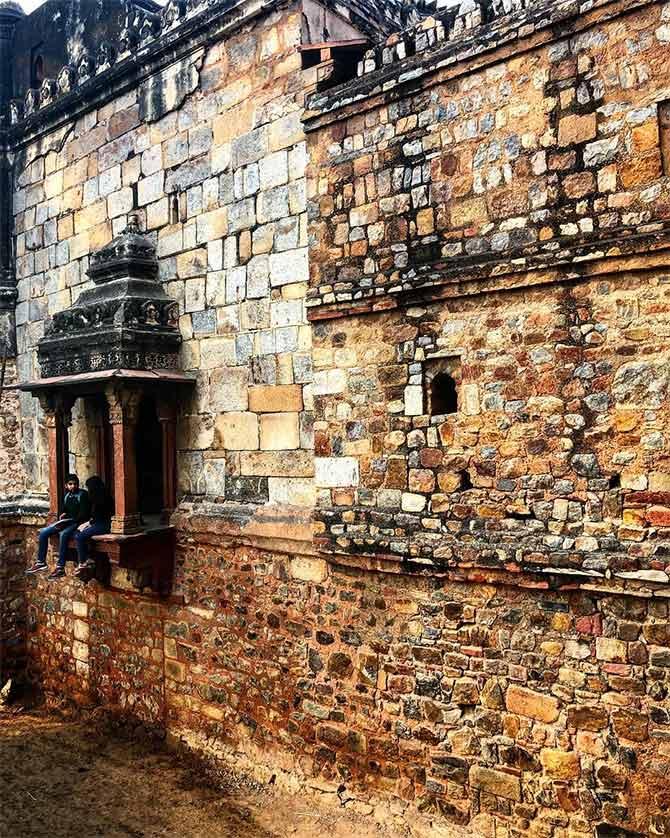 The inspiration for her LFW collection was old, decaying walls around Maharashtra. Photograph: Kind courtesy Helena Bajaj Larsen/Instagram
What was your Lakme Fashion Week Summer/Resort collection about?
You were one of the five designers who was selected out of over 600 applicants! How was the experience at LFW?
The techniques that I used in my collection are acid and pigment dyes, which are textile dyes.
The collection had minimalist silhouettes which have been entirely hand-painted and each of the outfits is unique.
The colour tones range from metallics to earthy hues and greys.
I have also designed the jewellery for the collection, which is an extension of my love for texture.
I graduated from the Parsons School of Design, New York in May 2017. So it's just been a year.
My LFW collection was based on my final year thesis and the inspiration for this collection was old, decaying walls around Maharashtra.
In my final year at Parsons, I was asked to create a senior thesis which told a story.
I chose khadi as it is an Indian homespun cotton cloth and played a crucial role in the Indian independence movement.
Not many people know but my grandfather was a close associate of Mahatma Gandhi.
For the thesis, I looked into my family history and that's how I chose khadi -- it is both tied to my love for textiles and my family origins.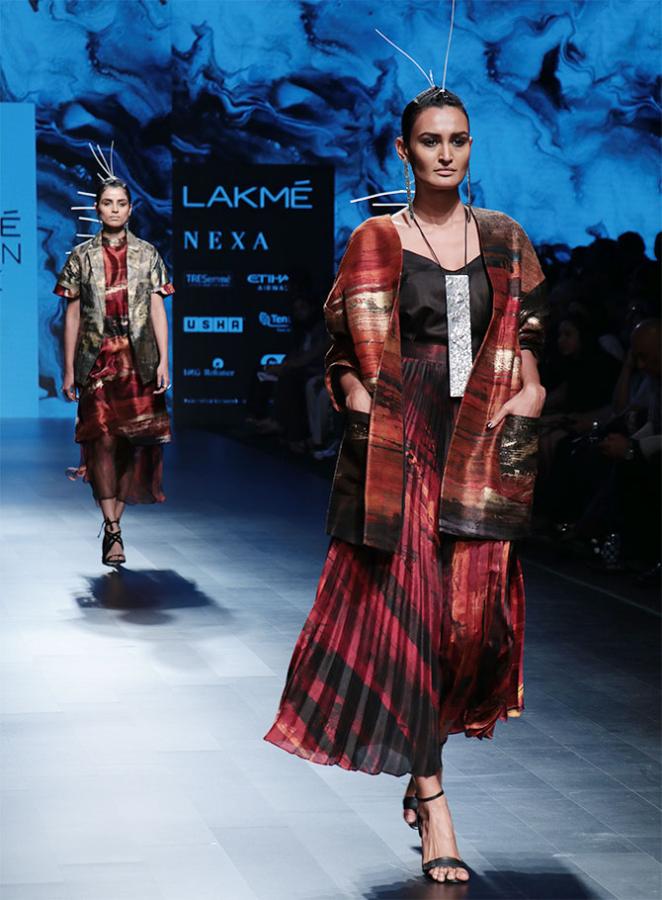 Helena Bajaj presented her collection at the Lakme Fashion Week Summer/Resort 2018. The material used in the collection has been hand-painted and that makes each piece unique. Photographs: Hitesh Harisinghani/Rediff.com
For the thesis, I had taken a series of photographs and that's how I introduced the ochres, dirty greens and other western colours in the collection.
I always look to the environment around me for inspiration.
At LFW, the other GenNext designers being based in India probably steered clear of colour.
But because of my background has been more outside India, I was more conscious about doing something with colour.
90 per cent of my collection was handloom and it also highlighted the relationship between khadi and my family.
How different is you New York Fashion Week collection?
For that I will be doing a lot of black and white, and silver.
It is a very different range.
Could you elaborate on the fashion scene in India vs abroad?
I think in India, still today, everything is very bridal. There is a whole market for bridal wear.
Among the Indian designers I love, there is Rohit Gandhi. I have known him since I was a kid.
I used to go to his factory every year. I like how he balances his Indian textile sensibilities with western silhouettes.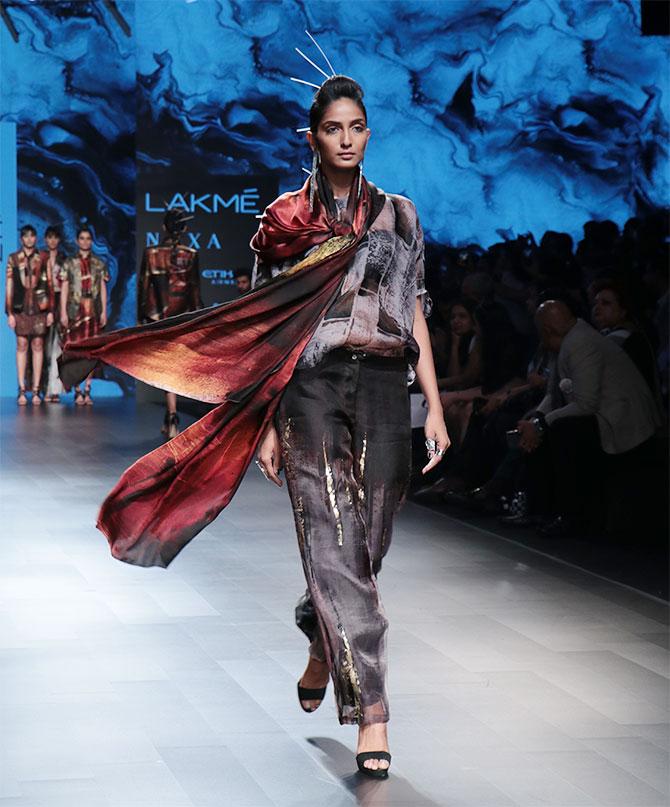 Helena prefers using minimalist silhouettes to showcase the craftsmanship of the material she uses.
Who would be your ideal clientele?
My creations are not a mere garment. It is a piece of art.
Anyone who loves textiles would be happy to possess my pieces.
I see art curators, gallery owners, photographers and people from the artistic community being dressed in my outfits.
Each piece is one-of-a-kind as the print is 100 per cent manually done.
Colours of 2018
I think metallics are very much in fashion.
What next?
I'm doing a project in Dubai where I'm actually launching interiors like pillows, cushions, etc.
I am selected for the iD International Emerging Designer Awards 2018 and as a finalist, I will present my collection in New Zealand in May.