Among the 30 students who cracked the Joint Entrance Examination, there are wards from landless farmer, egg seller, unemployed father.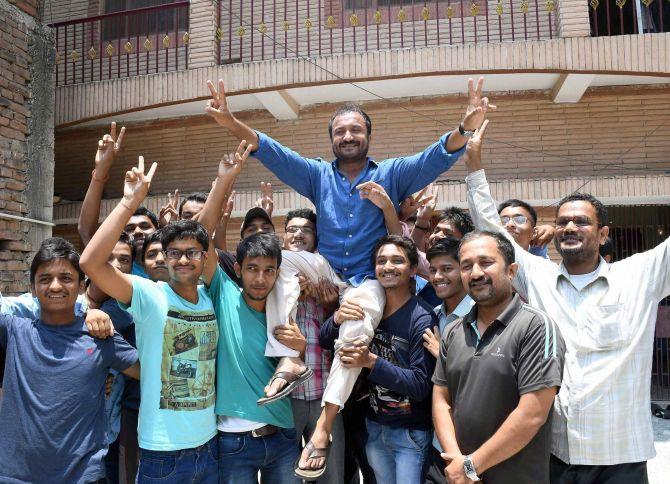 IMAGE: Super 30 founder Anand Kumar celebrates the success of IIT-JEE results with his students in Patna on Sunday. Thirty students from Super 30 made it to the IIT this year.
Photograph: PTI Photos

Mathematician Anand Kumar's Super 30 has once again created a record as its 30 out of 30 candidates cracked the II-JEE Advanced examination, results which were announced Sunday.
"I am happy that my 30 out of 30 candidates have cracked II-JEE Advanced this year...Now time has come to give Super 30 some much-needed expansion. We will now organise tests for selecting the students in different parts of the country and give all the details on the website," the Super 30 founder said.
Talking to media persons after the results, Kumar attributed his yet another success story of Super 30 to the hard work and perseverance of his students and said that it's time to expand his famous 'Super 30' in the country.
Kumar's Super 30 provides free coaching along with food and lodging to students of underprivileged sections of the society.
Super 30 has completed its 15 years of journey during which it has sent 396 out of 450 candidates to IIT, Kumar said, adding that it coached 450 candidates in 15 years, 30 candidates every year.
Among the 30 students of Super 30 who have cracked prestigious IIT-JEE Advanced 2017, there are wards from landless farmer, egg seller, unemployed father.
There are several inspiring tales that have emerged from the Super 30 coaching institute this year too.
Be it the story of Kevlin, son of an unemployed father, or roadside egg seller's son Arbaaz Allam, a farm labourer's son Arjun or landless farmer's son Abhishek, they all stand tall having overcome the stiff odds of poverty and deprivation to make it to the IIT and become an inspiration for several others like them.
Kevlin's father Deepak is unemployed. He teaches yoga to people, but still his earning is not enough to make both ends meet. But Deepak knew that the only way to get out of poverty is through education.
Today, the tears of joy continue to roll down his cheeks as he sits with mathematician Anand Kumar.
"I had heard of Super 30 almost 10 years ago and since that day I dreamt of seeing my son here to realise my dream. Today my son has realised it," Deepak said while thanking Anand for making his dream come true.
Arbaz's father sells eggs in Bihar's Biharsharief district. But he never lost heart. He always aspired to be at the top to change the course of his life.
"Anand Sir made me feel confident about my abilities. He boosted my confidence. Now, I think it is a matter of few years when my father will not have to sell eggs braving the chilly winds of winter nights. I will also have a house where I will live with my father and mother," said Arbaz.
Kaushlendra Kumar of Nalanda is a landless farm labourer. Today he is proud of his son Arjun Kumar and Super 30.
Arjun proudly recounts how his journey from a village school devoid of even basics took him to Super 30 and now he plans to step into IIT. "It is due to programmes like Super 30 that make even students from underprivileged sections dream of IIT. Now after engineering I plan to go in for UPSC," Arjun said.