"I watched cartoons on TV and listened to music. Reading novels and playing badminton also helped me stay calm and focussed."
Sarvesh Mehtani who scored 95.4 per cent and topped the exam shares his study secrets.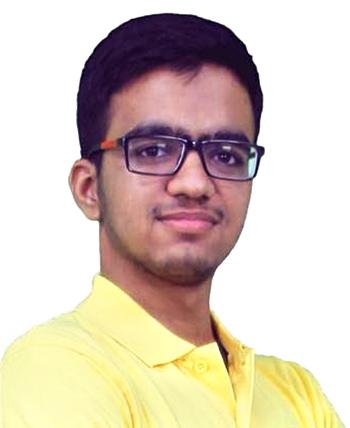 Watching cartoons on TV, listening to music and playing badminton were the stress- busters for Sarvesh Mehtani, a student from Chandigarh, who topped the IIT-Joint Entrance Examination (Advanced) test, the results of which were announced today.
Mehtani, whose father is an officer in the Income Tax department, said it was always his aim to break into the top 10 in the highly competitive examination.
Aashish Waikar, an Army officer's son who studied in the same private school in Panchkula as that of Mehtani, secured an all-India seventh rank in the IIT-JEE examination. Asked if he had thought that he will emerge as the topper in the exam, Mehtani told PTI, "I always wanted to be in the top 10."
About the activities which worked as stress-busters for him, Mehtani said, "I watched cartoons on TV and listened to music. Reading novels and playing badminton also helped me stay calm and focussed."
Mehtani, whose elder sister too is pursuing an engineering course, had secured 95.4 per cent marks in the Class XII Board examinations.
"I scored 95 per cent in physics and mathematics and 97 per cent in chemistry. My favourite subject is mathematics," he said.
Mehtani and Waikar both want to enrol themselves in the computer science course in IIT Bombay.
Asked about his success mantra, Mehtani said, "Hard work, staying organised and being focussed on the goal. My message for my juniors is to stay calm, organised and work hard."
Several Chandigarh students have made the city proud this year. Three of them, including two girls -- Bhumi Sawant, Mannat Luthra and Aditya Jain -- featured among the toppers in the CBSE Class XII examinations. All the three had earlier said they achieved success through hard work, dedication, commitment and by keeping themselves "off the social media".
Both Mehtani and Waikar said they too stayed away from the social media for the last couple of years.
"I did not use my smartphone for the last two years. I cannot stay focussed while using a smartphone, but those who can, should continue to use WhatsApp and Facebook. I was not able to pursue my hobbies much in the last two years. I also cut down on hanging out with friends," said Mehtani.
Asked how many hours he devoted to studies on a daily basis, he said, "In addition to the school hours and the private coaching class I took, I used to study for five-six hours. On a holiday, I would study for 8-10 hours."
Mehtani was also inspired by the Aamir Khan-starrer Bollywood film, 3 Idiots.
"The film released when I was in Class 8. Most of the characters in it inspired me," said the student who considered Infosys co-founder N R Narayana Murthy as his idol. His father Parvesh Mehtani is an Income Tax officer and his mother is a placement officer in the ITI at Panchkula.
Happy at his son's success, Parvesh said, "He was always focussed on his studies."
He also had a word of advice for parents who put pressure on their children to achieve academic success.
"Putting pressure on the children does not help. One should rather help them achieve their dream," he said.
All India seventh rank holder in the IIT-JEE exam Aashish Waikar is originally from Maharashtra but studied in a Panchkula school as his father Colonel Shrikant Waikar was posted here.
The student said hard work and following the instructions of his teachers helped him shine in the exam.
"On an average, I spent six-seven hours studying everyday," he added.
On his social media activities, Waikar said, "My sister had created a Facebook profile for me, but I have never used it. I was not even using WhatsApp etc. as these things tend to distract you when you have to stay focussed."
Music had a soothing effect on him as well. "I listen to Hindi songs and my favourite singer is Arijit Singh," Waikar told PTI.
Asked whom he considered his idol, he said, "My idol is my father. Discipline, patience, confidence -- these are the qualities I admire in him."
Lead image: Kind courtesy Lakshya Institute