If you can coordinate school pick-ups, decide tonight's dinner menu and make strategic business decisions you can allocate mindshare to each activity appropriately.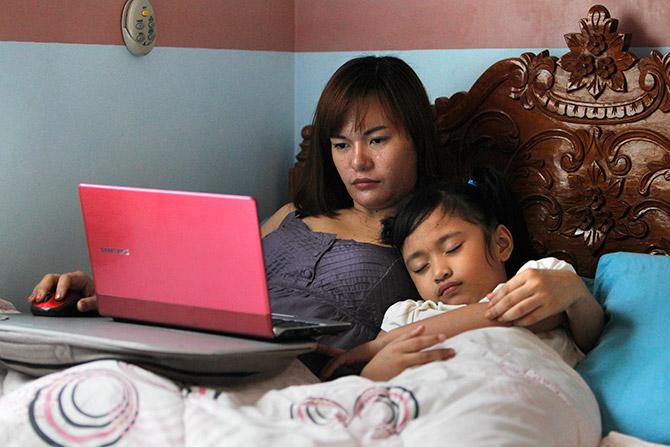 Photograph: Romeo Ranoco/Reuters
There are multiple ways parenting prepares you to succeed at work.
The parenting skills you learnt on your sabbatical are most definitely transferable and you might find yourself coming back better trained than ever before.
So often as a parent, you need to be an out-of-the-box thinker to develop innovative strategies to seemingly unmanageable problems on a daily basis, working non-stop with absolutely no vacations.
Whether you liked it or not you would have honed your patience and communication skills for managing a diverse range of personalities and only your exceptional organisational skills could have helped you juggle multiple high-stress priorities.
I've raised two children and nothing I've previously done has taught me as much about leadership as raising my kids.
As a parent, you become trained to constantly think about solutions.
Here are six keys skills that parenthood will teach you, which are irreplaceable in the workplace:
1. Multi-tasking
Nothing compares to the multi-tasking required as a mother.
Being able to attend a conference call while changing a baby's diaper and have a toddler tugging at your shirt teaches you how to multi-task effectively.
If you can coordinate school pick-ups, decide tonight's dinner menu and make strategic business decisions you can allocate mindshare to each activity appropriately.
And after having to cater to your older child's needs, younger child's needs, husband's needs, in-laws' needs, parents' needs, and finally your own needs -- you sure become an expert at the art of multi-tasking!
2. Problem solving
Finding missing papers, coordinating doctor appointments and finding a bathroom for a potty-training toddler–parents are always solving problems.
As a parent, you become trained to constantly think about solutions. And often your family has to work as a team to get things done.
Helping kids solve problems through trial and error can also be helpful at work.
Our role as parents is to set up an environment where the cost of the error is never too high and is far outweighed by the lessons learnt in the process.
It's the same at work. When you face with a challenging situation it is imperative to think on your feet and come up with reasonable solutions, while minimising risks.
3. Teamwork
It was only after we became parents, my husband and I started feeling like we were part of a team. A team that needed to support one another physically, mentally and emotionally.
As a team, we needed to lay down ground rules and stick by them.
We needed to cover up when the other was unavailable, sick, or just having a breakdown.
We had to remind one another that 'this too shall pass' and our kids will turn out fine.
This kind of teamwork teaches you how important it is to build camaraderie in the workplace too, support and uplift one another instead of tearing each other down.
4. Leadership
Being a parent also improves your leadership abilities.
At home, you could have led high-pressure negotiations with hardly any advance preparation, which sets you up for impeccable decision-making capabilities.
Your delegation and team management efforts at home forces you to strategise and become more efficient with your time at work.
Your compassionate skills at home can help foster more empathy at work for the many work-life challenges.
5. Patience and endurance
No job in the world requires more patience than bringing up children. Because not only are children unreasonable but they are extremely fragile.
No matter how far they might drive you to the edge, you need to somehow keep your cool. And nothing can teach you endurance better than having to tend to a sick child.
Once you have built the patience and endurance that motherhood teaches you, you can apply them to every challenging situation at work.
6. Visualisation
When you're a parent, you always tend to visualise the bigger picture of what needs to get done ahead of time. For example, when you plan an outing with the kids, you have to constantly think ahead of all of the things that could possibly go wrong.
You need to visualise the day ahead in its entirety, always thinking about the challenges ahead. This skill is useful at work.
Challenges might hit a project but since you are accustomed to using visualisation as a problem-solving tool, you have the edge to overcome temporary setbacks and steer them instead toward your goals.
Parents bring resilient focus to project management along with creativity and innovation.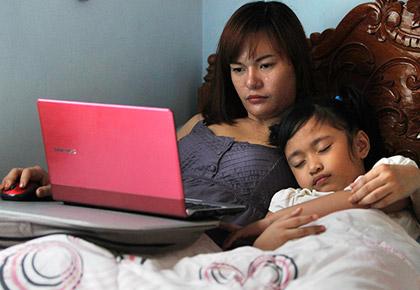 Neha Bagaria is an entrepreneur at heart, a Wharton grad, a wife, a mother-of-two and a woman who restarted her career and founded JobsForHer.
JobsForHer is an online portal to enable women to restart their careers post marriage, motherhood, elderly care, etc.