Ambrish Sinha, CEO, MeritTrac Services, identifies 6 future-ready skills that a post-COVID-19 workplace will require.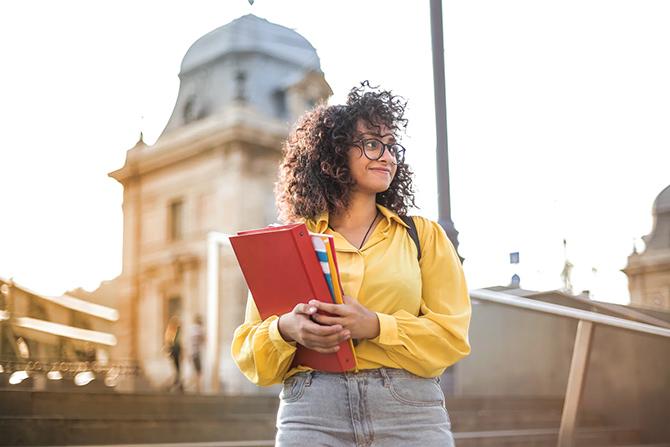 Keeping pace with change, education has transformed consistently over the years, and drastically in the last few months of this year alone.
But have educational institutions been able to reinvent themselves and keep up with world changing phenomena?
Are they truly enabling students to future-proof themselves and become the changemakers of tomorrow?
A recent NASSCOM report cites 40% of India's 4 million IT workforce will need reskilling in the coming years to keep up with the accelerating pace of technology developments in areas such as automation, analytics, and machine learning.
Companies are actively seeking skilled candidates -- those with creative business perspectives who can hit the ground running with job-ready, industry-relevant skills. Therefore, it becomes crucial for educational bodies to augment the employability quotient of their students, upgrade their skill sets, and make them industry ready.
The demand for first-day, first-hour, ready employees must be addressed by an equal supply of skilled professionals.
While overhauling the curriculum won't happen overnight, institutes can keep pace with the industry by adding suitable new-age tech elective courses.
Many universities offer MOOC-based learning -- which is fantastic -- but it has not proved to be effective with several studies showing the dropout rate for these courses being as high as 95%.
What is needed is a unique pedagogy of intervention-based learning that adopts a hands-on approach along with industry relevance.
A blended approach of traditional teaching along with specialised online elective courses will supplement and complement the existing curriculum, and make students future ready.
Apart from inspiring leadership and good communication skills, students must focus on building skills that will help them solve real world challenges.
Skills like design strategy, innovation, and creativity are great to have, but with the world going digital, here are six most important future-ready skills that a post-COVID-19 workplace will require:
1. Cloud computing
Since the work mode has been remote in the past few months, more and more companies are moving to the cloud and making use of secure cloud storage.
The operation of many companies has been focused completely on transitioning as many as applications as possible to the cloud. Therefore, this leads to increased high demand for cloud architects and cloud IT admins.
2. Data Science
The heavy consumption of data has led to a surge in extracting, processing, and analysing data into information that can be optimally utilised.
The demand for data science professionals has increased exponentially in the last few years.
The domain has expanded vastly and brought a major transformation in the way businesses work.
Organisations are willing to pay three-fold of the average salary to new talents that can help them stay ahead of the curve.
3. Artificial Intelligence (AI)
AI focuses on the creation of smart machines that imitate human intelligence.
There is a growing demand to understand the way a machine learns, how it takes data inputs and information from its environment and decides its response without human intervention.
In IR 4.0 (the fourth industrial revolution) with everything being automated, this is a critical skill to have.
4. Big Data Analytics
Data is being constantly generated from all over the world and it is what we do with that data that matters.
Industry is always on the lookout for professionals who have a strong skill set of handling huge volumes of data smartly and efficiently, and helping businesses in making intelligent data-driven decisions.
5. Risk Management
We are living in extraordinary times. The growing pandemic is generating exceptional levels of turmoil from a humanitarian and economic perspective.
Risk management plays a vital role amidst such uncertainties like the pandemic.
From dealing with the rapidly evolving environment, controlling the indirect risks caused by COVID-19, as well as the drawn-out impacts and ultimate recovery.
It is one of the most critical skills required in post-COVID-19 workplaces to understand the different circumstances, analyse and predict consequences, and prepare for the impact it can have for the company.
6. Business Analytics
Most businesses will need strong and competent data modelling professionals to make efficient, profitable, data-driven business decisions.
These professionals could use data sampling techniques to select, manipulate and analyse different data points to identify patterns and trends.
Business analysts can help solve complex business problems and optimise business situations.
A fine blend of traditional and new-age learning with tech-based elective courses for universities will boost career prospects for students and equip them with industry-relevant skills.
Businesses are interested in hiring candidates who are up-to-date with the new age skills in demand.
With a college degree supplemented with elective courses in cutting edge technologies from leading education providers, students can pass out with relevant job-ready skills, higher salaries, stronger alumni status, and a culture of life-long learning.
*Kindly note that the image has been posted only for representational purposes.
Ambrish Sinha is CEO, MeritTrac Services, that provides innovative testing and assessment solutions to leading educational institutions, government organisations, and corporate entities.