It takes care of expensive medical treatment at affordable cost even as you get quality treatment and tax benefit out of it, says Naval Goel.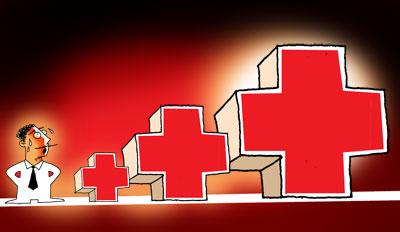 Health insurance in India is not a new concept, but the shocking thing is that most Indians still do not understand the importance of having a health insurance.
Those living in cities and earning well are not aware of the benefits of taking health insurance.
People should understand that buying a health insurance is more important than life insurance because the chances of you or your parents needing medical care multiple times during your earning career are more realistic.
Everyone is aware of the rising cost of healthcare and in the last few years the cost of hospitalisation and medicines have gone through the roof making it hard to afford quality treatment on time.
Quality treatment for critical diseases that include cancer or heart diseases can easily cost around Rs 5 lakh to Rs 50 lakh. This makes it important for all to buy health insurance or mediclaim.
In this article, we discuss the top three reasons for you to understand the importance of buying health insurance.
1. Expensive medical cost
This is the topmost reason why people should opt for health insurance for their parents and family, especially NRIs who have parents living in India.
Medical costs are rising on a regular basis making it really hard to manage medical care expenses such as doctors' visiting fees, hospitalisation charges, expensive medicines, diagnostic tests, etc.
It is true that people's thinking has also changed; they are moving towards private hospitals to get quality treatment. Buying a health or medical insurance policy will take care of your expensive health care bills within the permissible limitations of the policy.
2. Quality of treatment
The second most important reason to buy effective health insurance is to provide quality treatment.
An effective health insurance plan will help your parents and you to focus more on treatment rather than the cost involved in it instead of having the cost of treatment haunt you forever.
Normally a health emergency requires complete rest and relaxation with great care. Worrying about healthcare bills can deteriorate your health further.
With an effective health insurance that will take care of your bills, you will be able to focus on getting quality treatment for yourself or parents.
3. Tax benefits
This could not be an important reason to buy a health insurance policy for your parents but definitely a benefit for salaried taxpayers.
Under section 80D of the Income Tax Act, 1961, you can avail tax benefits.
In the Union Budget 2018, tax saving benefit for senior citizens has been increased from Rs 30,000 to a maximum of Rs 50,000.
In short, with an effective health insurance policy, you can have the best of health treatment without worrying about expenses.
Illustration: Dominic Xavier/Rediff.com
Naval Goel is CEO and Founder, PolicyX.com