While you are busy making modaks and cleaning the house to welcome Ganesh, here's what you can learn from the Lord of Wisdom about money, says Rajiv Raj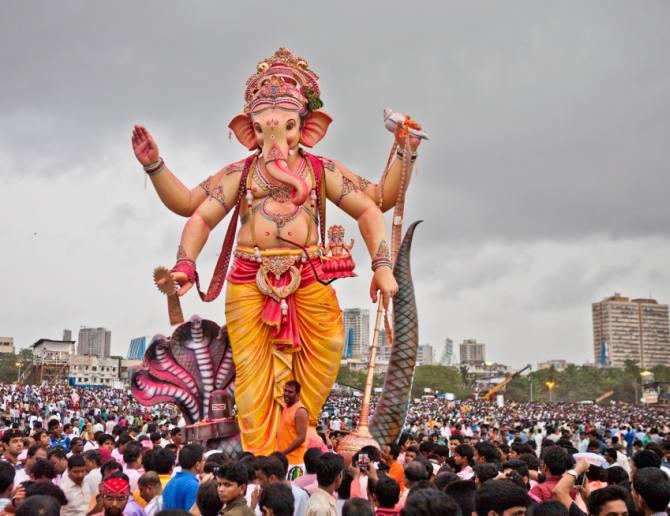 It's time to welcome India's favourite God. Lord Ganesha is known as Vighanharta which means, the one who solves all your problems.
Unlike many other festivals Ganesh puja is more of a community celebration; so you will find Ganpati pujas happening in offices, community spaces, apartment complexes and of course individual homes too.
Before you get Ganpati home you need to make a lot of preparations to get your home ready for receiving Him. The same is true about planning your finances.
1. Financial planning
Before you get the elephant God home you need to plan everything right from where to buy the idol to what you want to wear for the occasion. The key is to plan ahead and not wait for the last moment.
Have a clear estimate about the amount required for various expenditures (food, entertaining guests, decoration, idol etc). Do keep some buffer of 5 to 10 per cent as expenses do tend to shoot above what you had planned.
Planning ahead gives you sufficient time to look for options and get the best deal and the most favourable rates.
Waiting for the last minute creates panic and then one ends up picking the first available option due to lack of time. This may often prove to be an expensive yet not so effective thing to do.
2. Involve your family
Festivals are a great way for families to connect and bond so instead of outsourcing and buying everything it is a great idea for the family to come together and participate in the preparations.
The family members can divide the work among themselves or they can decide to prepare together as a team. So whether it is making prasadam for offering to Ganesha or decorations and lighting, everything can be managed in-house as long as it is planned ahead.
Making sweets and savouries at home is a healthier option; involving the children in the family in decorations will instill a sense of belonging and understanding about the festivals.
The rangoli may not be perfect but it will definitely carry more meaning and devotion.
Often quite a number of families within the same housing complex or vicinity celebrate the festival. Thus they can get together and can decide to go and shop for flowers, sweets, decoration things together or one could do for others too.
This can help them save time, money and of course you can use the expertise of each other.
Similarly, financial planning with the help and expertise of one's family can help one bond strongly with her/his family and shape up the best plan for investing money.
3. Have a budget
The biggest mistake one can make is not to stick to the budgeted expenditure. If it turns out that you are spending more on one thing then it is important to reduce the amount spent on something else. This way you will still maintain your budget.
As stated above do have some room for overshooting the budget but let this be only 5 per cent to 10 per cent of what you had planned.
Making last minute plans and changes is highly avoidable in any department of your preparations, including financial planning.
4. Invest as per your needs
I personally feel festivals are about gratitude for what you have and not an occasion to display your wealth. So giving into the temptation of having the flashiest decoration or the best idol is avoidable; this not only goes against the ethos of the festival but can also be a huge financial burden.
So when you go about your preparations don't get carried away by what is available in the market; rather stick to what you need.
Ditto, when you plan to invest your money for achieving your financial goals.
If you are among those who find it hard to resist temptation then don't go shopping with the credit card in your pocket.
Carry the required amount of cash with you when you go shopping so that there is no way you will give in to temptation and indulge yourself and then regret later.
So here is wishing everyone a happy, healthy and prosperous Ganpati puja; may the Vighanharta take away all your worries. Have a great celebration with your loved ones.
Photograph: sandeepachetan.com travel photography/Wikimedia Commons
The author is a credit expert with 10 years of experience in personal finance and consumer banking industry and another 7 years in credit bureau sector. Rajiv was instrumental in setting up India's first credit bureau, Credit Information Bureau (India) Limited (CIBIL). He has also worked with Citibank, Canara Bank, HDFC Bank, IDBI Bank and Experian in various capacities.