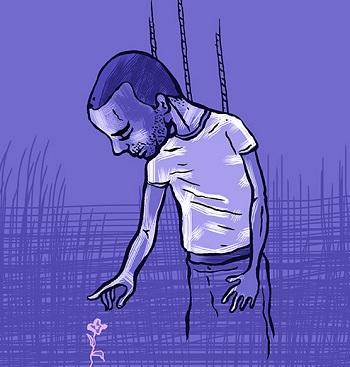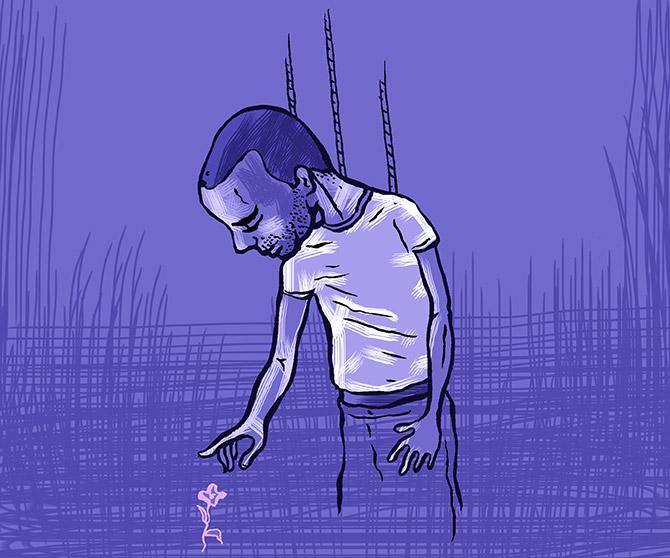 Worn down by the prospect of filling up a month-long holiday season with forced cheer and parties, Ashish Sharma stumbled upon a self-harm site. There he found community and comfort.
Illustration: Dominic Xavier/Rediff.com
It's December, I am on holiday, and I can now state, with some authority, that this is the time of the year when loners and losers camp out most on self-harm websites -- chiefly because they are on holiday too.
"Sorry you're here," says the welcome message of a site where thousands talk suicide, discuss methods and sign pacts to cut loose from the world together.
Of course, they are aware that ASBS, the site, is not run by mental professionals, is not a support group or a crisis hotline, but a collective that runs towards pessimism.
"Shiny-happies will be shown the door; conversely, do not be dismayed if conversation tends not to dwell on suicide," says the site, adding: "If you are a journalist, the operator will respond to your request. Please do not seek to harass other ASBS members for an answer, even though communication with the operator may not be as rapid as you would like. Please remember, we are private individuals living private lives -- many of us under energy-sapping chronic depression. Please be patient."
This tight-knit community is highly vigilant against possible predators who consider the depressed fair game. After all, it spun out of the first self-harm site, Ash, into what many see as a highly moderated space devoid of trolls. This makes ASBS particularly desirable. But I still don't get how such a dangerous site could be so popular.
The answer lies in my own behaviour.
The prospect of filling up a month-long holiday wore me down: I got hung up on what the holidays are supposed to be and how you are supposed to feel. As days rolled on, I kept feeling ill and my first port of call was the internet. With the click of a mouse or two, I landed up on ASBS, not because I chose to, but because it matched my holiday dread to a range of maladies and solutions -- suicides mostly -- and quickly paired me with individuals and communities willing to offer me advice and support.
I took the site as a jumping-off point, hopping user profiles and watching other people's comments that the site offered comfort.
"I felt I had finally found a place to be honest and open about my suicidal thoughts," FadingBoy wrote.
"To be heard and understood helped me much more than psychiatry. Putting up a front of 'being OK' for friends and family is exhausting, and makes you feel alone," says FadingBoy, who often writes long posts late at night.
"It's always nice waking up to replies the next morning," he says.
FadingBoy's experience is typical; the website doesn't encourage him to take his own life, nor does it try to talk him out of it. Yet the site, he says, has helped him enormously.
"I've found that just being able to talk about life with others who understand and aren't judgemental has made it much easier not to dive off the building," FadingBoy explains.
Support comes in varied forms: "I understand what you're saying" or "it'll get better". All this, FadingBoy says, can be enough to take the immediate pressure off.
Indeed, the site did reduce holiday stress for me, in an unusual way though: a contributor advised "catching the bus" but not before enjoying myself. "It will be a special event, so why not enjoy it as best as you can. These are your holidays, so go some place far away, enjoy a nice chilled-out ride on the highway to a hotel. Check in for several days, just take as many long strolls as you can. You are in new energy, new people around you, make a party out of it... Good luck."
In case there is a problem saying final goodbye, he advises using Time Cave and FutureMe, which can store up your suicide note and, after you are gone, release it as scheduled email to all your friends, relatives, and authorities -- thus helping you talk from the grave.