'Does it make any difference to you, that one of our doctors almost lost his vision, while you delayed in immediately getting the right care for your family member, as per his advice?'
On March 25, 4,000 resident doctors in Maharashtra called off their strike demanding security measures and resumed work.
Four days later, March 29, a group of 10 men attacked a lady intern at the Vitthal Sayanna Civil Hospital, Thane, Maharashtra, and injured another doctor.
The latest incident once again put the spotlight on the issue: Are doctors in India really safe?
A Mumbai homeopathy practitioner (who chooses to remain anonymous) offers her view.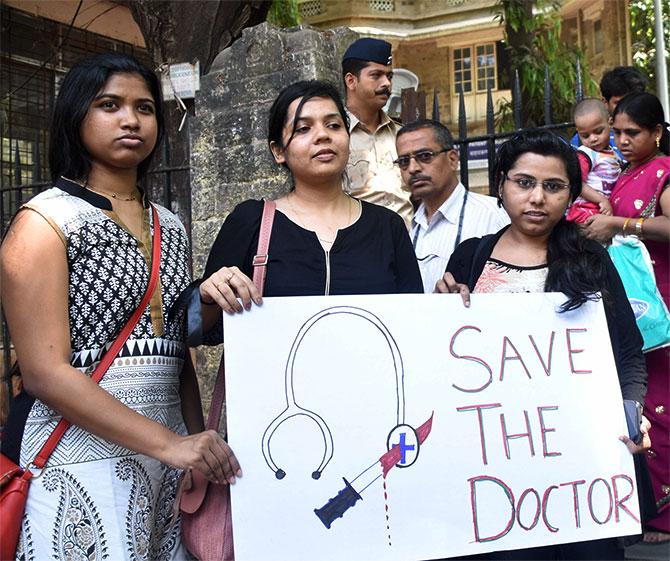 IMAGE: Resident doctors across Maharashtra went on strike to demand better security. Photograph: Sahil Salvi
Will an alternative medicine practitioner's opinion matter?
I always felt that, through the protests I participated in.
Every time someone attacked a doctor.
Every time the system failed our profession.
Every time some deserving candidate lost his or her seat to someone with reservation or money and not on merit.
Whether I am heard or not, I choose to voice my view.
I am a homeopath. I graduated after five-and-a-half years training and did three years towards post graduation.
But a total of eight-and-a-half years of education and two degrees later I am still questioned if my (homeo)pathy could just be placebo. That is not the point at the moment.
Right now I choose to stand with the doctors, colleagues, whether they consider me as one or not, against the atrocities a few of us have faced at the hands of angry family members, in some cases losing a practice, having clinics vandalised and more.
Let me first explain the routine of a medical resident.
They work a minimum 15 to 17 hours, longer sometimes, extending to 40 hours, if it includes surgical procedures or there is a lack of staff.
Then there is studying, because that part just does not stop, in whatever free time one can find. They hang onto every word the attending (doctor) says so that you don't make mistakes, check and double check everything they do, sleep less, maybe watch a movie or eat something nice apart from hospital canteen food.
And all of this, by choice. Let this sink in.
Think about it. You choose to be a graphic designer, an accountant, an engineer etc by choice. And I assume (you) also expect monetary returns from the work you put in.
In the same manner we choose to work to help you get better. And we choose this profession also as a means to receive monetary compensation.
Isn't that fair?
Compared to the modern medical school, homeopathic students, during internships or even during their post graduation courses, do not receive any stipend. But we still continue to pursue this as a profession.
I would like to tell you a story from my post-graduation days.
I did my PG degree from Aurangabad, a small town in Maharashtra, where rural postings are very common.
Being short staffed was an understatement at such health care centres.
A doctor out there was the physician, the nurse, the assisting surgeon, the ward boy, the tea guy -- all in one.
We would handle 70 to 80 (patient) admissions. That including pre-operative preparation, counselling, history taking... until the surgeon came and surgeries began (in this case) tubectomies (a medical procedure in which a woman's fallopian tubes are clamped to prevent pregnancy).
The patients were almost always from the lowest strata of society -- poor women who had too many children and didn't want more. Or who, under the National Health Commission's policy, received a small amount in return for getting a tubectomy done.
These women obviously lacked hygiene. They did not know their own history of illnesses or what they were called even, if they had any.
So, the risk of handling these patients was obvious. We also were at risk of catching infection (during the process of treating them).
Our batch handled nine such camps, so approximately 700 patients in total.
The risk we were proportional.
Two of my batchmates contracted the same infection in that time. Tuberculosis. Both had it of the bone, that later spread to the spine and brain.
While one survived, thank goodness, the other died, not recognising who her friends and family were.
The rest of us remained unaffected.
Should I be questioning the health care provided for us doctors?
Should I be angry and attack someone because my friend died?
Does this stop us from doing our jobs and taking our profession seriously?
Does it change your opinion that doctors are just in the profession for money?
Does it make any difference to you, that one of our doctors almost lost his vision, while you delayed in immediately getting the right care for your family member, as per his advice?
What is our education worth when we are being treated like slaves and called horrible names for having protested against this?
Most important, will it make any difference in how these issues are being handled in our country?
I hope it does.
Why?
Not because it will bring my friend back. But because we are human, and we deserve better.
The author has a post graduate degree in homeopathy and has been in the medical profession for more than a decade.