Thank you for the memories, Mr Wadekar!
Indian cricket is forever indebted to you.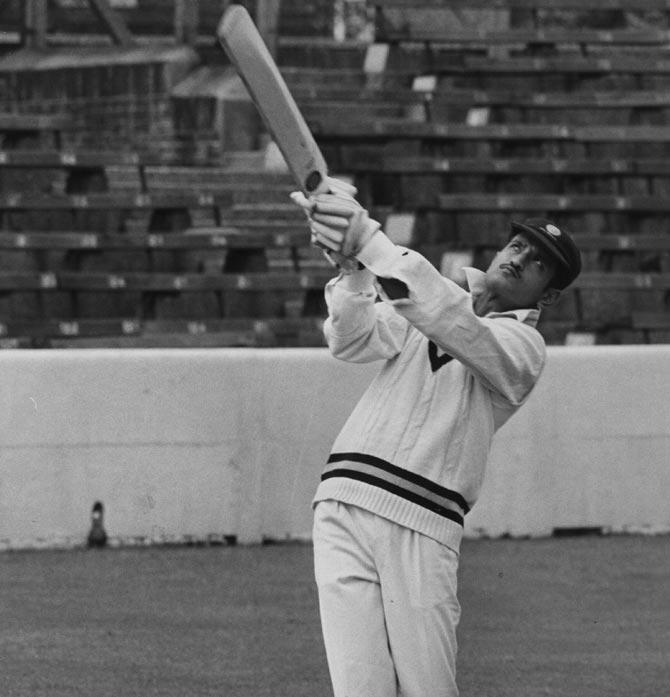 Ajit Wadekar, one of Indian cricket's most famous personalities, passed away in Mumbai on Wednesday, August 15.
As a captain he guided India to its most famous and first-ever Test series win against the mighty West Indies in 1971. He then followed it up with another big triumph over England in the same season, which made him a popular icon in the country.
Mr Wadekar is the only cricketer apart from Lala Amarnath and Chandu Borde to have served as captain, manager, and selector in Indian cricket.
He also guided Mumbai to four Ranji Trophy titles while also serving the Mumbai Cricket Association in various capacities. He was the current chairman of the MCA's cricket improvement committee despite ill health hampering him in recent months.
Ajit Wadekar's Career Highlights:
Was part of India's first overseas win, against New Zealand in 1968.
First Indian captain to win a Test series against the West Indies (1-0) in 1970-1971.
First Indian captain to win a Test series against England (1-0) in 1971.
First Indian captain to win three consecutive series wins -- vs the West Indies in 1970-1971, vs England in 1971 and vs England in 1972-1973.
Led Bombay to Ranji Trophy triumphs in 1968-1969, 1969-1970, 1971-1972 and 1972-1973.
Appeared in 11 Ranji finals for Bombay -- never ended on the losing side!
Was India's coach-cum-manager from 1992 to 1996 and made a winning pair with Captain Mohammad Azharuddin, including a 3-0 series win over England, winning the Hero Cup tournament and a streak of 14 unbeaten Tests.
Chairman of the selectors in 1998-1999.
Awards and Honour:
Arjuna Award in 1967.
Padma Shri in 1972.
C K Nayudu Lifetime Achievement Award in 2011.
Test Career
| | Matches | Runs | Highest Score | Avg | 100s | 50s | 0s | Ct | Captain |
| --- | --- | --- | --- | --- | --- | --- | --- | --- | --- |
| v West Indies in India, 1966-1967 | 2 | 79 | 67 | 19.75 | 0 | 1 | 1 | 2 | 0 |
| v England in England, 1967 | 3 | 242 | 91 | 40.33 | 0 | 3 | 1 | 6 | 0 |
| v Australia in Australia, 1967-1968 | 4 | 212 | 99 | 26.5 | 0 | 1 | 1 | 5 | 0 |
| v New Zealand in New Zealand, 1967-1968 | 4 | 328 | 143 | 46.86 | 1 | 2 | 0 | 10 | 0 |
| v New Zealand in India, 1969-1970 | 3 | 167 | 49 | 27.83 | 0 | 0 | 0 | 6 | 0 |
| v Australia in India, 1969-1970 | 5 | 336 | 91* | 37.33 | 0 | 3 | 1 | 3 | 0 |
| v West Indies in West Indies, 1970-1971 | 5 | 151 | 54 | 21.57 | 0 | 1 | 1 | 5 | 5 |
| v England in England, 1971 | 3 | 204 | 85 | 34 | 0 | 1 | 0 | 5 | 3 |
| v England in India, 1972-1973 | 5 | 312 | 90 | 34.67 | 0 | 2 | 2 | 4 | 5 |
| v England in England, 1974 | 3 | 82 | 36 | 13.67 | 0 | 0 | 0 | 0 | 3 |
| | 37 | 2,113 | 143 | 31.07 | 1 | 14 | 7 | 46 | 16 |
| v Australia | 9 | 548 | 99 | 32.23 | 0 | 4 | 2 | 8 | 0 |
| v England | 14 | 840 | 91 | 31.11 | 0 | 6 | 3 | 15 | 11 |
| v New Zealand | 7 | 497 | 143 | 38.23 | 1 | 2 | 0 | 16 | 0 |
| v West Indies | 7 | 230 | 67 | 20.9 | 0 | 2 | 2 | 7 | 5 |
| at home | 15 | 894 | 91* | 31.93 | 0 | 6 | 4 | 15 | 5 |
| abroad | 22 | 1,219 | 143 | 30.48 | 1 | 8 | 3 | 31 | 11 |
Captaincy record in Test cricket:
| | Matches | Won | Lost | Drawn |
| --- | --- | --- | --- | --- |
| v West Indies | 5 | 1 | 0 | 4 |
| v England | 11 | 3 | 4 | 4 |
| Total | 16 | 4 | 4 | 8 |
Ranji Trophy Record:
| Matches | Runs | Highest Score | Average | 100s | 50s | 0s | Ct | Captain |
| --- | --- | --- | --- | --- | --- | --- | --- | --- |
| 73 | 4388 | 323 | 59.29 | 12 | 23 | 1 | 93 | 30 |
Captaincy record in Ranji Trophy:
| Matches | Won | Lost | Drawn |
| --- | --- | --- | --- |
| 30 | 16 | 0 | 14 |