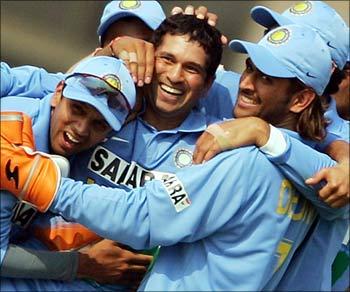 For the first time in 23 years, India's campaign for the World Cup will not feature Sachin Ramesh Tendulkar.
Remember Tendlya being hoisted on his team-mates's shoulders as Team India did a victory lap at the Wankhede on the night of April 2, 2011?
And Virat Kohli, then a young tyke in the side, declaring, 'He has carried the burden of the nation for 21 years. It is time we carried him on our shoulders.'
When Team India takes the field on Sunday, February 15, it will be the first time since the 1992 World Cup -- also coincidentally Down Under -- that Tendulkar will not be in the team.
Which is why we begin Silly Point's World Cup Specials from Shivaji Park, where Sachin learnt his cricket from guru Ramakant Achrekar.
How will Team India fare without Sachin?
Abhishek Mande-Bhot/Rediff.com and Hitesh Harisinghani/Rediff.com find out at Shivaji Park.
Interviews: Abhishek Mande-Bhot
Video: Hitesh Harisinghani
Catch our World Cup coverage here.