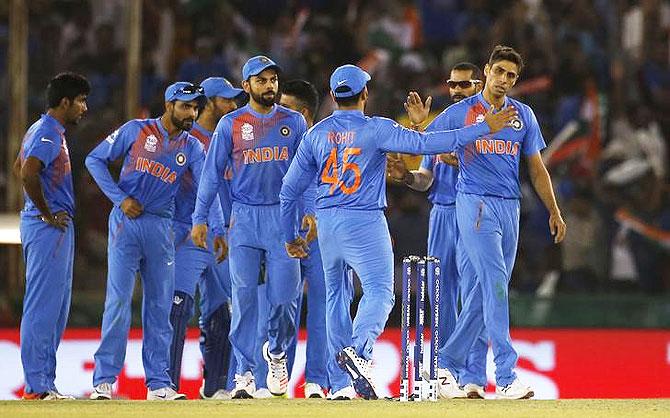 IMAGE: India's Ashish Nehra (right) is congratulated by teammates after taking the wicket of Australia's Usman Khawaja. Photograph: Adnan Abidi/Reuters
After a nail-biting finish to the opening stage of their World T20 campaign, and the latest injury to Yuvraj Singh, India will have to look at their team composition going into the semi-final against West Indies on Thursday.
- Smith doffs hat to Kohli, refrains from making Tendulkar comparison
- PHOTOS: Kohli's heroics send Indian cricket fans into a tizzy!
- How Kohli single-handedly carried India into World T20 semis
Talking about possible changes in the playing eleven for the semis, Dhoni said it would depend on the wicket.
"I don't know whether we should make changes but it is possible, depending on the wicket. We have to see Yuvraj's injury as well. We would definitely like to have a replacement ready if the physio says it is bad," he said.
India's bowling has shone in the mega event thus far and they could play a crucial role at the business end of the championship.
Even on Sunday in Mohali, the bowlers did well to limit Australia to 160 after they raced to 53 in four overs.
Ashish Nehra was the pick of the bowlers again and Jasprit Bumrah bounced back after being hit for four fours in his first over by Usman Khawaja. And Dhoni was all praise for his pacers.
"I think the self confidence matters a lot in executing what your strength is. As I have said, if you can bowl yorkers you can easily fall back on it. People talk about Lasith Malinga. If you see his strength, he swings the new ball but when somebody goes after him, he starts bowling yorkers. He has a different action, similar to Bumrah, and he watches the batsman right till the end. It really counts on a wicket like this. I thought it was a very good effort from the bowlers," he said.
"In Nehra's case, I think the experience counts and he knows his body. He is not someone who is 22-23. When you are 35 plus, you have to know your body. He is somebody who still loves to bowl in the nets, but at the same time he knows when to not bowl a single delivery. Experience helps, as well as execution. He knows what he wants to bowl and more of than not he executes well," Dhoni added.