'The only way you can ever get the monkey off your back is if you do win a trophy.'
Proteas caption Faf du Plessis says since most of his players have featured in the IPL, the team knows what to expect at the World T20. Harish Kotian/Rediff.com reports.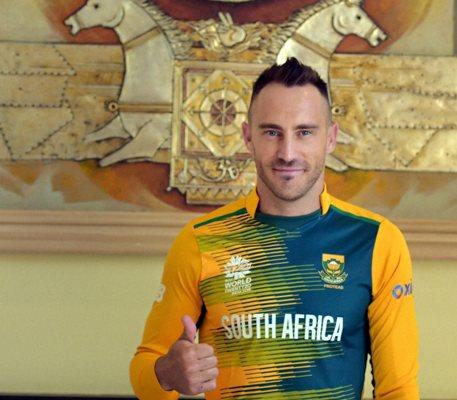 IMAGE: Captain of South Africa, Faf du Plessis, during a press conference in Mumbai. Photograph: PTI.
Conceding that South Africa's teams haven't really fulfilled their potential in World Cups, captain Faf du Plessis said the Proteas need to win the upcoming ICC World T20 to shed the tag of 'chokers' which is haunting them for quite a while now.
Asked if it is unfair to call South Africa chokers, he replied: "It is fair. The only way you can ever get the monkey off your back is if you do win a trophy."
South Africa, one of the most consistent teams in world cricket, have never won a World Cup in any format, 50-overs or T20.
Du Plessis, however, believes that past record will not have a bearing on his team's psyche going in the World T20.
The Proteas are placed in Group 1 of the Super 10s stage, alongside Sri Lanka, England, West Indies and a yet-to-be decided qualifier.
"T20 cricket is such... on the day performance. It is how you carry out the different pressure moments in the game. There is always so much to be worried about. For me, personally, and I know for this team, that it is something we even talk about or think about.
"Obviously, from the spectator point of view and the media point of view, there will once again be a lot said about it. T20 cricket is quick on the field; there is a lot happening and there are so many moments in the game that you can win or lose it.
"We have shown over a period of time that we play better in pressure moments and we have done that well as a T20 team, especially. So I would like to think we got to overcome that hurdle mentally," Du Plessis said, in Mumbai on Friday, during the South Africa team's media session ahead of the World T20.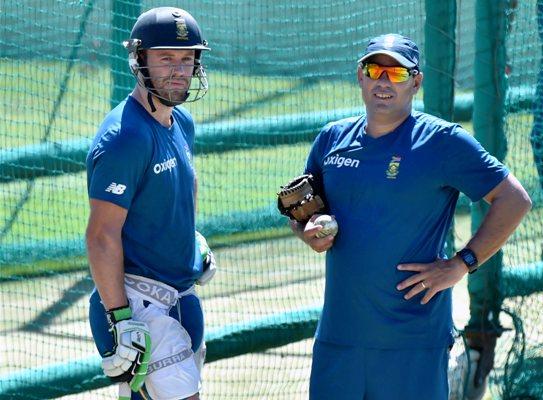 IMAGE: South African batsman AB de Villiers with team coach Russell Domingo during a practice session. Photograph: PTI.
A big shot in the arm for the team is the triumph over India in the T20I and five-match ODI series late last year and the fact that a lot of South African players regularly feature in the Indian Premier League.
"I think getting used to the conditions, this year we are a lot quicker in getting used to it now; we play a lot of cricket in India. The majority of the squad plays IPL cricket, so, for us, it is no longer foreign conditions. We know what to expect here.
"Talking about the prospect of the team, our results speak for themselves over the last few series in the sub-continent. We played some really good cricket in these conditions, although we are a little bit disappointed with our loss last night (to Australia)," he said.
"We are very confident moving into this World Cup in these conditions. We know that if we play our best cricket we will be there and thereabouts of taking the trophy home."
While nominating hosts India as the favourites, the Proteas captain still considers this World T20 as the one of the most open World Cups in recent times.
"This will probably be the most open event. I do think that India will still be favourites, just where we are playing and the form of the Indian team. It is going to be a real open pool, both groups, and there are no longer any easy games. We have seen countless times that, as you can call them minnows, they are not there anymore and anyone can beat anyone any day in T20 cricket."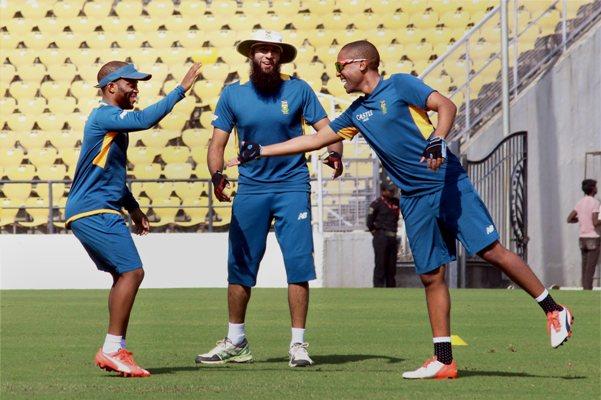 IMAGE: South African cricketer Hashim Amla and his teammates attend a practice session. Photograph: PTI.
Hashim Amla played a cracking knock of 97 off 62 balls in the third T20I against Australia but the South Africans were beaten by six wickets and lost the three-match series 1-2.
Following that fine knock, it has become a problem of surplus for the team with Amla also throwing his hat in the ring for the opening role at the World T20, along with Quinton de Kock and Ab de Villiers.
"It is a tough one. As I said, in the press conference in South Africa, that in a World Cup T20 it is about guys that are in form. So, for me, if the guys are doing well you have to consider getting some of them in the team. You pick the guys on form first and then you sort out the combination secondly. Hashim batted really well; he is in good form, so he has put his name on that as well."
Du Plessis believes that this is the most balanced team South Africa have had going into a World Cup and pointed out to the presence of all-rounders like David Wiese and Chris Morris, which has added to their strengths.
"About a year-and-a-half ago that is something we really looked at and we found all-rounders was one of the boxes we needed to tick. The successful teams that I've been part of in T20 cricket have always had those long batting line-ups and that's what makes us a really strong team I feel with the two of them coming in at (lower down the order) makes our batting line-up really, really powerful."