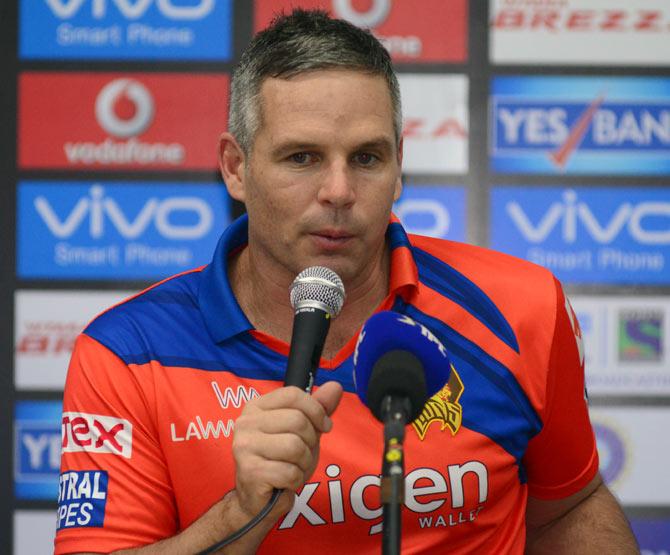 IMAGE: Gujarat Lions coach Brad Hodge. Photograph: BCCI
Describing Indian all-rounder Ravindra Jadeja as a three-dimensional player, Gujarat Lions' head coach Brad Hodge said it was very difficult for any cricketing side to replace him.
The ace left arm spinner has been advised at least two weeks' rest by a BCCI medical team, rendering him unavailable the early part of the IPL.
"Ravindra was an unbelievable player in the recently concluded Test series (against Australia) and I understand that he needs some time to get cent per cent fit," Hodge told PTI.
On whether Gujarat Lions has a player who can replace him, Hodge said, "No, he can't be replaced..he is a three-dimensional player...he bats, bowls and fields like a jet. So it's very hard to replace him in any cricketing side."
With an injury to all-rounder Dwayne Bravo, the Lions will be forced to play a couple of matches without the services of Jadeja and Bravo.
"Bravo, hopefully he will be fit around 20th of April. He will be key player for some games and when he comes he brings nice energy. He's always happy, dancing and having fun, so we are looking forward to him to join us," Hodge said.
On the absence of some star cricketers in IPL-10, Hodge said, "This is a good opportunity for young talented players to step in and perform well."
Talking about last year's performance as well as the current squad, Hodge said, "We had a wonderful season last year. I think the team was very well led by Raina and we have a lovely combination of youth and experience. We have bought some fresh faces to keep the energy level up in the group and the side is looking very strong."
"The squad is good combination of youth and experience. Experience is very important, I think more important in T20 and we have got some superb players but anything can happen on a day in T20."
When asked about the team combination Hodge said, "In any team you never have the perfect combination, you always have may be one or two holes. We have still a few days to work it out. We have some serious international players and to get the right combination is going to be difficult. Brendon McCullum, Aaron Finch, Jason Roy and Dwayne Smith all have good strike rates. So we have to wait and see to set the right combination."
Hodge considers Gujarat Lions' batting as its strength, but also praised his bowlers for doing a good job last year.
"Of course batting is Lions' strength, but we have some superb bowlers. Praveen Kumar was excellent last year. Dhaval Kulkarni had 17 wickets last year. Having Bravo, Kaushik (Shivil) was excellent. I think together they worked nicely."