- 'We want to represent the West Indies but the financials on offer we can't accept.'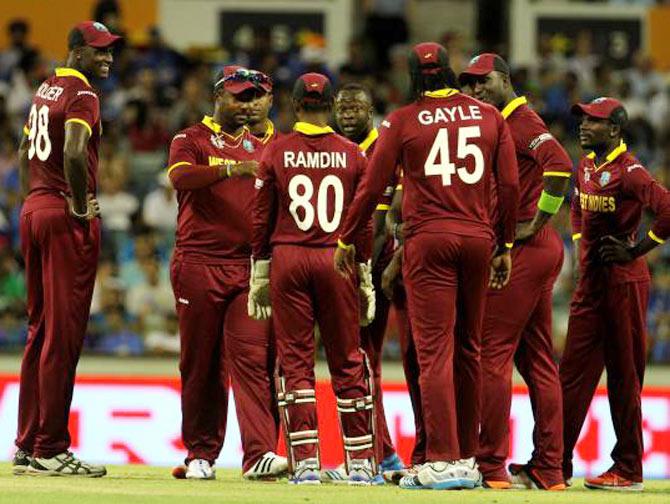 IMAGE: The West Indies cricket team. Photograph: BCCI
West Indies is likely to send a second-string side to the World T20 as the top players failed to reach an agreement in their contract impasse with the West Indies Cricket Board (WICB).

The prospect of sending a second-string team increased after WICB CEO Michael Muirhead made it clear that the players' request to double the remuneration package in the tournament would not be entertained.

According to Muirhead, the package was agreed with the players' union, WIPA, last year and would not be changed on the eve of the event. He stated that any player who had not confirmed their acceptance of the current contacts by February 14 would be presumed to have refused selection.

"The terms on offer were negotiated and agreed between WICB and WIPA with the assistance of representatives from the ICC and FICA during a mediation process last year," Muirhead stated.

"And all parties agreed that they were fair and equitable and acceptable to be offered to the members (of the) WI team selected for the relevant ICC Event," he added.

"As mentioned in my previous email to you, this information was shared with all players following that process in May last year. Players were given an opportunity to discuss the new structure and no concerns were raised at that time.

"It is disappointing that you would choose to question the terms now, on the eve of the WT20 in India."

West Indies T20 captain Darren Sammy had written to the board stating the players 'can't accept' what was on offer as they perceived there were 'huge financial reductions' in the terms compared to previous global tournaments.

"We want to represent the West Indies but the financials on offer we can't accept," Sammy had written.

"Obviously I am not privy to exact numbers paid to the WICB from the ICC, but I understand USD 8m will be paid to the Board. Traditionally 25% has been paid to the squad. That would equate to USD 2m/15 therefore approximately USD 133,000 per player," he added.

"Worse case scenario the squad would earn USD 414,000 collectively under the terms of the contract offered by WICB to participate in the T20 World Cup 2016. That is just over 5%. A staggering difference, a near 80% reduction.