'Shivil Kaushik is all over.'
'You will get a pain in your back, side and everywhere, the way his action is.'
'I was trying to ape his action and I thought I would get a side strain.'
Former India spinner Murali Kartik assesses the spinning scene in IPL 9.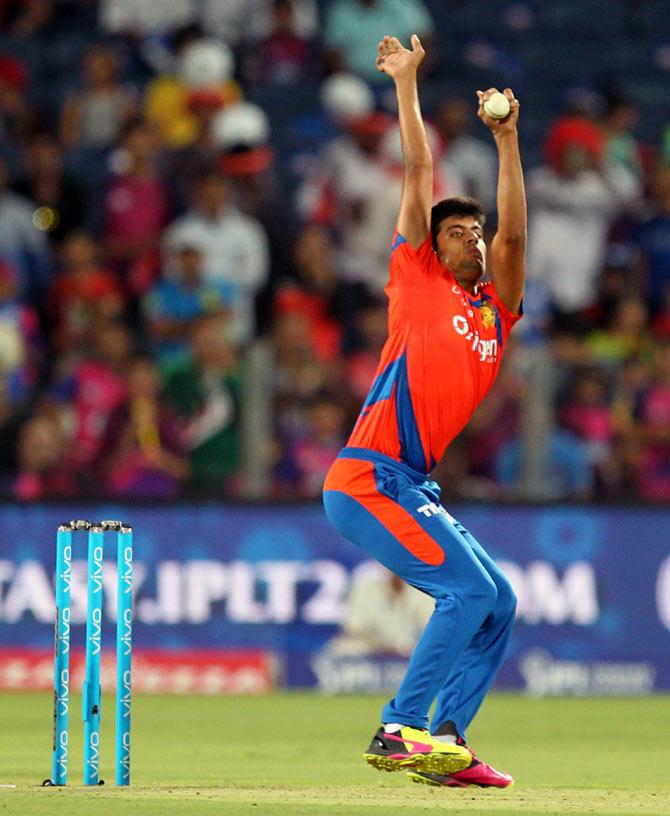 IMAGE: Gujarat Lions's unorthodox spinner Shivil Kaushik. All Photographs: BCCI
Chinaman bowlers have become the flavour of the current IPL.
Shivil Kaushik and Tabraiz Shamsi were unknown before their unorthodox bowling action -- more than their performances in IPL 9 -- attracted a lot of attention.
Kaushik, 20, has represented the Hubli Tigers in the Karnataka Premier League, but is yet to play first class cricket. South African Shami has featured in 68 first class matches.
Australia's chinaman spinner Brad Hogg continues to excel with the ball in the IPL 9 despite struggling to find a permanent place in the Kolkata Knight Riders playing eleven.
His young team mate Kuldeep Yadav is another bowler who bowls left-arm, but he too can't break into the KKR XI.
Basically, left-arm chinaman spin is a form of wrist spin in which the left-arm spinner gets the ball to turn into the right-hander. It is a mirror image of a right-arm leg-spinner, but the bizarre actions of some bowlers make them interesting to watch.
South African Paul Adams made chinaman spin bowling famous with his bizarre delivery action, referred by many as the 'frog in the blender.'
Left-arm orthodox spinner Murali Kartik, who played 8 Tests and 37 ODIs for India, believes chinaman bowlers are perfectly suited for the T20 format because they are difficult to pick.
Kartik, who also tried chinaman spin on the odd occasion during his playing career, believes it is difficult for a bowler to perfect this type of bowling as it requires hours and hours of practice to get it right.
Kartik took 31 wickets in 56 IPL matches and represented four teams, including KKR, the Royal Challengers Bangalore, the Kings XI Punjab and the now defunct Pune Warriors. He is currently doing television commentary for the IPL.
In a chat with Harish Kotian/Rediff.com, Kartik, 39, analyses the chinaman spinners in IPL 9.
We are seeing more chinaman bowlers than ever in the IPL this year. What do you put the emergence of chinaman bowlers down to?
We have seen Tabraiz Shamsi, Shivil Kaushik, Brad Hogg and Kuldeep Yadav in this year's IPL. We have seen the advent of these bowlers, but we have not seen them play regularly.
The thing with the IPL is that you want somebody who is difficult to get away and these bowlers fit the bill because it is difficult to pick them.
Somebody like a Brad Hogg is not easy to get away. Just because of the four overseas players policy they (KKR) can't get him in the team all the time. The teams are always trying to counter balance with those four players with regard to their own balance of the side.
With Tabraiz Shamsi, it is the same thing. RCB brought him in because their bowling was struggling.
And someone like Shivil Kaushik, for that novelty factor. You have always seen leg-spinners and off-spinners, so they decided to bring in someone who is different and difficult to get away.
That is one of the reasons these guys have played.
Brad Hogg is a champion bowler, the other guys are still learning their trade.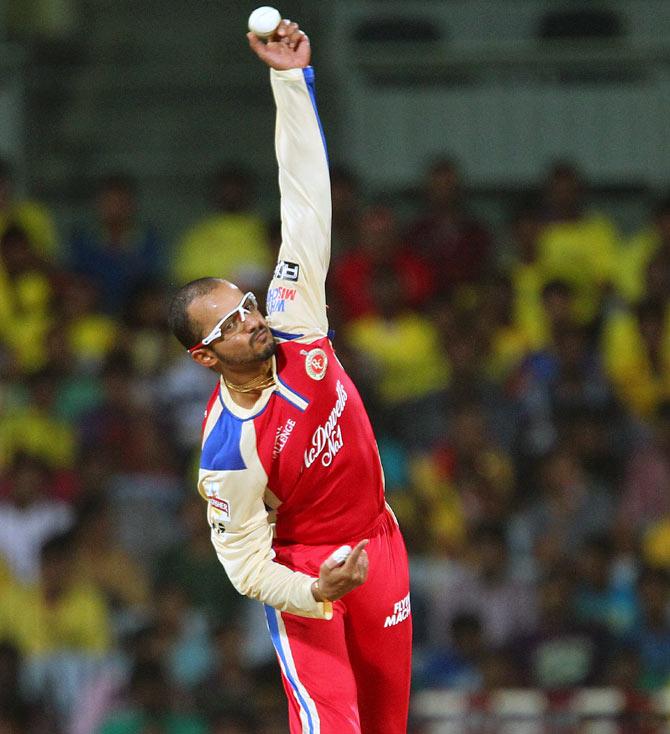 IMAGE: Murali Kartik in action for the Royal Challengers Bangalore against the Chennai Super Kings, IPL 6, 2013.
Chinaman spinners are basically mirror images of leg-spinners. If you see the action of some of the chinaman bowlers, they are all over the place. What is the reason for that?
I would say chinaman are only two bowlers -- Kuldeep Yadav and Brad Hogg.
Shamsi and Kaushik... they are very different. Their actions are so skewed and awkward, you don't know whether they bring the ball in or take the ball out to the right-hander. Chinaman bowlers should be able to spin the ball into right-handers.
Their actions are unique, each to its own. Somebody can always ask why Lasith Malinga's action is like that or why Paul Adams had that action.
It is unique. Somebody like Sunil Narine grips the ball differently from other conventional spinners. Ajantha Mendis used to do the same. So each to his own.
It is something you are comfortable with and you have grown up doing. That is one reason why it is unique.
How difficult is it for chinaman spinners to control their bowling given that some of them hardly look at the batsman when delivering the ball?
Such actions are not easy to control. That is one reason you see them going for runs when they are slightly off the mark.
If you see Shivil Kaushik, he bowled really well in the second match because he got an early wicket. Then he had the confidence to pitch it up. In the first game, he was nervous and in the third game (against the Delhi Daredevils) there were not too many runs to defend and the way Rishabh Pant batted.
I would say Shamsi is alright. He has got a lot more control because he is still looking at the batsman till a very late point in his delivery.
Shivil Kaushik is all over. It is like you will get a pain in your back, side and everywhere, the way his action is.
I was trying to ape his action and I thought I would be get a side strain.
For somebody like him, it is tough. Anyways, you talk about consistent guys who can bowl leg spin, and over here you got an awkward action and it is probably tough.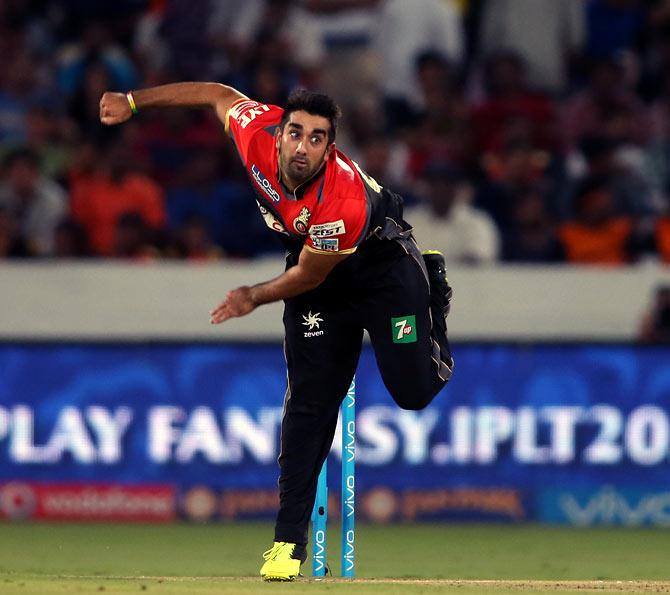 IMAGE: Royal Challengers Bangalore spinner Tabraiz Shamsi.
Having seen Kaushik bowl, would you suggest any changes to improve his bowling?
First, you need to understand what he wants to do. Second, in a format like this you have to give him the confidence.
As a captain or a fellow player, you want an arm around him and say 'Go and bowl, be a match winner, do what you can do the best rather than think about what is going to be the outcome.'
With regards to his action, it is a tough action, as I said. You need to understand what he does firstly.
And with somebody like him, if the wicket is slightly drier and a bit more conducive to spin, he will be a handful because he bowls quick; he brings the ball in, which means the ball is coming into the left-hander or leaving the right-hander from a good length.
So once he gets that confidence and he knows that it is a slightly dry surface, he can be a handful.
You must have tried bowling chinaman in your playing days, maybe in the nets or during a match. How difficult is it?
Of course, I have, and I have actually done it in the matches sometimes.
I have bowled a leg-spinner to a left-hander basically to mix up, or bowled a quick zooter (slider) or a front of the hand stuff.
It is not easy. There are a few bowlers who bowl with the same action. For me, I couldn't bowl those leg-spin deliveries with my action.
I had to change my action slightly because of the way I loaded up; it was always for a conventional left-arm spin rather than last minute changes.
I had to change my action and bowl differently. So that was a direct giveaway to the batsman that I was trying something different.
Again, leg-spin is such a tough art that consistency and what you want out of it -- flight, landing and all that -- is not easy. It comes from sheer practice and the comfort you have with your own action and how you can modify and change it.
Watching someone like Brad Hogg and Pravin Tambe playing at 45, how much of hard work goes into playing top level cricket when you cross 40, especially in a rigorous format like T20?
Why 40? I would say 35 onwards!
The amount of effort which needs to put in because of the daily travel involved, the amount of workload in the sun, it is not easy; it is very, very tough.
You have to work hard on your fitness and whatever you might try you will not be a spring chicken. You are not as good as when you were 12 or 15, you might not be as quick.
I think what you can overcome by the lack of speed is your experience. The fact that you can guard against how you want to expend your energy and that is where you are a lot more careful and a lot more wise after 35 or 40.
Spinners fared well in the World T20. But spinners haven't been able to perform to expectation in this season's IPL.
Amit Mishra is the only spinner in the top 10 list of wicket-takers, with 9 in 7 games.
What do you put that down to?
You need to look at the spinners first.
Amit Mishra is a very, very, good bowler. There have been spurts of performances from spinners, it is not as if there hasn't been any.
Axar Patel won a match just with his bowling for the Kings XI.
Ravi(chandran) Ashwin hasn't bowled his quota of four overs more often than not. M (Murugan) Ashwin is somebody who is still learning, but played straightaway.
You also have to look at the fact that many of these spinners are rookie spinners.
Piyush Chawla has bowled; it is not as if he hasn't bowled well.
Ravindra Jadeja has again bowled well. Harbhajan Singh is possibly one spinner who hasn't been among the wickets, but bowling at Wankhede, you have to look at him slightly differently.
Amit Mishra has been outstanding.
The surfaces have been a lot more greener and batting friendly. I don't know, it is a combination of a lots of things.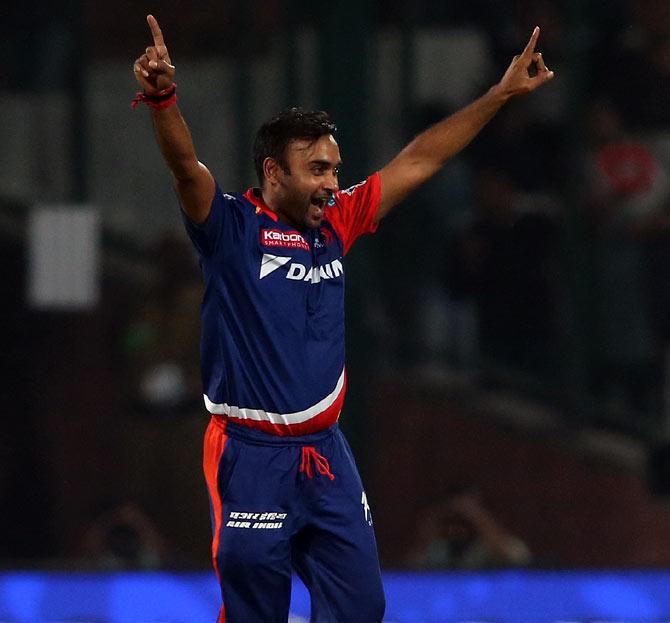 IMAGE: Amit Mishra celebrates taking Glenn Maxwell's wicket in Delhi, April 15, 2016.
Do you think Amit Mishra should have been given more chances at the international level? While he has now made it to the Test side, he is hardly considered for T20s or ODIs.
I have said it so many times. You feel bad for him. Somebody like him who bowls well day in and day out.
Whether he gets wickets or not, as a bowler what you look for is good bowling.
The other day Piyush Chawla went for 34 runs or something against RCB at the Chinnaswamy stadium, but he bowled well. He bowled really well.
Sometimes the conditions don't dictate the way you bowl. One feels bad for Mishra.
Ashwin hasn't fared well in the IPL this year. Just 3 wickets in 8 games at an economy rate of 7. Where is he lacking? Is it because of too much cricket in the last few months?
Bowling wise, I would not say anything. Again, in these conditions you have been playing non stop. Playing for a new franchise he has not bowled his quota of overs.
You have to find out what sort of a role he is playing. He has generally been a wicket-taking bowler, someone who bowled the difficult overs. So it is a combination again of all those things, as you rightly said.
The toll of bowling so much or playing so much. You actually want a break at that time.
It doesn't seem like that they are going to get a break, because next month there is the Zimbabwe tour followed by the West Indies.
How do you analyse Sunil Narine's bowling following his remodelled action? Has he lost a bit of edge? Is he not as threatening as before?
I saw him warming up at Mohali the other day. I was trying to see what he was doing.
Obviously, with a remodelled action, which means that people found him beyond the 15 degree flex mark, which means he was using his elbow. He used to bowl really quickly and with the flexed arm you can spin your off-spin.
When he started spinning that off-spin, people were always wary of where the other one was going. So that is why he was effective.
But now, when he has remodelled his action and the fact that his arm has to be completely straight, obviously one starts to bowl with the shoulder now. So with the shoulder he is not getting the zip and turn which he used to get before.
Again, it will take him a while to understand what he needs to do and get comfortable with his own action. So, possibly then, you can expect him to start bowling the same way. But right now it will take a while.