'Coach Lehmann and captain Clarke lifted the morale of the team by allowing the players to express themselves freely on and off the field'
Haresh Pandya analyses what went into the making of Michael Clarke's champion side.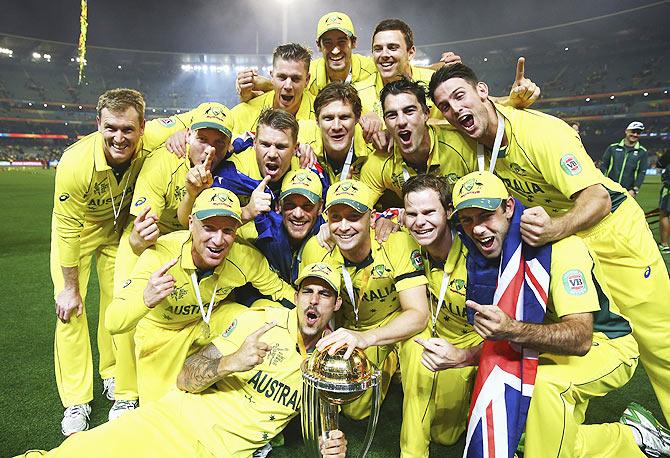 Image: The Australian team celebrates with the trophy after winning the 2015 ICC Cricket World Cup at the Melbourne Cricket Ground on March 29. Photograph: Ryan Pierse/Getty Images
In the end, the most deserving team won the 11th World Cup.
Though India, New Zealand and South Africa were also hot favourites, and made the semis, Australia's superiority and consistency in all the three departments of the game earned them cricket's most coveted title.
Michael Clarke, who retired from ODIs after the World Cup, could not have asked for a better farewell gift from his committed players.
- De Villiers 1st on MVP standings. Guess who's 5th?
"No sensible cricket lover should grudge Australia their fifth World Cup title. No team played consistently as well as Australia did throughout the long tournament. They had the nucleus to be the World champions -- world-class batsmen, bowlers and fielders," says former India batsman and coach Anshuman Gaekwad.
"It was just that being one of the hosts, they were more determined to win. The fact is, they played like champions in almost every match. Always strong at the psychological game, the Aussies put the pressure on the opponents, knew how to handle the pressure themselves and exploited virtually every situation to their advantage."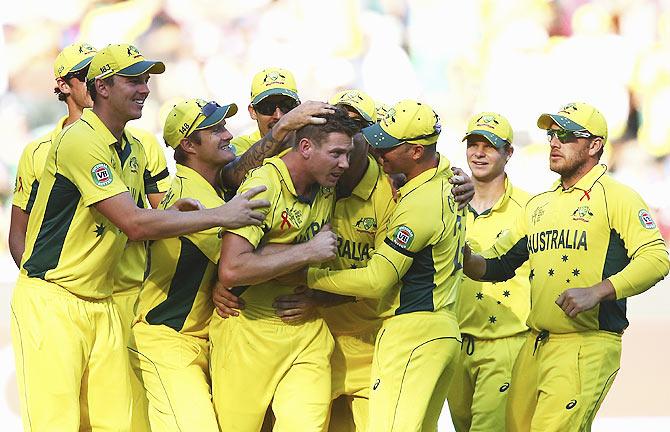 Image: Australia's James Faulkner (centre) is congratulated by teammates after taking a wicket during the World Cup final against New Zealand. Photograph: Ryan Pierse/Getty Images
Australia have a knack of rising from the wreckage. Before they won their maiden World Cup in 1987, they were in a shambles in the wake of the retirement of Greg Chappell, Dennis Lillee and Rodney Marsh.
But, after a fairly long, dry spell by Australian high standards, Allan Border rebuilt a strong national side from a bunch of excitingly talented players. The first signs of Australia's rejuvenation appeared in the historic Tied Test II in Chennai in 1986, culminating into their first World Cup triumph a year later.
Circa 2013 and Australian cricket seemed to be a pale shadow of its ever-dominant self.
Two years ago, Australia came a cropper in the Champions Trophy in England and the team appeared to be in complete disarray. But, as is their wont, they rose like the proverbial phoenix, decimated the English 5-0 in the much-publicised return Ashes battle Down Under and haven't looked back since.
"We've had an amazing journey the last couple of years," all-rounder James Faulkner said, after receiving the 'Man of the Final' award for taking the key wickets of Ross Taylor (40), Corey Anderson (0) and Grant Elliott (84).
Taylor and Elliott, in particular, had threatened to bring the Kiwis back into the game after the loss of three quick wickets.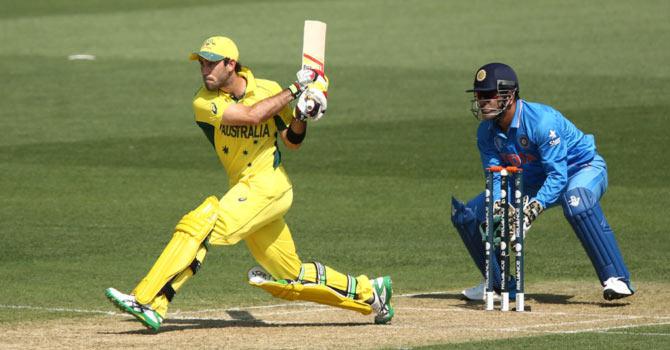 Image: Australia's Glenn Maxwell plays the reverse-sweep as India wicketkeeper and captain Mahendra Singh Dhoni looks on. Photograph: Morne de Klerk/Getty Images
Appointed shortly after the Champions Trophy disaster, coach Darren Lehmann injected a new dose of confidence, competitiveness and aggression in the players.
Lehmann and captain Clarke lifted the morale of the team by allowing the players to express themselves freely on and off the field and go about their unbridled, natural way out in the middle. The results, as they say, are there for all to see.
In between George Bailey and Steve Smith also led the side, but the approach has remained unchanged.
Australia repeatedly proved that in David Warner, Aaron Finch, Clarke and Smith they have a set of batsmen capable of taking on any attack and plundering runs as well.
And, then, there are three fine all-rounders in Shane Watson, Glenn Maxwell and Faulkner, who can change the complexion of the game with either the bat or ball -- sometimes with both.
Maxwell has grown in stature as the world's most destructive batsman after AB de Villiers. He played a couple of breathtaking innings during the cricket extravaganza, including an explosive 102, the second fastest century in World Cup history, against Sri Lanka.
"I think the very presence of Maxwell in the Australian team puts pressure on other teams. He is such a dangerous batsman who can change the direction of any match in a few overs with his clean, savage hitting," feels former India stumper Nayan Mongia.
"Though Australia has a string of technically better batsmen, it is someone like Maxwell who holds the key to success in shorter versions of the game. He is very young and I'm sure he will achieve a lot in coming years."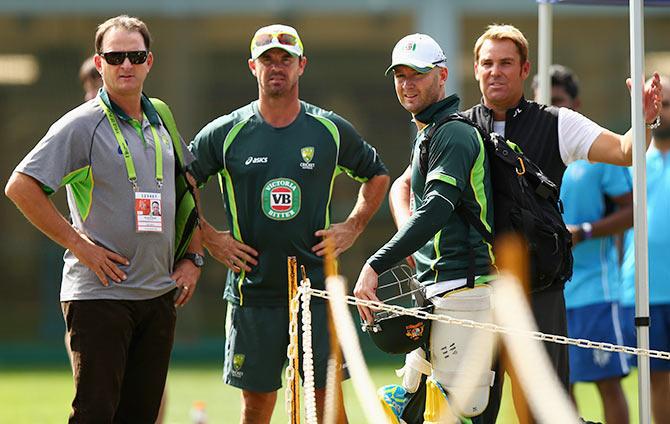 Image: (from left) Australia selector Mark Waugh, fielding coach Greg Blewett, captain Michael Clarke and former spinner Shane Warne at a nets session. Photograph: Ryan Pierse/Getty Images
But what makes this Australian team look so awe-inspiring is their pace attack, spearheaded by the two Mitchells, Johnson and Starc. They were consistently quick, dominating and wicket-taking throughout the tournament. They were ably supported by Faulkner, Watson and Josh Hazlewood with their medium-paced bowling, and Maxwell, with his right-arm off-breaks.
The Aussies were also outstanding in the field.
Brad Haddin, the ageless wonder with the gloves, hardly or never missed a single catch behind the stumps.
He was the busiest wicketkeeper in the tournament as the Australian pace attack was often too hot to handle for the opponents.
Much the same could be said about the Australian slip fielders, led by Clarke, who were always sharp as eagles. These fielders' collective presence around the wicket went a long way in boosting the confidence of the fast bowlers, who, at times, bowled a yard or two quicker than usual.
"Australia has a strong cricket system. The cricketing infrastructure there is world-class. In India, we've the National Cricket Academy, but Australia has state academies where talented players are groomed and coaches trained. They have a terrific sports culture Down Under and cricket is one of its major parts," emphasises former India chairman of selectors and wicketkeeper Kiran More.
"The players are taught from an early age the importance of mental toughness. They are firmly and categorically told never to allow success to go to their heads. You don't find Australian cricketers getting even a little complacent. Importantly, they've made winning their habit."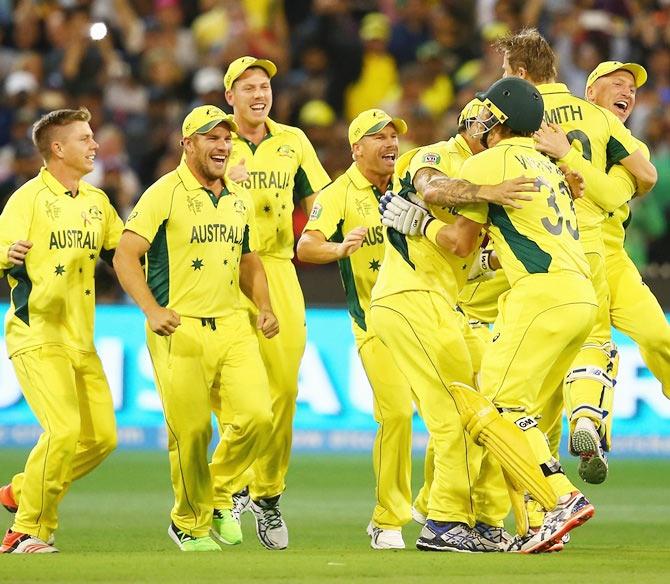 Australia's players celebrate after beating New Zealand in the World Cup final at the Melbourne Cricket Ground on Sunday. Photograph: Mark Kolbe/Getty Images
Australia, a vast continent stretching some 3000 miles from east to west, and about 1500 miles from north to south, may not have much to show in other fields, but few countries can match it in sporting excellence. Whether they are cricketers, golfers, swimmers or tennis players, the country has always prided itself on its sporting heroes.
Just like on the subcontinent, cricket enjoys tremendous following in Australia and has a far wider base of support than even in England, where the willow game is said to have originated.
In general, Australians seem to express themselves best in cricket than in any other discipline. And there is always so much at stake, including national pride, when they represent their country.
More than just winning and losing, cricket involves the very identity of Australia as a nation. Generations of Australian cricketers have appeared to symbolise war-like nationalism.
Unlike in India, where individual players are iconised, worshipped even, the team is supreme in Australia and the country always comes first.
It is really not surprising that Australia have won five of the 11 World Cups, in addition to a number of Test and ODI series.