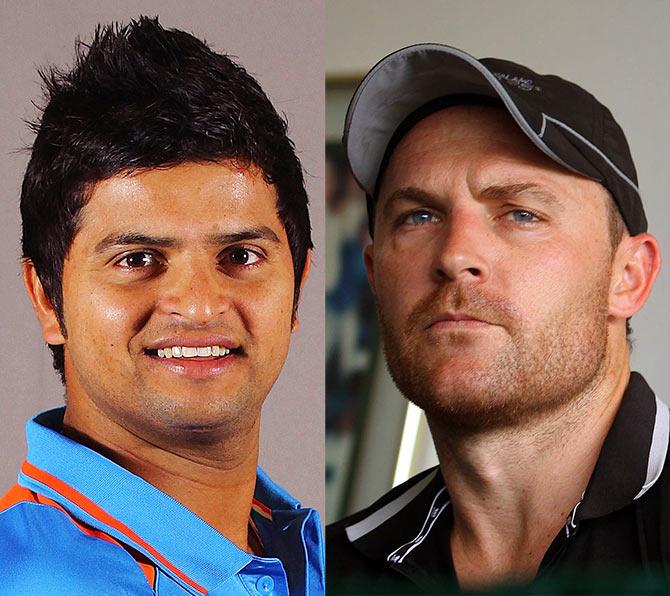 IMAGE: Suresh Raina (left) and Brendon McCullum. Photograph: Gettyimages
India's limited-overs specialist Suresh Raina is likely to lead the new Intex-owned Rajkot IPL team.
Picked first by the franchise in Tuesday's Player draft for a hefty sum of Rs 12.5 crore, he looks set to be entrusted the top job.
- IPL player draft: The 10 buys...their worth
He has the experience of leading India earlier in limited-overs' matches in Mahendra Singh Dhoni's absence and also led his previous franchise, Chennai Super Kings, at times.
"Excited to play for the beautiful vibrant city – Rajkot in @IPL. Looking forward to have new teammates and support from the people of Gujarat," Raina tweeted immediately after the draft.
While the Pune team has a straight forward choice of Dhoni being the leader, the Rajkot franchise will certainly look at Raina, who, by far, was the most prolific player in the eight seasons of the cash-rich Twenty20 extravaganza.
Local boy Ravindra Jadeja is also in the Rajkot squad but he is not captaincy material yet.
The other contender for the top job is New Zealand captain Brendon McCullum, who led Kolkata Knight Riders in Season 2 of the IPL.
However, franchise owners over the years have given charge mainly to top Indian players as it also enhances their brand value.
- Also read:
- 'We want to build our brand and Dhoni was an automatic choice'