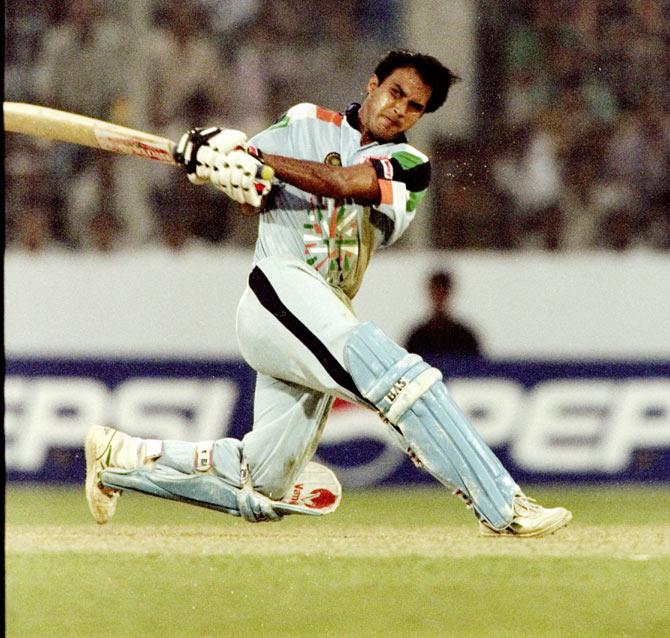 Robin Singh. Photograph: Clive Mason /Allsport/Getty Images
Indian batting great, Sachin Tendulkar has shared his frustration on how some of his moves as captain did not pay off but the same strategy clicked when other captains employed it.
Tendulkar talked about the 1997 Sharjah series where he promoted Robin Singh to bat at number three but the southpaw failed and he had to cop heavy criticism from the media.
"The match against Pakistan on 14 December highlights how things were just not going my way. I was batting at number four in this competition, at the selectors' request. Sourav and Navjot Sidhu had given us a good start against Pakistan, and when Sidhu got out at 143–2, I sent in Robin Singh, the all-rounder, to accelerate the innings. It was a strategy I had given considerable thought to.
"Manzoor Akhtar, the leg-spinner, was at one end bowling around the wicket to the right-handed batsmen. The theory was that Robin, a left-hander, would be able to negotiate his leg-spin better and also hit some big shots. However, Robin got out without scoring after just three balls from Azhar Mahmood, the medium-pacer, and the experiment proved a disaster. In the press I was criticised for sending in Robin ahead of me and the move was blamed for our defeat," Tendulkar wrote in his autobiography.
"A month later, however, in January 1998, Azhar, back as captain, repeated the very same move in the final of the Silver Jubilee Independence Cup in Dhaka against Pakistan. Robin was sent in at three to keep up the momentum after Sourav and I had got off to a flier and this time Robin played a terrific hand, scoring 82 and setting up the run chase.
"This was arguably a bigger gamble, because he was pitted against the off-spinner Saqlain Mushtaq and it is no secret that left-handers find it more difficult against off-spinners.
"The same experiment was now hailed as a masterstroke.
Not without reason is it said that success has many fathers while defeat is an orphan," he wrote.