Cricket is a team sport, but there are instances where an individual performance outdid all.
Such efforts, coincidentally, occur at critical junctures, and turn the outcome of the game on its head.
Rediff.com takes a look at few such one-man shows at the World Cup.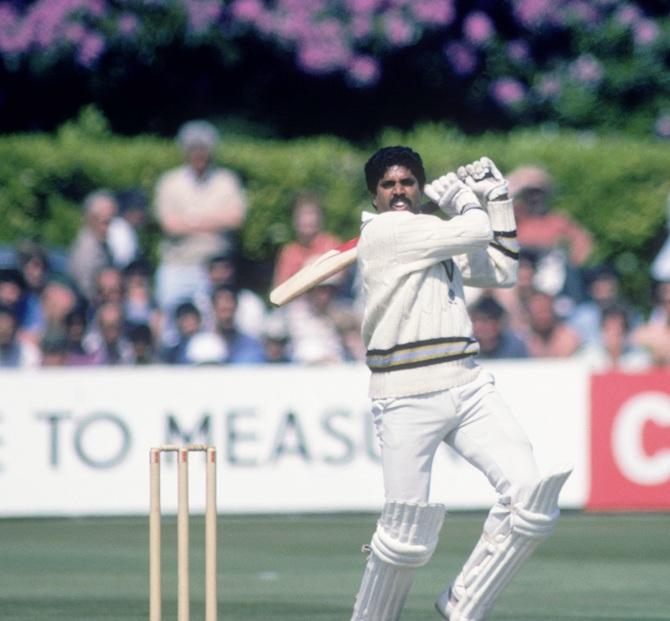 Indian cricket captain Kapil Dev during his record innings of 175 not out off 138 balls against Zimbabwe in 1983 World Cup. Photograph: Trevor Jones/Getty Images
From an Indian perspective, Kapil Dev's unbeaten 175 against Zimbabwe in 1983 remains the best so far.
Coming in to bat with India precariously placed at 17 for five in the encounter at Tunbridge Wells, he added 60 for the sixth wicket with Roger Binny (22). Then three quick wickets fell, and Syed Kirmani came in to bat.
The duo added an unbeaten 126 for the ninth wicket, with Kirmani contributing just 24 of those runs. Such was Kapil's dominance.
India's captain faced 138 balls in total, hitting 16 boundaries and six sixes. His effort took India to 266 for eight (60 overs).
Zimbabwe, despite a fighting 73 from Kevin Curran, could manage only 235 in response. India won by 31 runs.
*****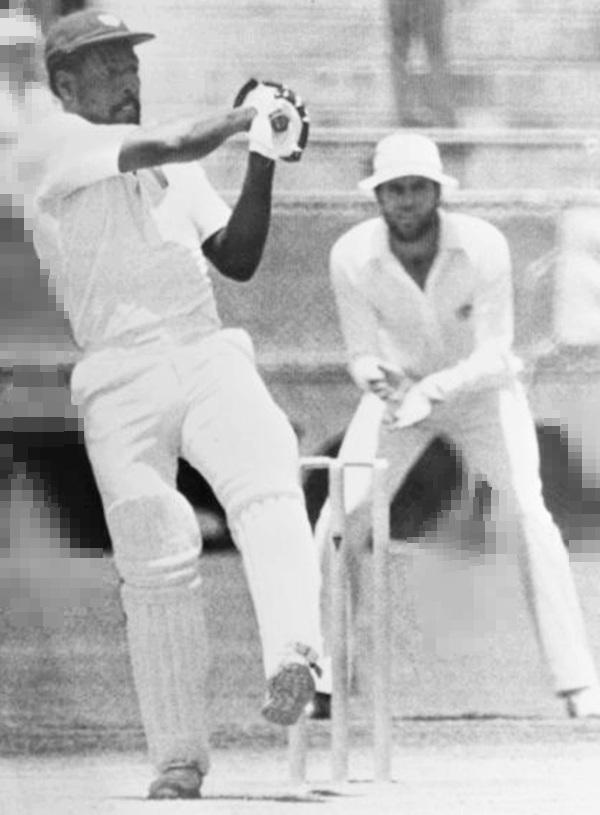 Viv Richards in action. Photograph: Getty Images
Viv Richards scored an unbeaten 138 against England in the 1979 final, helping the West Indies retain the title.
However, that match was more about Collis King's belligerence (86 off 66 balls).
Richards's 181 against Sri Lanka at the National Stadium in Karachi, in the 1987 edition, was, however, a one-man show.
The West Indies skipper faced just 125 deliveries in an innings that was laced with 16 hits to the fence and seven over it.
Coming in at 45 for two, Richards added 182 runs for the third wicket with Desmond Haynes – who scored a measured 105 - and another 116 for the fourth with Gus Logie (31 not out).
The West Indies managed a whopping 360 for four in the stipulated 50 overs.
Replying to the seemingly impossible target, Sri Lanka didn't even try, scoring just 169 for four. That's less that what Richards scored.
*****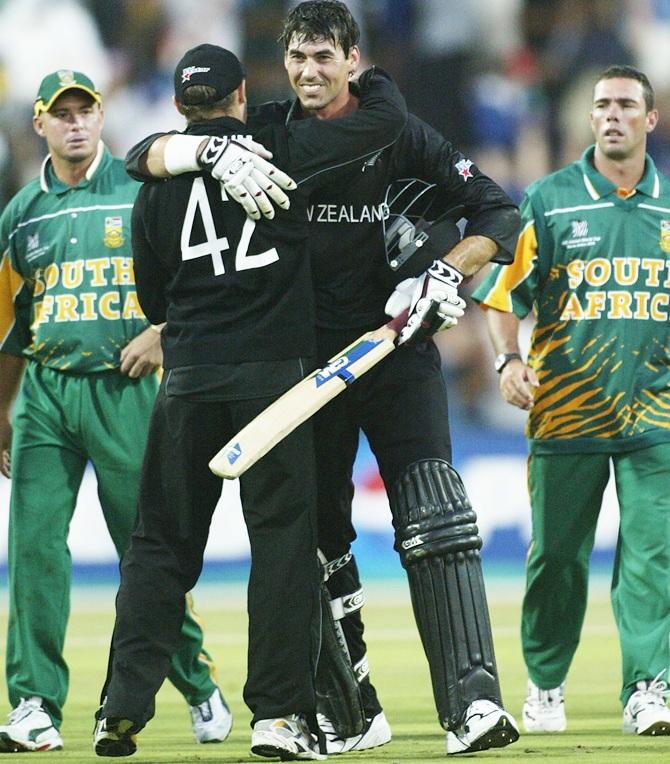 Stephen Fleming celebrates with Brendon McCullam after victory over South Africa during the 2003 World Cup. Photograph: Michael Steele/Getty Images
The 2003 World Cup witnessed what is arguably Stephen Fleming's best ODI innings.
The New Zealand skipper's knock came against South Africa in the most trying circumstances.
Batting first at the Wanderers Stadium (Johannesburg), the hosts managed a formidable 306, thanks largely to Herschelle Gibbs's 143.
The Kiwi skipper then took over, taking the attack to the opposition. Fleming's almost run-a-ball 134 not out was inclusive of 21 hits to the fence, and came at an impressive (and unlikely) strike rate (101.5).
The skipper added 89 (off 85 balls) for the first wicket with Craig McMillan (25), and another 130 for the second with Nathan Astle (54).
With the target revised, after a rain interruption, New Zealand won by nine wickets, thereby significantly denting the home team's prospects.
*****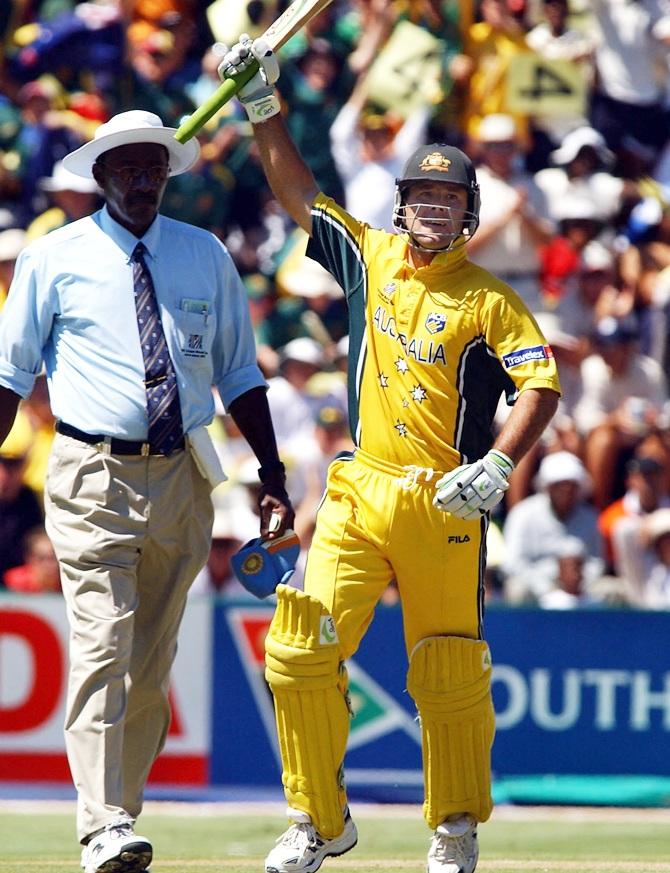 Australian Captain Ricky Ponting celebrates after reaching his century during the 2003 World Cup final against India. Photograph: Stu Forster/Getty Images)
The 2003 final saw Ricky Ponting annihilate the Indian bowling attack.
With their captain Sourav Ganguly gifting Australia the advantage by asking them to bat first on a Wanderers' wicket full of runs, India were going to pay a heavy price.
Following an opening partnership between Adam Gilchrist (57) and Matthew Hayden (37) that yielded 105 runs (in 14 overs), Ponting took over.
No Indian bowler was spared as Australia's skipper scored a magnificent 121-ball 140 not out, his innings comprising four hits to the fence and eight over it.
Ponting was also involved in an unbeaten 234-run stand (181 balls) for the third wicket with Damien Martyn (88), as Australia piled up 359 for two.
In response, India lost Sachin Tendulkar in the first over, and the game 38 overs later (by 125 runs).
*****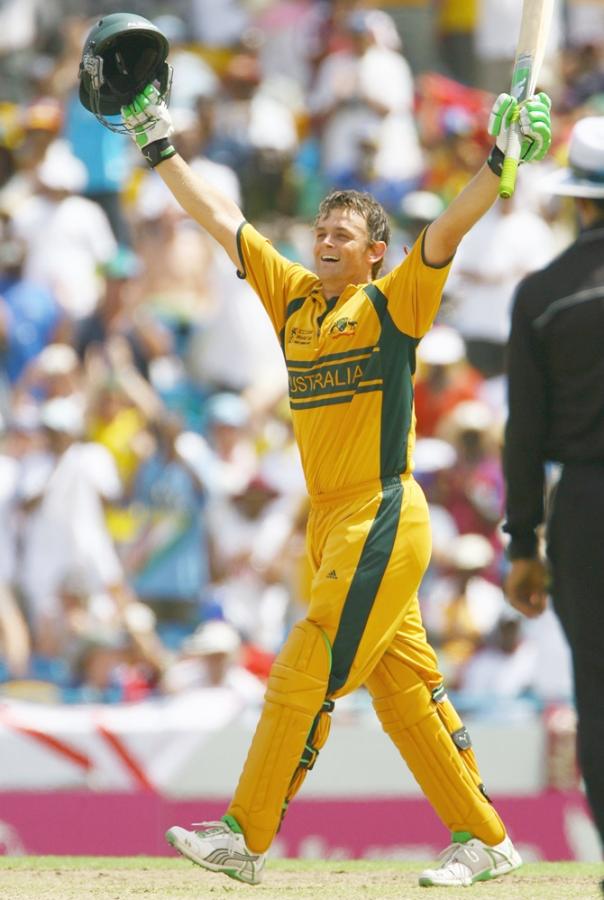 Adam Gilchrist of Australia celebrates his century during the 2007 World Cup final against Sri Lanka. Photograph: Tom Shaw/Getty Images
The final in 2007 witnessed Adam Gilchrist at his belligerent best.
Having been off-colour for the entire tournament, the wicketkeeper-batsmen delivered when it mattered the most.
His 149 at the Kensington Oval (Bridgetown) remains the highest score for any batsman in a World Cup final. The New South Welshman faced just 104 balls, scoring at a rate of 143. He found the fence on 13 occasions, and went over it eight more times.
Australia's opening wicket contributed 172, off just 137 balls, of which Matthew Hayden's contribution was a mere 38.
Thanks to Gilly's exploits, Australia managed 281 for four in 38 overs in the rain-curtailed game.
Sri Lanka scored just 215 for eight in response, giving the team from Down Under their third straight title, and fourth overall.