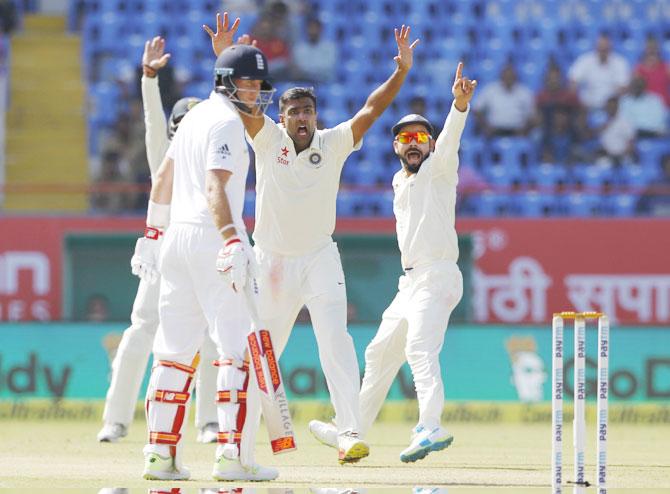 IMAGE: India's Ravichandran Ashwin appeals for a successful Leg Before Wicket (LBW) decision for the wicket of England's Haseeb Hameed during Day 1 of the first Test at the Saurashtra Cricket Association Stadium in Rajkot on Wednesday. Photograph: BCCI
The Decision Review System has for a long time been a subject of controversy in Indian cricket, with the Board of Control for Cricket in India being averse to the technology.
- We were pretty comfortable against the spinners, says confident Root
- PHOTOS: Root and Moeen put England on top on Day 1
But the first Test match between India and Pakistan at Rajkot saw the introduction of the DRS in India for the first time ever on trial basis and it did have its share in the spotlight during play on Day 1.
England captain Alastair Cook won the toss and had no hesitation in batting first on a Rajkot pitch he regarded as a traditional Indian wicket that would assist the slower bowlers as the game progressed.
A nervy Cook lived a charmed life against India's new-ball pace duo of Mohammed Shami and Umesh Yadav when the left-hander was dropped twice in the first two overs behind the wicket.
The opener seemed to have overcome his jittery start and moved to 21 by the end of the first hour's play before he was adjudged out leg before wicket to spinner Ravindra Jadeja.
Cook was unfortunate to be given out off an incorrect decision from the umpire, with replays showing the ball missing leg stump, and his new opening partner Haseeb Hameed offered little assistance by advising against asking for a review.
It was the first time the Decision Review System (DRS) was being used for a bilateral series in India and England erred a second time when they eventually opted to use the technology.
The 19-year-old Hameed, who became England's youngest opener on his debut, wasted one of the two reviews available to his team when he failed to overturn a leg before decision off Ravichandran Ashwin after compiling a composed knock of 31.
England's No 3 bat admitted England erred in DRS use on Wednesday.
"I think he (Captain, Alastair Cook) discussed it with Haseeb (Hameed) at the other end. But it's hard for a guy on debut to tell the captain. It's hard enough already and it's hard to tell him to walk off. He felt (Cook) went quite far across the stumps and he was pretty disappointed he didn't use it but these things happen in cricket and you just have to get on with it.
"Yeah, that (Use of DRS after Hameed was declared out lbw) was my fault. We didn't quite get it right today -- the referrals -- and I've sort of made it a habit to get them wrong, hopefully I can change it through the rest of the series."
The 25-year-old Root hit 11 boundaries and a six in his 180-ball knock and looked largely untroubled until Yadav struck his pad in the penultimate over before tea with the batsman on 92.
India captain Virat Kohli made his first use of DRS but failed to overturn the on-field not out decision after replays showed the ball was clipping the leg stump.