'I was picked for Rest of India and because of the Ranji Trophy I got the IPL deal. So 60 per cent credit for this call-up is my performance in first-class cricket'
'I can't tell you how happy I am. When I told my parents, they were speechless. It's a dream come true'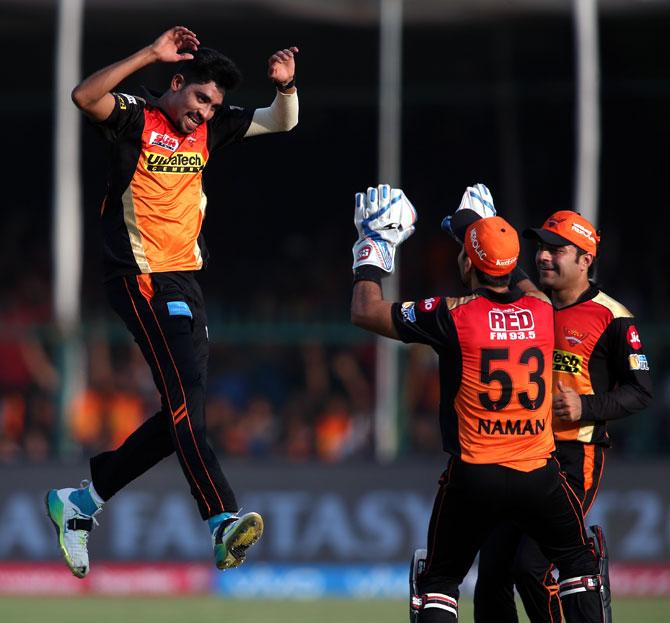 IMAGE: Mohammed Siraj, left, celebrates a dismissal with his Sunrisers Hyderabad teammates during IPL 2017. Photograph: BCCI
The day Mohammed Siraj was selected by Sunrisers Hyderabad at the IPL auction earlier this year for a whopping Rs 2.6 crore, he had only one dream: to never let his father Mohammed Ghaus drive an auto rickshaw again. And he kept his promise!
Savouring his call-up to the Indian team for the Twenty20 series against New Zealand, one could gauge the sense of satisfaction in Siraj's voice.
"I feel proud that at 23 I am good enough to shoulder the responsibility of my family. The day I got an IPL contract I told my father that I won't let him work anymore. Usi din se maine father ko bola ki aap abhi rest kaaro (that very day I told dad that now you can rest). And, yes, I have shifted with my family to a new house," declared Siraj on Monday.
The 23-year-old right-arm pacer was on the fringe of selection after some decent performances for India A, but he did not expect a call-up this early.
"I knew that some time in future I will get a call-up but did not expect it this soon. I can't tell you how happy I am. When I told my parents, they were speechless. It's a dream come true," said an ecstatic Siraj, who is gearing up for Tuesday's Ranji Trophy game against Karnataka.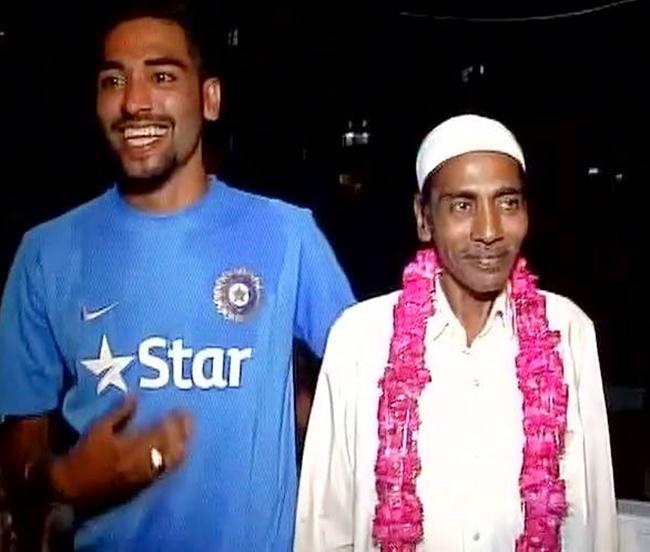 IMAGE: Mohammed Siraj with his father after being picked by Sunrisers Hyderabad in the 2017 IPL auction. Photograph: ANI/Twitter
While the Indian Premier League got him recognition, Siraj feels his hard work in the Ranji Trophy during the 2016-17 season for Hyderabad resulted in all the success that's come his way.
"Whatever I am today is primarily because of the Ranji Trophy performance. My 40-odd wickets last season gave me the confidence. There's nothing like getting wickets in first-class cricket. I was picked for Rest of India after that and because of the Ranji Trophy I got the IPL deal. So 60 per cent credit for this call-up is (my) performance in first-class cricket," he said.
Siraj said India's bowling coach Bharath Arun's tips when he was with Hyderabad last year was of immense help.
"I can't tell you how much I am indebted to Bharath Arun sir. He is a brilliant coach. Last year he was with the Hyderabad team and for the first time I got an insight to the kind of variations needed to survive at the highest level. He told me about the variations in slower deliveries, how to bowl a knuckle ball. All these things helped me when I played IPL," the speedster revealed.
He also thanked Sunrisers teammate Bhuvneshwar Kumar and Ashish Nehra for their encouragement during the cash-rich league.
"Bhuvibhai encouraged me a lot during the IPL. He would come up with lot of valuable suggestions on what areas to hit at the death, the lengths for particular batsmen."
Playing for India A during the past few months, which included a trip to South Africa and matches against New Zealand A, has helped him mature as a bowler.
India A coach Rahul Dravid told him that he does not need to try anything fancy and keep on doing what has worked for him till now.
"Dravid sir told me that I need not change anything in my bowling. His advice has been pretty simple. Do what has got you success till now. Hopefully, I can replicate my success at the highest level."