'One of the greatest chases in my time as a Black Cap, says New Zealand skipper Kane Williamson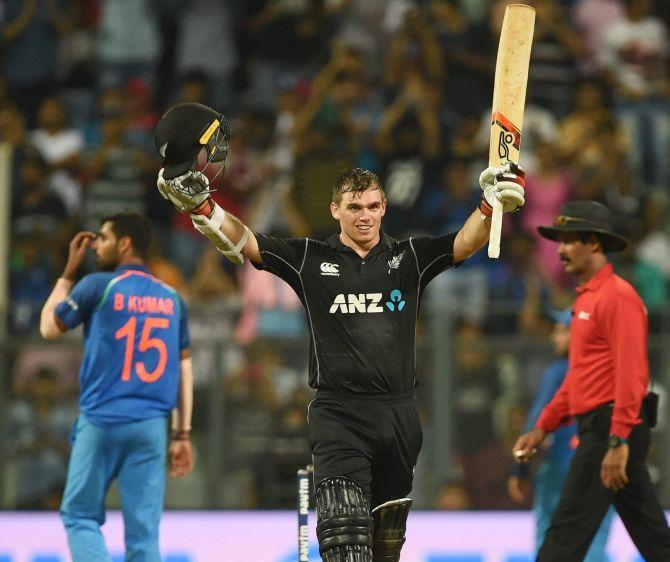 IMAGE: New Zealand batsman Tom Latham acknowledges the applause of the crowd after completing his century in the first ODI against India, in Mumbai, on Sunday. Photograph: BCCI
Captain Virat Kohli admitted that India were at least 30 runs short while lauding the application shown by New Zealand's batsmen, especially Tom Latham, in the first One-Day International at the Wankhede stadium, in Mumbai, on Sunday.
Kohli's 31st hundred, in his 200th ODI, was overshadowed as New Zealand chased down a target of 281 in 49 overs, with Latham scoring an unbeaten 103 and Ross Taylor contributing 95.
"We thought 275 (280) was a good total, but Ross and Tom were fantastic. They did not give us any chances, apart from a run-out here or there. And when you get a 200-run partnership, you deserve to win," said Kohli, at the post-match presentation ceremony.
He reckoned that the pitch played really well in the second half and dew became an issue.
"Putting dew into perspective, in the last 13-14 overs, we were 20-30 runs short. But in the first half of the day, the wicket was playing very differently. We would have liked a better batting performance, if a couple more guys had chipped in, batting a few more overs, we could have had 40 runs extra," said Kohli.
He also complimented the Kiwi batsmen for tackling Kuldeep Yadav and Yuzvendra Chahal well.
"New Zealand tackled our spinners really well, handled the fast bowlers too. Credit to Tom and Ross - Tom especially -- as Ross has been around for a while. He's (Latham) not played as many international games, but he played superbly. Trent (Boult) as well, with the ball."
Asked why he did not use Kedar Jadhav, who in previous matches was a handy part-time bowler, Kohli opined that pitch had enough on offer for the two specialist spinners.
"There was enough turn on offer in the pitch to trust the frontline spinners. Maybe if the chase had gone away from us earlier, or if the lower order was in, we might have used Kedar. Hardik did well for us as well, so we didn't feel the need to bring Kedar in."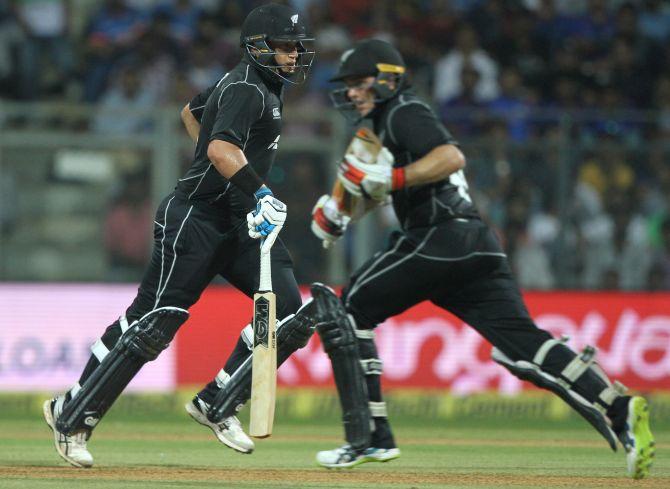 IMAGE: New Zealand batsmen Ross Taylor, left, and Tom Latham run a quick single in the first ODI against India, in Mumbai, on Sunday. Photograph: BCCI
New Zealand skipper Kane Williamson termed the chase as one of the greatest that he has been a part of.
"It was a brilliant performance. It was one of the greatest chases I have seen, certainly in my time as a Black Cap," Williamson said.
"Tom and Ross controlled the innings perfectly through the middle overs. You know over here that you take the game deep. It was something we wanted to do. Even with a few more batsmen left, they had to finish it off."
Williamson conceded that the weather was challenging.
"The weather was very challenging. We have been here two weeks; you can't really get used to it, but we got on with it."
Man of the match Latham said although he could play sweeps and reverse sweeps, he did not have the requisite confidence earlier.
"It's something (sweep) I had been working on; just didn't have the confidence to play the reverse sweep so early in the game. The biggest thing in a partnership is communication; we were talking after every over; hats off to Ross for playing such a great innings. He was a calming influence on me."