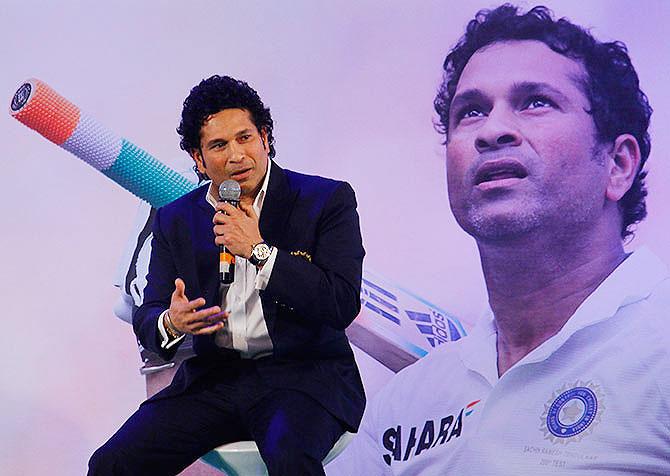 Sachin Tendulkar at the launch of his autobiography in Mumbai. Photograph: Hitesh Harisinghani/Rediff.com
Coming out strongly in support of Sachin Tendulkar, former India cricketer VVS Laxman has said he totally believed in what the iconic batsman had
written in his book.
Reacting to a series of startling allegations Sachin Tendulkar made in his autobiography Playing It My Way, Laxman said the dressing room atmosphere during Greg Chappell's two-year tenure as national team coach was the "worst".
"I think 2006 was a very tough period for Indian cricket. The dressing room atmosphere was probably the worst. I remember in 2006 when I was added for the last one day game in South Africa and then for the Test series.
"I remember when I went to South Africa, it was probably the most negative dressing room I have come across. There was a lot of tension within the dressing room and it was unnecessary.
"There was a divide created between the seniors and juniors. I always believed that cricket team is like a family. When you represent the country, when you are out there in middle, you don't work as an individual, but as a team, as a unit. It does not matter that you are a senior or junior. You always help each other and you admire each other," Laxman said.
'I think it is fair for Sachin to come out in open'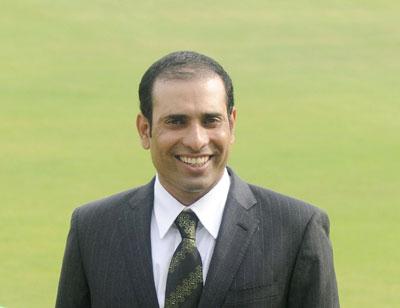 VVS Laxman. Photograph: Krishnendu Halder/Reuters
Credit to John Wright, before Greg Chappell and after Gregg Chappell, Gary Kirsten, that they created team environment where we were always able to play with a free mind and we have always done well. It was unfortunate that the kind of environment was created which was uncalled for," he said.
Tendulkar had mentioned that Chappell had threatened Laxman his career would be over after he refused to open in a Test match in India. Replying to a query, Laxman said Tendulkar have the right to freely express his views.
"He has been the pillar of Indian cricket and actually a great ambassador to the sport. When he is writing a book, his autobiography where he is going to talk about his entire life, his journey as an Indian cricketer, what are the various situations he faced, I think it is fair for him to come out in open. There is no point in just writing a book without being honest.
"Credit to him, this is something which I always used to ask him why don't you come in open. He always told me that he respected the game so much that he did not want to create unnecessary furore in the country. Because, everyone in India loves the game," he said.
'We should appreciate that during his career, he never ever created any controversy'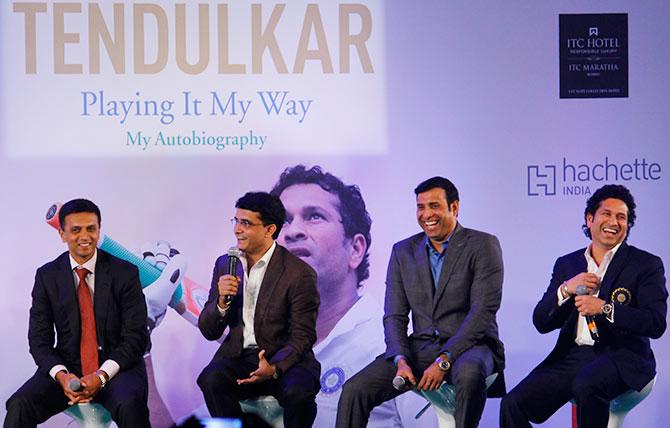 Sachin Tendulkar (right) with former teammates (from left to right) Rahul Dravid, Sourav Ganguly and VVS Laxman at the launch. Photograph: Hitesh Harisinghani/Rediff.com
Tendulkar, however, used to communicate with people who mattered about the state of affairs, Laxman said.
"He definitely used to communicate with the people who matter and who are decision-makers… I think we should appreciate that during his entire 24 year career, he never ever created any controversy.
"That's a great effort in itself. Now, you also have to respect that he has got the right to express his entire journey.
"Sachin is deeply respected and admired all over the world, would like to know the life and journey of Tendulkar the cricketer. I don't see anything wrong in he mentioning the honest parts in his book," he said.