Former India opener Virender Sehwag offers a straight bat on the best batsmen in contemporary cricket, IPL team Kings XI Punjab, of which he is mentor, and why he is comfortable doing cricket commentary.
Harish Kotian/Rediff.com listens in.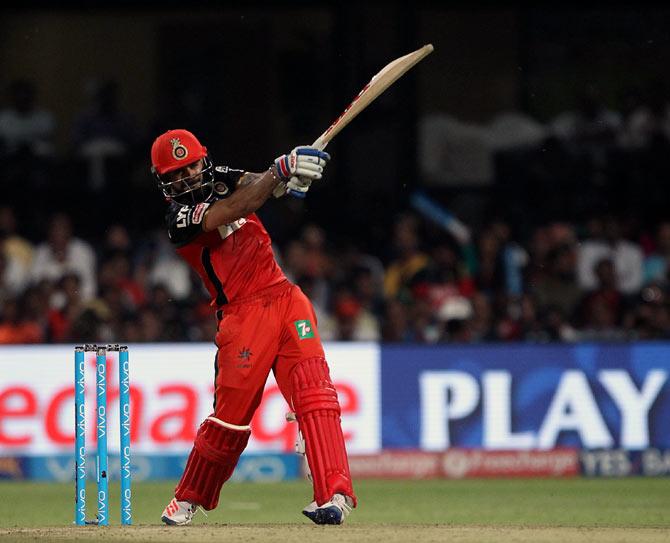 IMAGE: Royal Challengers Bangalore captain Virat Kohli hits out. Photograph: BCCI
During his playing days Virender Sehwag was know as the most dangerous batsman in world cricket. The former India opener believes Virat Kohli has taken over that title even in the T20 format.
"At the moment, I think Virat Kohli is the most dangerous batsman because (Chris) Gayle is not playing. AB de Villiers and David Warner are also there, but the way Kohli is playing, the way he is scoring -- he has already scored two hundreds in this IPL -- I think he is the most dangerous player at the moment," declared the swashbuckling former India opener, in Mumbai, on Wednesday.
He, however, cautioned against run-machine Kohli being compared with batting legend Sachin Tendulkar, saying: "I don't think anyone should compare two cricketers. When people compare me with Tendulkar or me with Viv Richards that is not fair, as the era is not the same. So I don't think we should compare Kohli to Tendulkar."
Sehwag is the only Indian to score a triple century in Test cricket, having achieved the landmark twice -- against Pakistan (309) and South Africa (319) -- during a stellar career that fetched him 8,586 runs in 104 Tests, at an average of 49 and a strike rate of 82.
While he was one of the biggest match-winners India ever had in the Test format, he also made an impact in the limited-overs' game and played an integral role in the nation's triumphs in the 50-overs' World Cup in 2011 and 2007 World T20.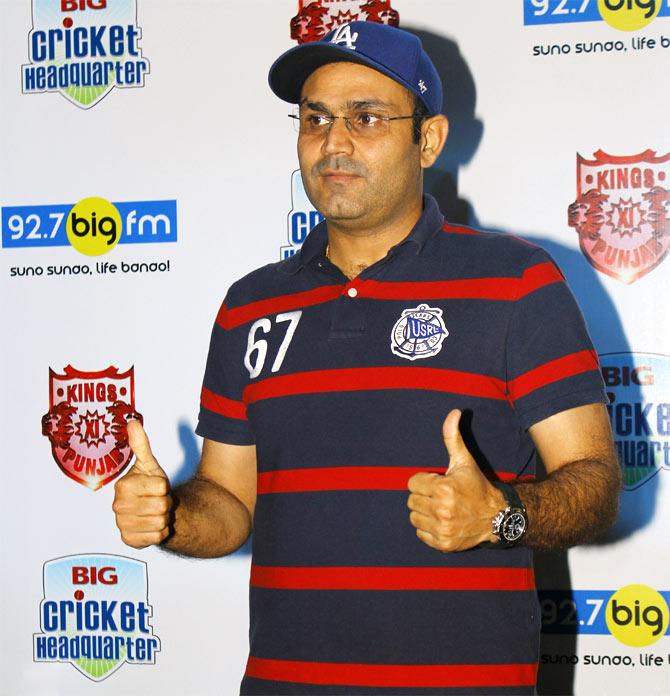 IMAGE:
Former India batsman Virender Sehwag during an event in Mumbai.
Photograph: Hitesh Harisinghani/Rediff.com

Sehwag, who did commentary for Star Sports during the World T20 earlier this year, is excited about the proposed day-night Test match between India and New Zealand later this year.
"All are hoping that the day-night Test match happens in India. Australia and New Zealand had played the first day-night Test and we, as former players or fans of cricket, hope that the day-night Test happens in India too," he said.
Currently mentor of Kings XI Punjab in the ongoing Indian Premier League, the 37-year-old attributed the poor showing of his team, which is languishing at the bottom with just three victories from 10 games, to the players' inability to maintain consistency.
"This season is nothing new for Kings XI Punjab; it is just like the previous season. We were bottom of the table then and this year too we are bottom of the table. But, yes, we were quite hopeful and there were some close matches. If we had won those, we would have been a bit higher on the table.
"This is a process that we are going through at Kings XI Punjab and hopefully we have a better team next year and perform better.
"The potential that we have in our team in some youngsters, like Manan Vohra, Gurkeerat Mann, Wriddhiman Saha, Axar Patel... they are all talented players. I have spent quite a lot of time with them. I tried to motivate them and teach them some of my qualities so that it benefits them and we have seen the results in some players like Saha, who has been scoring well, or Vohra, who won the man of the match (against Rising Pune Supergiants). But we have not been able to translate it into consistent performances and that is why we are bottom of the standings," he lamented.
He also revealed the reasons behind Kings XI Punjab's change in captaincy midway into this IPL season.
The struggling David Miller was replaced by Murali Vijay as skipper after the Kings lost five of their first six games.
"We took the decision in favour of the team because the team was not doing well. Miller, as the captain, was under pressure and he was not performing as a batsman. We thought if we give captaincy to somebody else then maybe Miller can play as a batsman, he can score runs and win games for us. Everybody took it in a good way and nobody was complaining, not even Miller."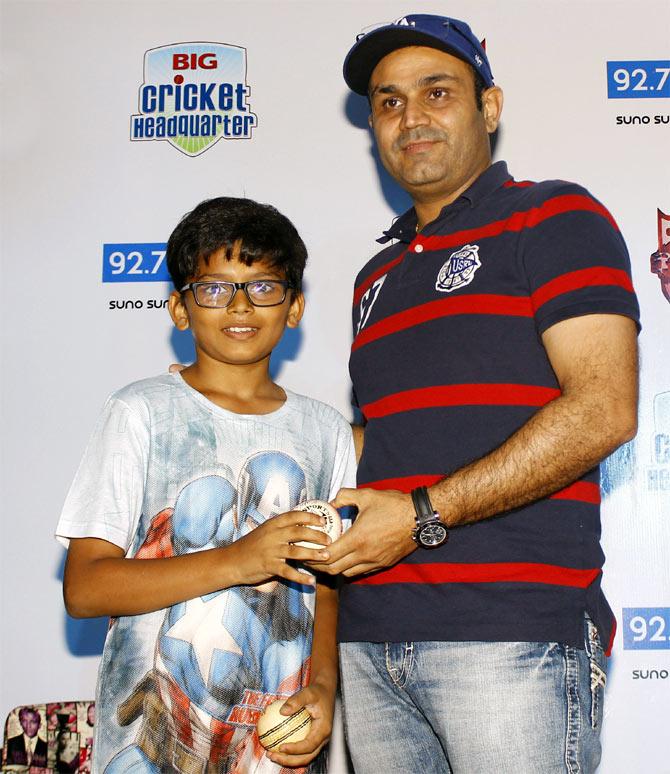 IMAGE:
Former India batsman Virender Sehwag with a young fan during an event in Mumbai.
Photograph: Hitesh Harisinghani/Rediff.com

On the personal front, he revealed why he would sing while batting.
"Everybody knows that when batting I used to sing and people used to ask why I used to do that. I used to tell them that if you get a lot of thoughts in your mind, whether it is good or bad, it is very difficult to get rid of them. That is why I used to sing. My focus was on singing and my eyes were fixed on the ball, so I could see it and try to hit it. There was nothing else as far as my batting is concerned because I kept it very simple, which was to see the ball and hit the ball. If the ball was there to be hit, go for it; or if the ball was good, just defend it."
For now, the former Delhi stalwart is comfortable doing commentary, something, he says, actually started as a pastime time-pass dressing room activity while playing for the Indian team.
"Commentary is a very convenient medium for cricketers when they retire. They can do commentary, write articles or become an expert in the media. Whatever cricket I have played I am sharing that experience through commentary or talk about whatever is happening in a match in my style.
"When we used to play a Test or an ODI, when I used to come back to the dressing room after my dismissal, I used to do commentary sitting in the dressing room to make my team mates laugh and not let the batsmen who are going in next feel much pressure.
"I thought whenever I take up commentary it will be in the same style so that when people listen to me, they will also laugh.
"When I did commentary in the World Cup, I got a very good response and people appreciated my comments, my one-liners."