West Indies batting ace Chris Gayle caught the attention of Harish Kotian/Rediff.com during the team's practice session at the Cricket Club of India's Brabourne stadium, in Mumbai, on Tuesday.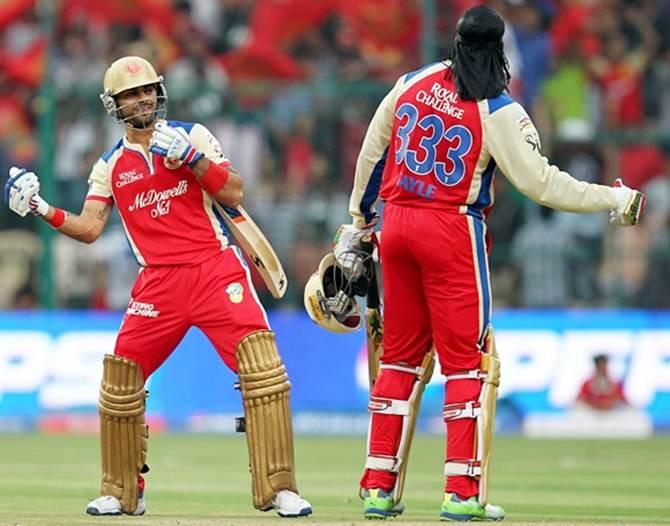 IMAGE: Royal Challengers Bangalore teammates Virat Kohli, left, and Chris Gayle celebrate during an Indian Premier League match. Photograph: BCCI.
Virat Kohli's splendid match-winning knock against Australia, in Mohali on Sunday, has prompted West Indies batting star Chris Gayle to plead with him against playing another big knock when the two teams clash in Thursday's semi-final of the ICC World T20 in Mumbai.
Gayle was actually heard appealing to his Royal Challengers Bangalore captain: "Please don't fire, Virat!"
"Hopefully he won't get any runs (on Thursday). He has been fantastic right through the year. He has been in a great form. He can still get runs, but in a losing cause.
"We'll be happy with that as well," he added, before bursting out in laughter, ahead of the West Indies' practice session at the Cricket Club of India's Brabourne stadium, in Mumbai, on Tuesday.
Kohli stroked an unbeaten 82 from 51 balls to steer India to a six-wicket victory in a must-win match against Australia in Mohali.
He had earlier scored an unbeaten 55 on a difficult wicket in Kolkata to fashion India's victory over arch-rivals Pakistan.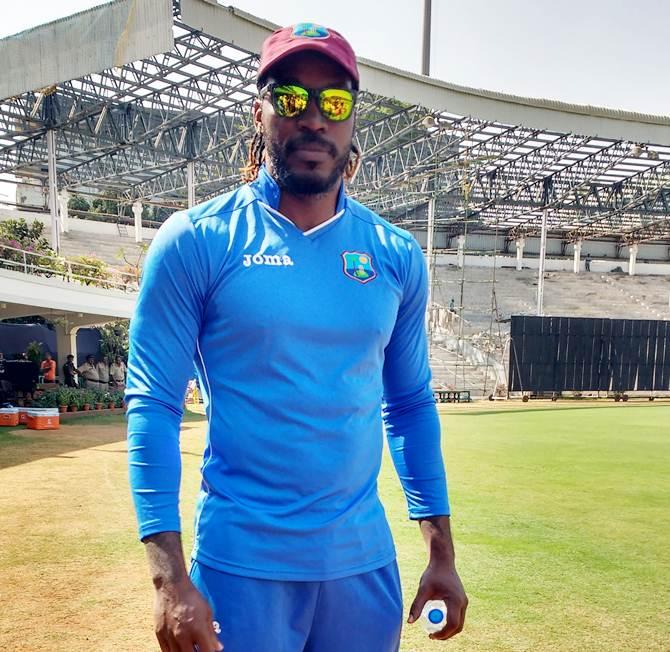 IMAGE:
Chris Gayle at the Wankhede Stadium in Mumbai on Tuesday.
Photograph: Harish Kotian/Rediff.com.
Gayle cautioned his West Indies teammates against focussing only on Kohli, saying India also has several other match-winners.
"He (Kohli) is in good form and it is a good wicket as well, so anything is possible. We have to play the situation accordingly, play within our strengths and actually take it from there.
"We are not going to focus on only Virat; there are so many match-winners there and anyone of them can actually fire on any particular day. It is a huge team; their batting line-up is superb, but Virat is the man that stands out at this point in time."
Gayle and Kohli are close friends and also teammates in the Indian Premier League, where they represent Royal Challengers Bangalore.
Is he surprised about Kohli's golden run with the bat in the last couple of years which has seen him emerge as one of the best finishers in limited-overs' cricket?
"No surprise there. I have said it over the years, he is going to be the world-beater he is today."
Gayle scored a blazing 48-ball 100 to steer the West Indies to a comfortable six-wicket victory at the Wankhede stadium and is hoping to repeat the good form at the same venue against the Indians.
However, the tall opener urged his team mates not be too dependent on him alone.
"Like I said, they (India) have so many match-winners; like our team as well, we have a lot of match-winners too. It is not always going to be about me. For a particular stage, one of our batters should take up the baton if Chris Gayle doesn't score runs; someone should actually take it up and fire as well and put the team in a winning position," he said.