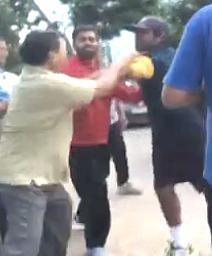 In a shocking incident, former India cricketer Ambati Rayadu was involved in a scuffle wherein he abused and slapped a senior citizen, who reportedly objected to his rash driving in Hyderabad.
The unpleasant incident took place on Thursday morning, when the person was out for a walk and Rayudu was on his way to the Rajiv Gandhi International Stadium in Uppal, Hyderabad.
It is reported that the cricketer was driving his SUV rashly and was very close to the morning walkers near the stadium.
When the person advised Rayadu to drive slow, the latter got angry, got down from his car and started shouting at him.
Following this, there was an altercation between the two.
Many fellow walkers came in support of the senior citizen and tried to Rayudu but the 31-year-old cricketer kept on abusing the person and later on slapped him.
The whole incident was captured by one of the fellow walkers on his mobile phone.
However, no police complaint has been lodged into the incident.