'Whatever challenge we have thrown up to these guys in big games someone has stood up and played good cricket that's the challenge we face here where we are the underdogs.'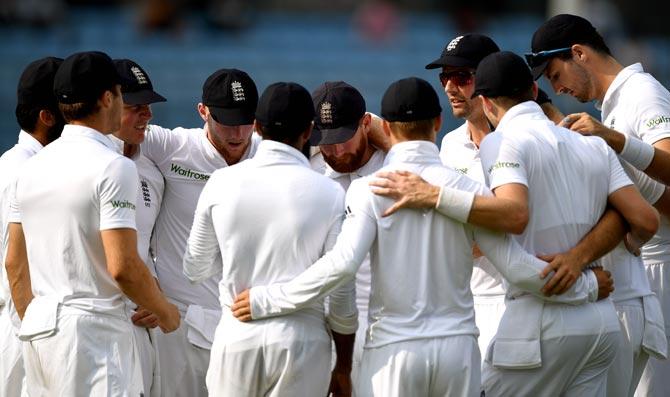 IMAGE: England captain Alastair Cook speaks to his team. Photograph: Gareth Copley/Getty Images
He has no qualms in conceding that England will be underdogs in the upcoming Test series against India but captain Alastair Cook feels that status itself will take a the pressure off his side and make it more competitive in the five-match rubber, starting in Rajkot on November 9.

England are not in the best of form going into the high-profile series, having arrived in India after losing a Test match against minnows Bangladesh inside three days.

World No.1 India have not lost a home series since going down 1-2 in 2012 to the England led by the 31-year-old Cook.

"It's a big challenge. Any time you play the No. 1 or the No. 2 ranked team in their backyard, who are very comfortable in their conditions, it's a huge task for us. It's a huge challenge to these guys who have not played a huge amount of cricket in the subcontinent as a group," said Cook.

"What this side has done over the last couple of years is to exceed expectations in big series. We have played really good cricket in big series. Last year we went to South Africa and won away from home when they were No. 1.

"These are different conditions, but being underdogs takes a lot of pressure off us," said the Lancashire player, who has a superb record against India.

"We have got some big selection calls to make but the process has started like always when you know two games (in Bangladesh) have happened," said Cook, who has scored four centuries and averages over 60 in eight Tests on Indian soil and 54 in 20 Tests overall.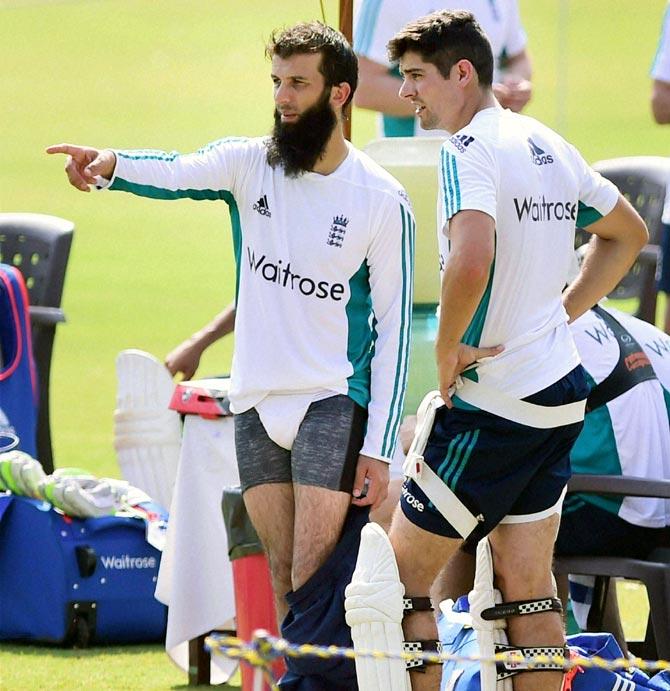 IMAGE: England captain Alastair Cook, right, with Moeen Ali during England's training session at the Cricket Club of India's Brabourne stadium in Mumbai. Photograph: PTI
Pointing out the team has regrouped well after its humiliating loss to Bangladesh in the second Test at Dhaka last month, Cook recalled what he had said at a media conference four years ago after his side had lost the series opener in Ahmedabad by a big margin.

"I remember saying in the press conference after the first Test when talk was India will win 4-0 that we might turn around and win 3-1. Anything is possible.

"Whatever challenge we have thrown up to these guys in big games someone has stood up and played good cricket that's the challenge we face here where we are the underdogs," said the stylish left-handed opener, whose highest Test score of 294 came against India.
Comparing the bowling attack of 2012, that had Graeme Swann and Monty Panesar as the spin options, to the current one, Cook said they have more balance now and can even afford to include six bowlers.
"It's a very different bowling attack. Swaney and Monty, four years ago, were at the peak of their game and Monty did an outstanding job of holding (one end up) in the three Tests he played.
"Unfortunately we don't have that experience, but we have got guys who were successful against India in the past. We have more options in this squad and the balance of the side allows us to have six bowlers," said Cook.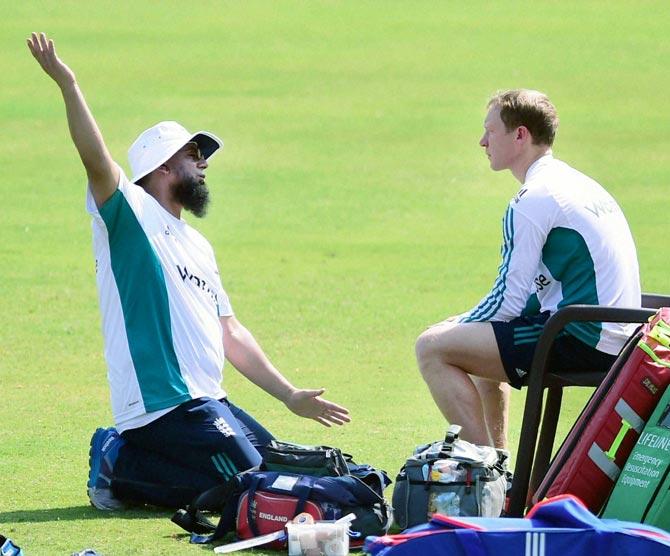 IMAGE: England spin mentor Saqlain Mushtaq, left, speaks to off-spinner Gareth Batty. Photograph: PTI
The tourists have four tweakers to choose from in off-spinners Moeen Ali and Gareth Batty, left-arm spinner Zafar Ansari and leg-spinner Adil Rashid.
"We had a good two days. We were training yesterday and trained well today. Yesterday we focused a lot on playing against spin -- 20 to 30 balls (each). These guys are good players," said Cook, indicating where they expected the main threat from India - who have included four spinners in their squad - to come from.
Head coach Trevor Bayliss said it would be a folly to focus only on a few individuals from India such as captain Virat Kohli and premier spinner Ravichandran Ashwin and ignore the rest of the home team members.
"Look, both are very good players. But if we concentrate on just one or two of their players its a wrong way to go about it. They have got more than two good players. We are worried about what we are doing. We have to make sure we bat and bowl well against all the Indian players."
Bayliss was not forthcoming about the likely team combination and said they will have to reach Rajkot, hosting its maiden Test, and take a look at the pitch conditions before taking a call on the playing eleven.
"It's a tough selection call. We have a number of options. But until we get there and see how the wicket is we will not be able to decide on it (team combination). We are not going to make any judgement right now."