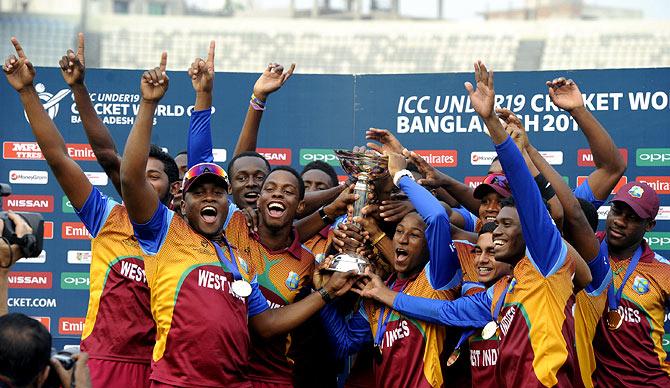 IMAGE: The West Indies' players celebrate after winning the Under-19 World Cup in February. Photograph: Pal Pillai/Getty Images for Nissan
The West Indies' Cricket Board hit back at its detractors, insisting it is trying to find ways to keep its best players competing for the national team.
The WICB has faced calls recently for the entire board to resign. Following the men's team's World Twenty20 victory in India last month, captain Darren Sammy blasted the sport's policy-makers in the Caribbean.
He was backed by all-rounder Dwayne Bravo, who launched a scathing attack on WICB president David Cameron, whom he branded "immature", "arrogant" and "small-minded".
In a document sent to media on Wednesday, it claimed it is trying to resolve the issues upsetting its top-level players.
One of those is pay, with players demanding more from the WICB to keep them tied to the national team rather than cashing in on one of the lucrative contracts on offer in Twenty20 leagues around the world.
The WICB said it will meet with the players to discuss the issue at a retreat in the summer.
"The primary focus for this year's retreat will be to find workable solutions with regards to re-engagement of players, and how they fit into the existing high performance programme and to determine the most affordable remuneration packages," read a statement from the WICB.
It promised to make changes, but insisted it "so far has lived up to its promises".
It also said that results -- the men's and women's teams emerged champions in the Twenty20 World Cup last month and the boys' team won the under-19 World Cup in February -- showed they are doing something right.
"That accomplishment has come as part of the high performance programme implemented just over two years ago. That there are small groups clamouring for the board's dissolution is reason to ask... what more could a region want?"