'Very disappointed with the attitude and approach of Umar Akmal'
'If some players want to hurt their careers themselves what can we do'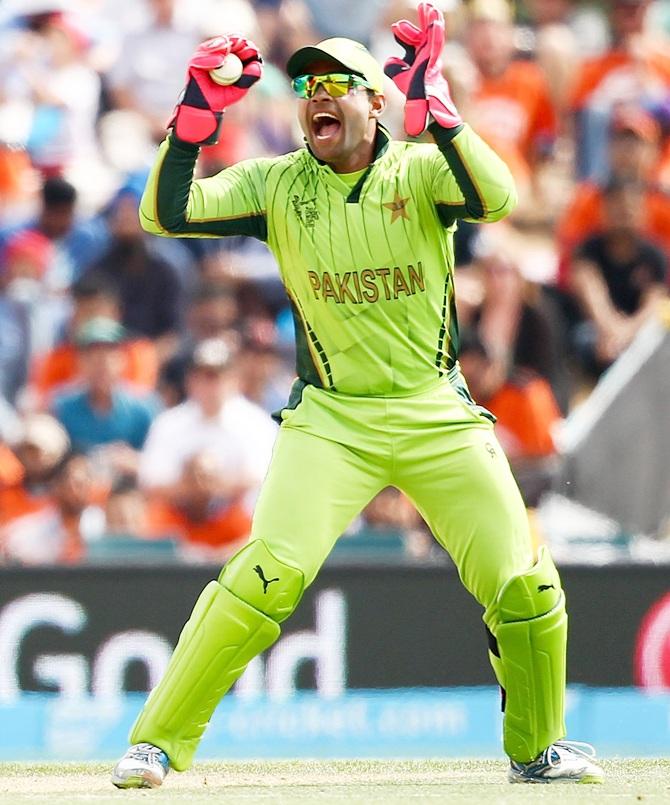 Pakistan's Umar Akmal reacts Photographs: Martin Hunter/Getty Images
The national selection committee ignored senior Pakistan batsman Umar Akmal for the coming one-day series in Sri Lanka after he failed to comply with their instructions and report for the training camp at the National Cricket Academy in Lahore.
3rd Test: Younis ton helps Pakistan chase down 377 to claim series
Chief selector, Haroon Rasheed said that he was very disappointed with the attitude and approach of Umar Akmal.
"We had asked all those players including Umar who were in contention and consideration for the ODI series to report to the NCA for a series of fitness tests and trials but he (Umar) didn't show up," the former Test batsman said.
"Umar spoke to NCA head coach Muhammad Akram and told him he was coming the next morning but than he didn't show up. If some players want to hurt their careers themselves what can we do," he said.
Sources close to Umar said the youngster had to honour his commitment of playing in the Caribbean Premier League (CPL) T20.
Besides Umar, the selectors had also asked Umar Mukhtar Ahmed, Bilal Asif, Anwar Ali, Muhammad Irfan and a few others to report at the National Cricket Academy (NCA) and train ahead of the five-match series.
Before leaving to play for the Guyana Amazon Warriors, Umar represented Candyland and Omar Associates in different Ramazan tournaments.
Rasheed said there were some players who needed to change their attitude towards playing for Pakistan or they would be their own worst enemies.
Umar has played two matches in the CPL but has managed just two runs in those two outings, albeit one of them was an unbeaten knock.
The chief selector made it clear that despite the incident the selectors held nothing against Umar and when he made himself available he would be considered for selection after undergoing necessary fitness test and trials like other players do.
"We don't want to waste our talent but Umar himself also has to decide his career path himself." Rasheed said if the Pakistan Cricket Board asked for a report he would submit one to them on the episode which was unfortunate.
"Mukhtar, Anwar, Bilal and Irfan were also all playing in the Ramazan T20 event in Faisalabad but as soon it finished, they all reported to the NCA," he added.
All four are in the Pakistan ODI squad for the series that begins from July 11.
Umar along with Ahmed Shehzad has remained somewhat of a enigma in Pakistan cricket and after the World Cup early this year, the head coach Waqar Younis and captain Misbah-ul-Haq had both suggested to the board to make both youngsters play domestic cricket for a year and not select them for the national squad until than so that their cricket attitude and discipline improved.
Rasheed said the selectors had despite this convinced the PCB and the team management to give a chance to Shehzad and also Umar and now it was their responsibility to prove their worth to Pakistan cricket.