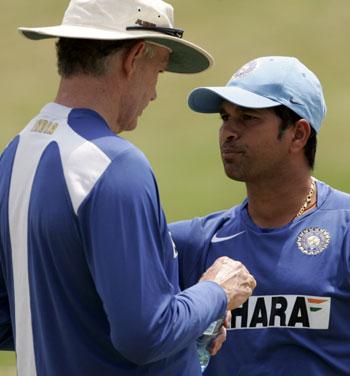 Sachin: A Billion Dreams reveals how Greg Chappell's faulty tactics damaged India's chances in the 2007 World Cup.
Rediff.com's Harish Kotian reports.
IMAGE: Sachin Tendulkar with then Indian coach Greg Chappell during India's tour of South Africa in December 2006. Photograph: Howard Burditt/Reuters
Time heals wounds, but Sachin Tendulkar's dislike for former Indian coach Greg Chappell may last a long time.
The Tendulkar biopic, Sachin: A Billion Dreams, is a wonderful account of the master cricketer's life, starting from his childhood, to how he took up cricket, the highs and lows of his sporting career with fascinating insights into the man and his family.
The movie, in which Tendulkar takes the audience down the memory lanes of his glorious career, does have a villain, maybe not in the Bollywood sense.
Gregory Stephen Chappell.
Sachin had a frosty relationship with Chappell, India's cricket coach from 2005 to 2007.
Sachin: A Billion Dreams reveals how the gruff Aussie made senior players insecure which affected the Indian team's performances.
Tendulkar recalls that Chappell's move to drop him down the order and change the Indian batting line-up a month before the 2007 World Cup was a huge mistake.
'We were preparing for the last one year and suddenly one month before the World Cup, Chappell made all the changes which definitely affected us,' Tendulkar says in the film.
'The team was not in the right spirit going into the World Cup. I had told this clearly to the BCCI officials before we left for the West Indies,' Tendulkar reveals in the biopic.'
Tendulkar had earlier slammed Chappell in his memoir Playing It My Way, which was published in 2014.
Tendulkar had called Chappell a 'ringmaster who imposed his ideas on the players without showing any signs of being concerned about whether they felt comfortable or not.'
'I suggested to the BCCI that the best option would be to keep Greg back in India and not send him with the team to the World Cup. That is not what happened, of course, and the 2007 campaign ended in disaster,' he wrote in the book.
Sachin: A Billion Dreams shows Tendulkar's anguish after India's shock exit in the first round of the World Cup, which included a stunning loss against then minnows Bangladesh.
It was the lowest point of his career, Tendulkar says in the film.
When the team returned to India after the World Cup fiasco, he recalls it felt like the cricketers had come back after 'committing a big crime.'
'I had 40 commandos below my house and four commandos inside my house (for his protection),' he remembers.
Dr Anjali Tendulkar, Sachin's wife, says Tendulkar stayed home for a week. 'He refused to go out and was so sad after he came back,' Dr Tendulkar recalls.
It took Tendulkar a long time to recover from the setback, he remembers in the movie. He took time off from the game and hung around with family and friends who helped him get back on track.
Tendulkar even contemplated retiring at this time, but was talked out of it by Vivian Richards, his childhood hero, who telephoned him out of the blue.
'Richards told me there is still a lot of cricket left in me and I should not give up at this time.'
That one phone call apparently inspired Tendulkar to get back on the ground and continue his career.
His elder brother and mentor Ajit also gave him a pep talk, telling him he would have another shot at glory at the 2011 World Cup, which would be played in India with the final scheduled for the Wankhede Stadium in Mumbai, his home ground.
'Ajit said it would be perfect to win the World Cup in Mumbai and I knew that would be my last chance to achieve my dream. I started training in right earnest towards achieving it,' Tendulkar says in the film.
India beat Sri Lanka in the final at the Wankhede on April 2, 2011, and an Indian icon achieved his life-long dream.