Why Virat Kohli puts his 141 at Adelaide ahead of the 235 in Mumbai.
Rediff.com's Harish Kotian listens to the Indian skipper, eloquent as always, at the Wankhede Stadium.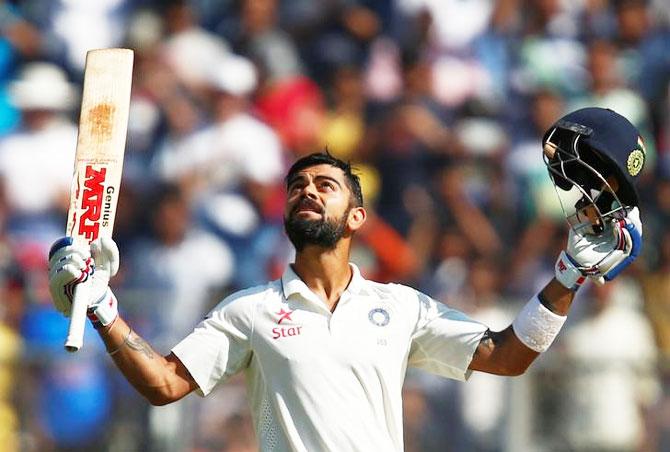 IMAGE: Virat Kohli celebrates his third Test 200 in 2016, this time in Mumbai, December 11, 2016. Photograph: Danish Siddiqui/Reuters
Virat Kohli revealed how advice from the legendary Sachin Tendulkar helped improve his batting.
"The best advice (I got) was not to read and look up things that are written about me. That was the best advice I have gotten. That was one of the things that kept pulling me back as far as Test cricket was concerned," the Indian skipper told the media after his team vanquished the Englishmen by an innings and 36 runs.
"Somehow people enjoyed calling me not a good Test player and it inspired me further to do extra well in this format," Kohli said, recalling his chat with Tendulkar after his distastrous showing in England in 2014.
He scored just 134 runs in 10 innings that series in England, getting out four times to James Anderson.
The burden of Test captaincy, he said, was another pivotal moment of his career, helping him get his focus back on cricket.
The Delhi batsman took over as India's Test captain in December 2014 when Mahendra Singh Dhoni abruptly retired from the longer format of the game after the Melbourne Test.
"Being captain, I took my mind more off those things because I didn't have to read up or hear what people had to say about me," he added. "It was all about thinking what the team has to do, and that has helped me immensely, to stay focussed on what I have to do on the field."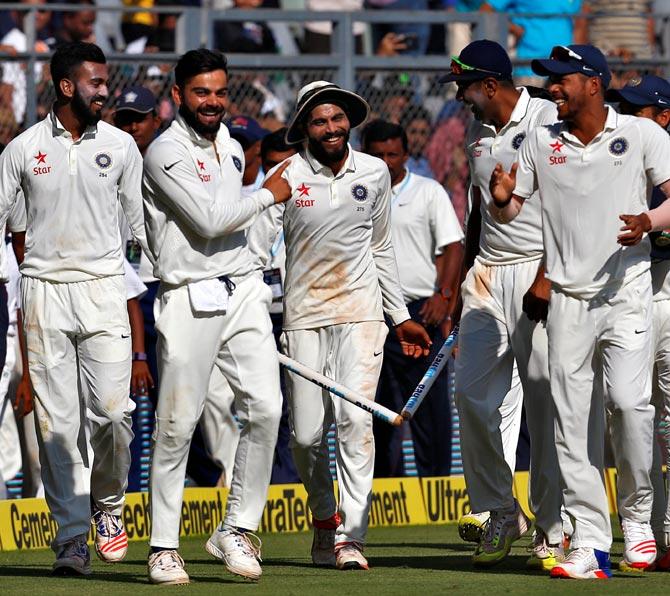 IMAGE: The Indian players celebrate winning the fourth Test in Mumbai and the series 3-0.
Kohli credits his teammates for the team's winning run. Photograph: Danish Siddiqui/Reuters
India, the World No 1 in Test cricket, have won five successive Test series under Kohli's captaincy -- starting from the 2-1 triumph in Sri Lanka last year followed by the win against South Africa at home.
India won 2-0 in the West Indies, underlined their domination at home with victory against New Zealand and now a 3-0 win in the series against England with the Chennai Test to go.
Kohli credited his teammates for helping him out, especially in tough situations.
"It has been a collective effort. I won't say I have done things by myself. Yes, I have worked hard on my game, but it is the team that has helped me play in a way I can, play with the same mindset so it has been wonderful," Kohli added.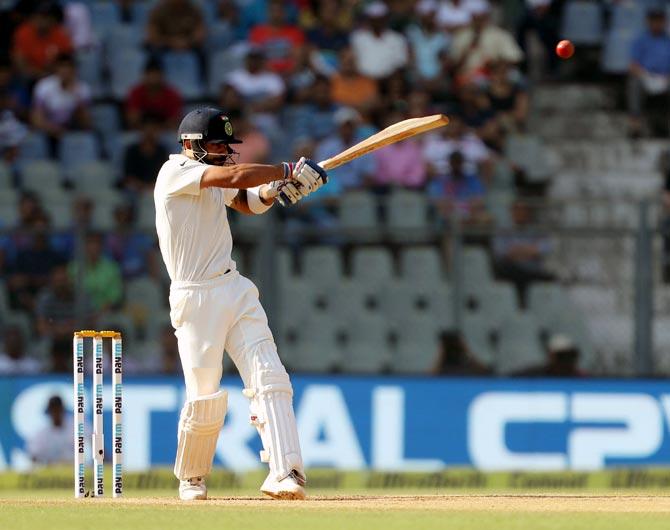 IMAGE: Virat Kohli rates his 141 in the Adelaide Test in December 2014 as his best knock to date. Photograph: BCCI
Asked if the 235 in Mumbai -- his highest Test score -- is the best of his career so far, Kohli said, "I am still very personally attached to the one in Adelaide (in December 2014, he made 141 when India nearly pulled off a 364 run chase on the 5th) in the second innings because that was the beginning of this transition."
"This, as I said, has been an ongoing process, so I have only gained from the energy around in the change room and from the teammates as well," he added. "But this probably can be second best, in my heart I still rate the one in Adelaide in the second innings higher than the ones I have scored elsewhere."
Kohli scored 692 runs in that four Test series in Australia in 2014-2015 with 4 100s and a 50.
In the current series against England, Kohli has scored 640 runs in 4 Tests, with 2 100s.
Comparing the two series, Kohli said this performance ranks a bit higher since it has resulted in a series victory against a top side like England.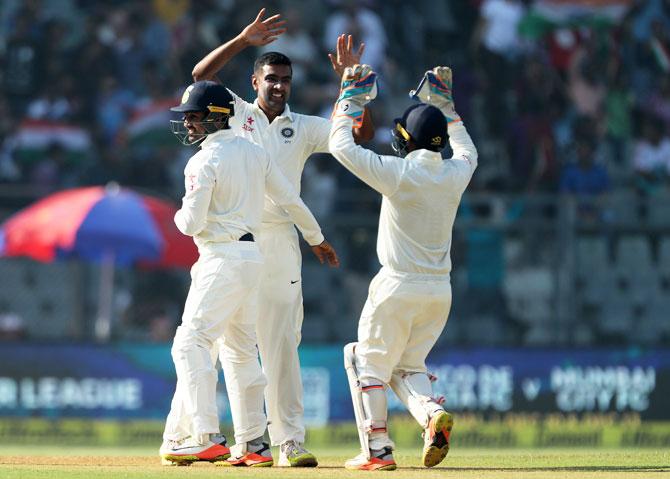 IMAGE: Ravichandran Ashwin celebrates Adil Rashid's wicket. Photograph: BCCI
"There's still a Test to go," the captain said, "so I cannot say if it is the best performance yet or not. I think I got a few more (runs) in Australia, but we didn't win the series. The series win was the ultimate goal."
"Obviously it feels very, very, nice. It feels sweeter knowing that the last three series, they (England) really outplayed us. And to understand that this is a totally transformed side that we have, and still have the belief to beat a world class Test team, being 3-0 up and one Test to go, for me as a captain and player it is very satisfying."
"They (England) haven't given us many chances, but to force them to make those mistakes is something that we can be very proud of as a team. And, yes, it feels really good at the moment that I have been able to contribute in a series win more than probably what I would have thought of," Kohli added.
"Things have panned out very differently because the focus for us has only been to win the series. So this is a classic example for me as well -- if you focus on what the team wants, you can exceed your expectations and do things that you wouldn't have thought of otherwise."