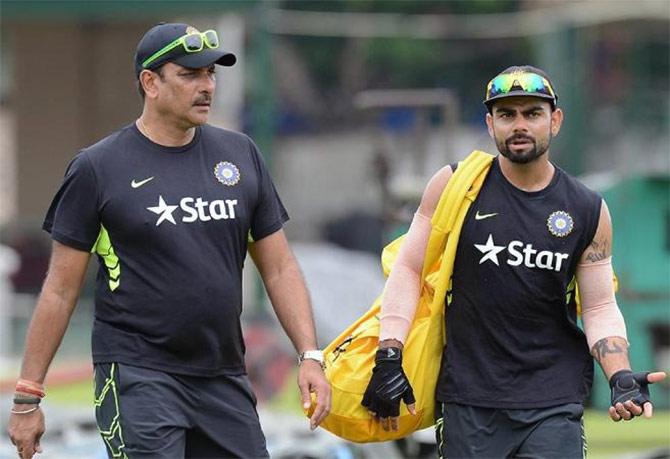 IMAGE: India's Test captain Virat Kohli (right) with Technical director Ravi Shastri during a training session. Photograph: BCCI/Twitter
BCCI secretary Anurag Thakur has said the Indian cricket team will have a full-time coach after the World T20 and the high-profile advisory committee comprising Sachin Tendulkar, VVS Laxman and Sourav Ganguly will have a say in the appointment.
"There has been a demand for a full-time coach for a long time. We had decided that Ravi Shastri will be the Team Director till the World T20. We do not want to do anything between the season but we also need to decide on the future.
"We will be playing 13 Tests next season. Like a team is selected series to series, we need to have full-time coach," Thakur responded to a query from PTI on the sidelines of an ICC promotional event.
Thakur did not get into the details about whether the BCCI would continue with Shastri, only hinting that even the former India all-rounder could be considered for a long-term role.
"The decision will be taken in consultation with the Advisory Committee (Tendulkar, Laxman and Ganguly). We might decide on a coach even before the World T20 but the proper announcement will only happen post tournament," the BCCI secretary said.