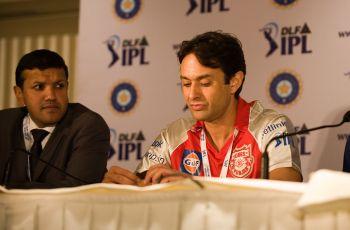 Kings XI Punjab owner Ness Wadia said the spot-fixing scandal that rocked the Indian Premier League last year has made a dent on brand IPL.
"I have not seen the Mudgal report and let us wait for the decision to come. Obviously there is a dent in brand IPL," Wadia told reporters at the end of first day of IPL auction.
Wadia, however, added that such controversies take place in every sports.
"But in every sport, these small things happen," he said.
He said gambling takes place in every sport and there was a need to enforce laws better.
"The law must take its own course whether things happened or how they happened. I don't know, I have not read the report. We have to learn from this and most importantly protect ourselves, fans and players."
On Kings XI Punjab's strategy to pick uncapped players on Thursday, Wadia said he would want to get the best team combination with the kind of budget they have.
Asked how he felt on losing Yuvraj Singh to Royal Challengers Bangalore, Wadia said, "I would have loved to have him. But, it was difficult to spend a certain amount."
He said he was very happy for Yuvraj getting Rs 14 crore.
On picking Virendar Sehwag, he said, "I'm happy to have an iconic player like him when everybody was not counting on him."
KXIP bought 10 players -- Mitchell Johnson, Glenn Maxwell, Virender Sehwag, George Bailey, Cheteshwar Pujara, Shaun Marsh, Wriddhiman Saha, Laxmipati Balaji, Thisara Perara and Parwinder Alwana -- and the team said it has solidified its batting side with these additions.
"With a new and fresh team on the anvil, KXIP has made some strategic additions and has solidified their batting side with these additions. The franchise is now looking forward to day two of the auction tomorrow," KXIP said in a release.
Besides the new additions, South African David Miller and young opener Manan Vohra were retained this year and will continue to be an integral part of the team.
"We are very pleased with the additions made by us for the upcoming season today. The team now has a perfect mix of experience, talent, and enthusiasm, which will definitely contribute to the team's performance."
Image: Ness Wadia
Photograph: Ritam Banerjee/Getty Images