The three Pakistani cricketers -- Salman Butt, Mohammad Asif and Mohammad Amir -- who were handed jail sentences for their involvement in spot-fixing, were also ordered by Justice Jeremy Cooke to pay up the prosecution cost of the case.

While Butt was asked to fork out 30,937 pounds, Asif and Amir were told to pay 8,120 and 9,389 pounds respectively.

Salman Butt was given a jail term of two-and-a-half years, while his team-mate Mohammad Asif got a year in jail.

Amir, who had pleaded guilty, was sentenced to six months in prison.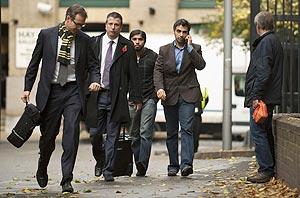 The cricketers, however, might have to serve just half of their sentences as they can be released on license if their behaviour is good.
- Sentencing remarks of Justice Cooke
- Butt gets two-and-a-half years jail; Asif one
- How the spot-fixing saga unfolded
"Now, when people look back at a surprising event in a game or a surprising result or ever in the future there are surprising results, followers of the game who have paid to watch cricket or who have watched cricket on TV will wonder whether there has been a fix or what they have watched was natural," the judge said.
The trio entered the courtroom amid high drama as mediapersons jostled with laymen for seats in what was perhaps the biggest criminal trial involving cricketers and their sentencing ends a year of high drama which has left Pakistan cricket embarrassed.
The saga began in August last year when shocking footage of Majeed claiming that he could fix a Test match for $1 million came to light.
He claimed to have Butt, Asif and Amir on his payroll and revealed how the trio conspired to send down pre-determined no balls during the Lord's Test against England.
The hotel rooms of the cricketers were raided by the police after the sting and cash was recovered which the trio could not explain.
Butt was banned for 10 years, five of which were suspended, Asif for seven years, while Amir was suspended for five years by the International Cricket Council in earlier disciplinary action against the trio.
In the earlier match-fixing scams involving big names such as Hansie Cronje, Salim Malik and Mohammad Azharuddin, various judicial commissions had returned guilty verdicts but no cricketer had been criminally punished so far.
The only previous conviction of sportsmen in the UK courts for cheating came in 1964 when three footballers, including two from Sheffield Wednesday, were jailed for throwing games.
During the conviction, the prosecutors had stated that Butt and Asif had been motivated by greed to "contaminate" a match watched by millions of people and "betray" their team, the Pakistan Cricket Board and the sport itself.
Prosecutor Aftab Jafferjee QC said the case "revealed a depressing tale of rampant corruption at the heart of international cricket."
Photograph: Reuters