Former South Africa cricket coach Mickey Arthur was on Tuesday named new head coach of Australia, just hours after his new charges completed a tense two-wicket victory over his old team in Johannesburg.
The 43-year-old was in charge of the Proteas from 2005 until 2010 and had most recently been coaching Western Australia. His contract runs until after the 2015 World Cup, to be jointly held by Australia and New Zealand.
Arthur was presented at a media conference at Cricket Australia's headquarters in Melbourne, having beaten out the challenge of former New Zealand coach Steve Rixon.
"I am honoured and privileged to have another chance to coach an international team, particularly a team of the ilk of Australia," he said in a CA statement.
"I think I bring a fresh, unblinkered eye to the role after plotting against Australia when coaching South Africa and having now worked within the Australian system with (Western Australia).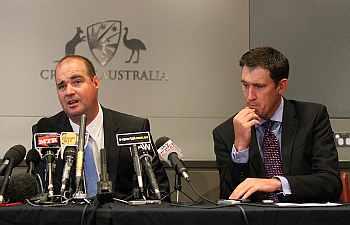 "Australia has an abundance of cricket talent and I am confident the talent is there to ensure Australia is successful."
Former coach Tim Nielsen resigned after the Australian tour of Sri Lanka in September, with Troy Cooley in charge on an acting basis for the team's tour of South Africa.
The appointment of a head coach was part of the review that Cricket Australia undertook following their Ashes series loss to England earlier this year.
CA have already appointed John Inverarity as the new full-time chairman of selectors, with former test players Rod Marsh and Andy Bichel as part-time selectors. Captain Michael Clarke is the fourth selector. Arthur will also act as a selector.
Arthur's first series in charge will be a two-Test series against New Zealand, starting next month, before Australia host India for a four-Test series starting on Dec. 26 and then play a triangular one-day series against India and Sri Lanka that begins next February.