Former Indian Cricket captain Sourav Ganguly is keen to play the four-day and 50-over Ranji Trophy matches for home side Bengal.
"I am available to play for Bengal in the four-day and 50-over (Ranji) matches.
"However, I will not be available for the T20 ties," Ganguly told reporters.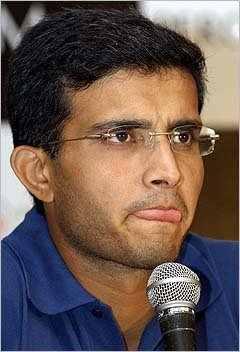 The flamboyant batsman keeps himself fit and undergoes practice sessions at the Eden Garden when he is in the city.
Ganguly, as a chairman of the Cricket Development Committee of the Cricket Association of Bengal (CAB), attendedits first meeting at the club house.
Ways and means to develop the game in Bengal was discussed in the meeting, he added.
The CAB on August 24 retained their star-studded cricket development committee led by Ganguly though it met only twice in previous two seasons with little success.
Ganguly continued to be the chairman of the committee that also stars yesteryears cricketers Arun Lal, Ashok Malhotra and Pranab Roy.